Sports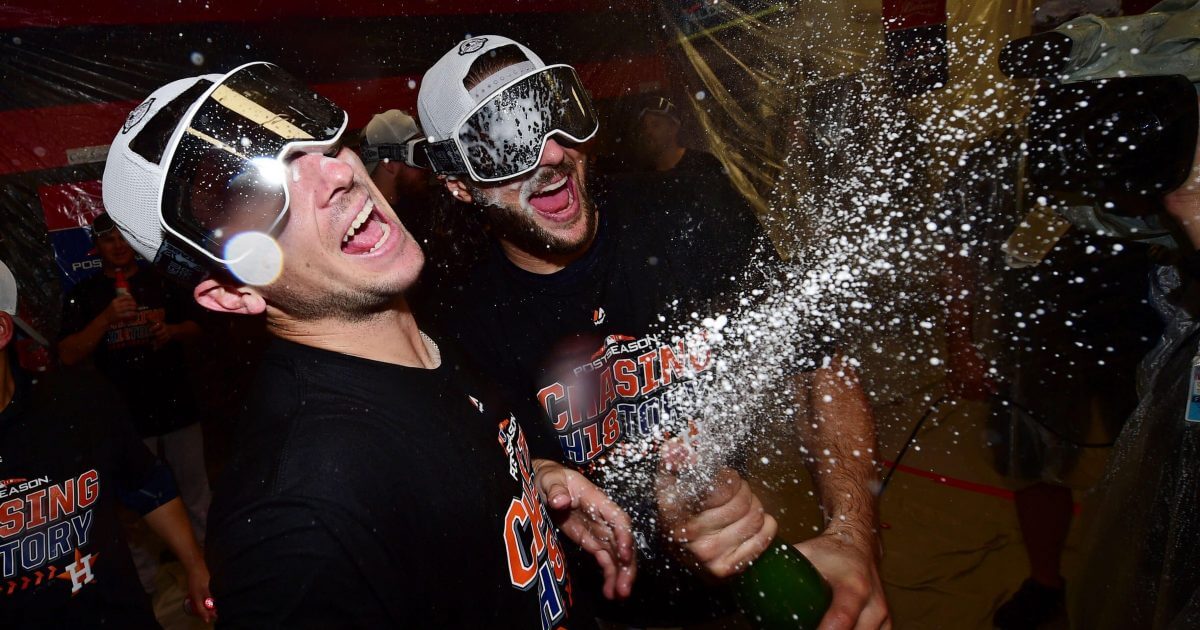 Back in the Saddle: World Series Champs Advance After Sweeping Indians
As his teammates sprayed each other with champagne and beer in Houston's buzzing clubhouse, ace Justin Verlander stayed clear of the fray and foam while enjoying a cigar.
This wasn't the time to get soaked. Bigger parties lie ahead.
The Astros are back in an October orbit.
Advertisement - story continues below
The defending World Series champions advanced to the AL Championship Series for the second straight year — with surprising ease — by completing a division-round sweep of Cleveland on Monday with an 11-3 lashing in Game 3 helped by two key throwing errors from Indians reliever Trevor Bauer.
"No one takes anything for granted here," Verlander said. "That's the DNA of the guys in this clubhouse. This team has a propensity to do big things in big spots. This is an atmosphere that breeds winning.
"We have the most complete team in baseball."
Marwin Gonzalez hit a two-run double off Bauer in a three-run seventh inning, and the Astros scored 10 runs in their final three at-bats to turn a series that was supposed to be competitive into a complete rout.
Advertisement - story continues below
"We're the reigning world champs, and we really have a good ability to show up for the day," Houston manager A.J. Hinch said. "So proud of our guys, the work they put into the winter. It was a short winter for us. As you can see, our guys are pretty hungry to advance."
The Astros moved to the ALCS on-deck circle, where they await the Boston-New York winner for a shot to play for another championship.
Will the Astros repeat as World Series champions?
George Springer homered twice, Carlos Correa hit a three-run homer for his first hit of the postseason and Houston's bullpen combined for four scoreless innings, including six straight outs by winner Collin McHugh, as the AL West champions served notice that a second Series title is on their itinerary.
After the Astros finished this demolition of the Indians, they briefly celebrated on the infield at Progressive Field before donning ski goggles in their clubhouse.
For the Indians, another postseason ended earlier than planned. Cleveland was beaten in the first round for the second year in a row, and baseball's longest World Series championship drought will reach a 71st anniversary.
Advertisement - story continues below
The Indians hit just .144 in the series, were outscored 21-6 and have lost six straight playoff games. They were swept for the first time since the 1954 World Series.
"We got to go home now, before we're ready to," manager Terry Francona said. "That hurts. It always stings. I just told the guys, we've got a number of guys that are free agents. You know there's going to be some turnover, and it's a real special group to all of us.
"So that's a hard one, when you're saying goodbye before you're ready to."
Reliever Andrew Miller, one of several potential free agents, couldn't allow himself to think about the future while saying goodbye to teammates.
Advertisement - story continues below
"There's probably a million things you could point to why we didn't win three games," said Miller, who was on the disabled list three times this year. "This isn't the way we want it to end."
Unlike the Indians, who coasted to a third straight division title, Houston got pushed in the AL West.
But once the Oakland Athletics applied pressure, the Astros took off and went 29-10 after Aug. 18.
They're soaring again.
Advertisement - story continues below
"At no point this season was there any complacency with this team," Verlander said. "If I had been traded here after they won the World Series, instead of before it last year, I would have assumed this was a young and hungry team when I walked in the clubhouse."
Conversation