Sports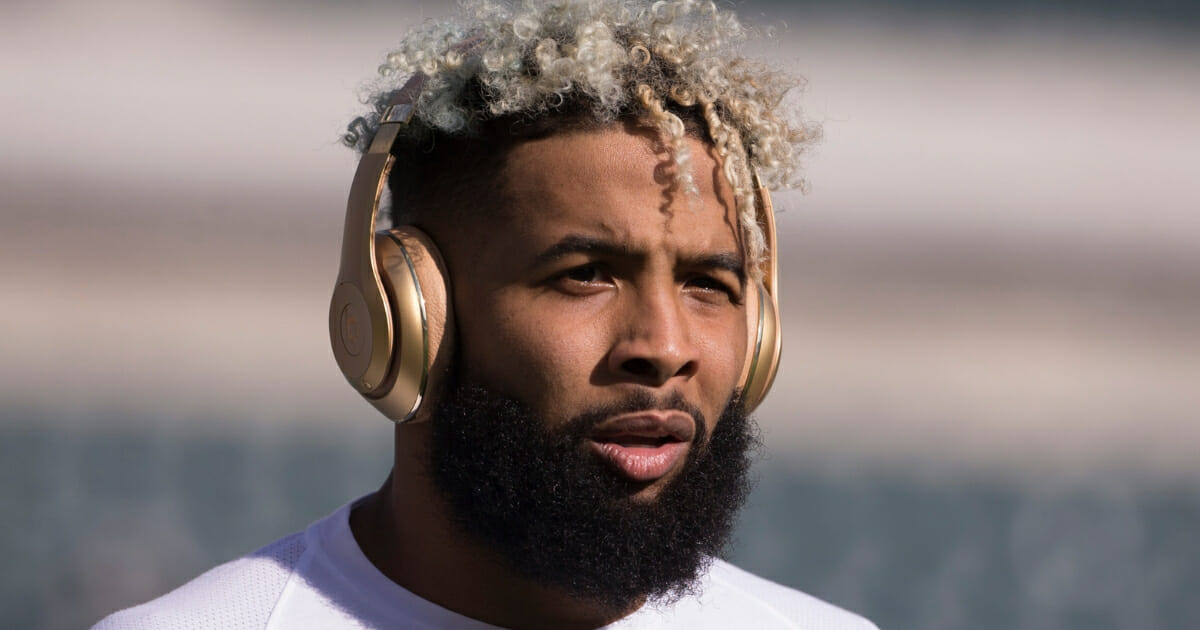 Odell Beckham Jr. Complains That 'I Deal with More' Than Anyone Else in the NFL
When you're a world-famous athlete making up to $90 million, $65 million of it guaranteed, over the course of five years, there's a general understanding that you're not going to get much sympathy from the general public if you start complaining that you have it rough in life.
Odell Beckham Jr. is a world-famous athlete making in the high eight figures, and his complaining about his life situation is diluting the enthusiasm of Cleveland Browns fans salivating at the idea of watching him catch passes from second-year quarterback Baker Mayfield when the season starts in September.
Consider what he said, according to Sports Illustrated's Albert Breer.
Advertisement - story continues below
"I don't think anybody knows what it's like to be me, what I go through on a daily basis," Beckham said. "Like, every single thing I have to deal with, that's something that nobody else I feel like has to deal with. I feel like I'm in a way different position than anybody else in the NFL. I feel like I deal with more. I take more.
"There's things I've done in the past. But as a man I've tried to grow a lot and tried to put a lot of stuff behind me, and it's like it just keeps getting brought up."
Beckham, who has made a career out of pointing at himself and lapping up the attention given to him by fans and the media, now wants to put the genie back in the bottle and play the victim when he can't simply turn around and unmake his own reputation.
Breer, weighing in on Beckham's remarks, said, "Beckham's a great player, but that's not the reason why he's picked apart the way he is. He's called attention to himself in the past, and that's fine — a lot of it has helped build a brand off of which he's profited handsomely, and he should be applauded for that. But you can't do that, then act surprised when people make a big deal out of what you do. That's just the life of a star, and it's not unique to this particular 26-year-old."
Advertisement - story continues below
As for the fans, they're not on board with Beckham's complaining:
Nothing worse than listening or reading about rich people's problems. Tiresome. Spend your money wisely, keep your nose clean, do the job you were paid well to do and just live your life.

— Melanie (@mefbama) June 11, 2019
Even as Beckham continues to be a distraction in the offseason, there is also the fact to consider that this is the offseason. If Beckham and Mayfield want to beef with Fox Sports' Colin Cowherd or OBJ wants to "woe is me" his way through a summer press tour, it's not affecting the action on the field.
If anything, it's getting more people talking about the Browns, a team that is just a year removed from going 0-16 and yet is viewed by many as the favorite to win the AFC North and possibly contend for a Super Bowl.
Beckham is also one of the best pass-catchers in the league, able to engage in frighteningly good displays of athleticism that turn a quarterback's misses on throws into touchdowns. When he's catching circus balls from Mayfield in September, nobody is going to remember or care about his complaining in June.
Advertisement - story continues below
But this does not for one minute excuse the fact that you expect a sports star with a $90 million contract to be a little less tone-deaf when it comes to relating to the fans and giving the kinds of media people with nothing better to do than stir up drama in the offseason plenty of ways they can do so.
As Henry McKenna of USA Today put it, "If you scream, 'stop looking at me,' everyone is going to look at you."
Will the Browns regret trading for Beckham?
What's more, Beckham, instead of taking the opportunity to recast himself as a hero in the Cleveland community by being positive, is being combative and establishing himself as one of the worst things an NFL player can be: a "distraction." Again, it's only June, and this might not carry over into the season, but it's no way to get off on the right foot, especially after being rescued from the dumpster fire that is the New York Giants.
Advertisement - story continues below
Beckham still has to win over the hearts and minds of Browns fans, whose team hasn't won a championship since 1964.
So maybe now isn't the time for OBJ — who brought most of his problems on himself — to be complaining about his problems.
Conversation