Commentary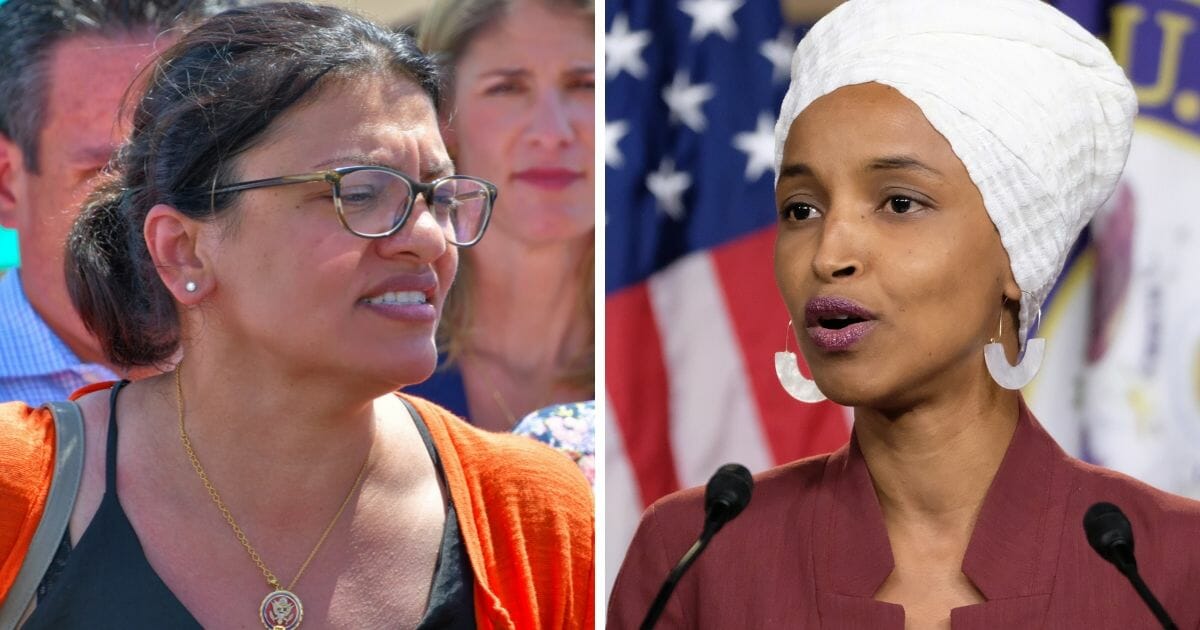 Omar, Tlaib Keep Getting Worse, Share Trump and Netanyahu-Bashing Cartoon from Anti-Semitic Artist
These two Democrats make it worse with every passing day.
As if milking a grandstanding stunt to insult the government of Israel wasn't enough, Rep. Ilhan Omar and Rashida Tlaib upped the ante on Saturday by publishing the work of a cartoonist who supports their attacks on Israeli Prime Minister Benjamin Netanyahu.
And naturally, the cartoonist has a history of anti-Semitic work – the kind that gets honored in places like the Islamic Republic of Iran.
Advertisement - story continues below
Two days after being banned by the Israeli government from a visit planned for this weekend, and one day after Tlaib very publicly turned down an offer from Israel to let her visit the country after all, under certain conditions, the two Muslim members of Congress  decided to make their confrontation with the Netanyahu government even uglier.
On Saturday, both women used their Instagram accounts to publish a cartoon showing Netanyahu and President Donald Trump literally silencing both.
They were spotted by Batya Ungar-Sargon, opinion editor at The Jewish Forward.
Oof. Looks like both Rep. Omar and Rep. Tlaib shared this awful Carlos Latuff cartoon in Instagram stories yesterday. In 2006, Latuff came in second in Iran's International Holocaust Cartoon Contest, which is a thing that exists, in case you thought the TL couldn't get any worse. pic.twitter.com/uwyBPAsz7T

— Batya Ungar-Sargon (@bungarsargon) August 18, 2019
Advertisement - story continues below
On Tlaib's Instagram post, the cartoon was captioned: "The more they try to silence us, our voices rise. The more they try to weaken us, the stronger we become. The more they try to discredit us, the truth prevails."
Do you think Tlaib and Omar are embarrassing themselves?
OK, aside from the high school yearbook maturity – which should be embarrassing for a political party made up of adults – the artwork itself might be a little problematic for Democrats who still like to argue that opposition to Israel's current government isn't the same as anti-Semitism.
Ungar-Sargon pointed out that the artist behind this tripe entered work in Iran's International Holocaust Cartoon Contest in 2006 and won second place. (Just ask yourself, what kind of country has a Holocaust cartoon contest? And what kind of man would enter such a thing?)
His cartoon was a work that showed a man wearing the Arab head scarf known as a keffiyeh – possibly made best known by the late PLO leader Yasser Arafat – along with the striped uniform of Jewish concentration camp prisoners of the Holocaust.
Advertisement - story continues below
Just the kind of charmer who would fit right in with Tlaib, Omar and the rest of "the squad."
How long will it be before the Democratic Party recognize Omar & Tlaib for the anti-Semites they are.

— Aaron Goldstein (@aargold24) August 18, 2019
Antisemities sharing antisemitic cartoons and continue to be antisemitic? I'm shocked

— Bob Malak (@bob_malak) August 18, 2019
Advertisement - story continues below
But troublesome provenance aside, the cartoon itself is nonsense. No one – not Netanyahu, not Trump and certainly not the ever complicit Western media – is trying to silence Omar, Tlaib or any other critic of Israel.
What the Israeli government decided was it had no obligation to allow two women with a rabid dislike of the Jewish state to have a platform within Israel itself to support those who wish to see it destroyed.
Omar, Tlaib – like anyone else – are free to continue their vicious bleating to their hearts' content, they just can't do it as guests of the sovereign nation of Israel.
Advertisement - story continues below
That doesn't seem like it should be expected of any nation – much less one surrounded by enemies the way Israel is.
Radicals like Tlaib and Omar have no real interest in the security and peace of Israel or its neighbors, though.
And with every passing day, they prove it more and more.
Conversation