Op-Ed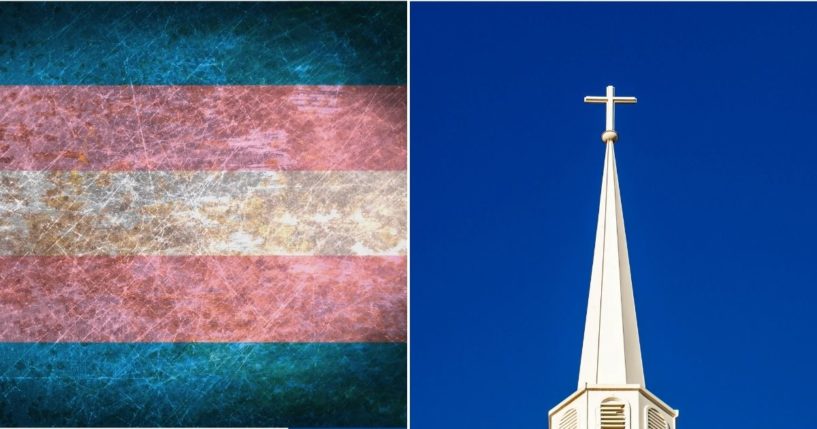 Op-Ed
Op-Ed: The Unavoidable Problem Facing Violent Transgender Activists and Christians
Christian pastors and other shepherds in the Body of Christ are on notice: A decided and undeniable seismic shift has happened in our day.
The shift is nothing short of a tectonic fission between the newly formed island of Christian faith and the mainland of unbelief. The waters that separate the island of Judaeo-Christians from the land of the Secular Agers are dangerously bitter.
The rupture, like all such destructive forces, is most visible in the extremes. For example, transgender activists not only illogically and defiantly reject basic, observable human biology, but require — i.e., demand at the threat of violence — others to accept their insanity.
Advertisement - story continues below
An image comes to mind that illustrates the point: A well-known actress recently derided a male for exposing his sickness (his "transition" to "girlhood") before millions of followers on a Chinese social media platform. Repentant, after losing followers on Instagram (a postmodern existential crisis to even the most broad-minded secularist), she (the actress) invited the poor man to appear on her talk show.
The set was casual chic, creating the perfect milieu for a celebrity meltdown and recovery. As the fraudulent female sat, smartly dressed in a polished American Girl-meets-Cosmopolitan look, he exuded a perfectly rehearsed feminine presence. His convincing "it's a bit cold in here" faux frailty likely won over some duped female viewers. Some might have sympathized, "Poor darling, it's always cold in those awful places."
The actress arose, crossed the space between them, and in a public act of self-loathing, demonstrated remorse with cancel culture-avoiding penance. She went to her knees before the man pretending to be a woman. The actress, her hand resting on the man's knee, groveled before the ridiculous figure.
The visual is 100 percent more alarming and revolting than words can portray, and in postmodern madness, 100 percent effective: career saved, new age virtue preserved, dementedly defiant of the fading faith of the marginalized enemies of transgender mania. It only remains to have the cross-dresser elevated to "Woman of the Year," or star in a new recruiting campaign for the Department of Defense.
Advertisement - story continues below
But there are some who will never bow to the image. And this is a problem.
A Problem for Transgender Activists
Those on the mainland, the postmodern secularists, have made it unwaveringly clear: Mere tolerance is not an option. Their credo demands a demonstrated and authentic obeisance.
Furthermore, their practices require public approval. Failure to concede not only the viability of, e.g., transgender activism in public places like schools but also the moral-ethical values that underpin the movement will necessitate a response.
To be clear, this is not a concern. Public flogging of puritanical intransigence is a credible and calculated tactic in the larger strategy. The concern is more logistical in nature. Resistance can impede campaign velocity.
Advertisement - story continues below
According to Genesis 19:1-11, this kind of radical sexual perversion can become violent quickly (as we have seen in recent regrettable displays): "The men of the city, the men of Sodom, both young and old, all the people to the last man, surrounded the house. And they called to Lot, 'Where are the men who came to you tonight? Bring them out to us, that we may know them'" (Genesis 19:4-5). Gospel hope amidst cultural madness is like Lot's home being terrorized by the wicked men of Sodom.
Transgender activists not only advocate for their unholy position but demand that others accept it with enthusiasm, or… Or what? We are just beginning to see their nightmarish answer.
A Problem for Christians
When intransigent transgenderists meet dedicated followers of Jesus Christ, something is going to happen — but it is not what some might imagine.
Advertisement - story continues below
Believers might, as has been done at abortion clinics, offer cookies to the activists. Others might kneel and pray. None, however, will take up arms or in any way ignore the clear teaching of Jesus in John 18:36-37:
"Jesus answered, 'My kingdom is not of this world. If my kingdom were of this world, my servants would have been fighting, that I might not be delivered over to the Jews. But my kingdom is not from the world.' Then Pilate said to him, 'So you are a king?' Jesus answered, 'You say that I am a king. For this purpose I was born and for this purpose I have come into the world — to bear witness to the truth. Everyone who is of the truth listens to my voice.'"
This is a battle for truth, for saving human beings from dangerous absurdities with irreversible consequences. Christians will not and cannot stand by and watch our children be indoctrinated into the open rebellion against our Creator who made us male and female.
But there is another "problem" facing Christians: the glorious and merciful "problem" of being saved by grace.
Advertisement - story continues below
If Saul of Tarsus was transformed by the resurrected Christ on his way to persecute believers, and if God saved me, a filthy sinner called to proclaim the gospel I once blasphemed, then we might expect a glorious revival of faith to draw in thousands of those who persecute God's people today to reach Christ tomorrow. And that is no problem at all.
The views expressed in this opinion article are those of their author and are not necessarily either shared or endorsed by the owners of this website. If you are interested in contributing an Op-Ed to The Western Journal, you can learn about our submission guidelines and process here.
Conversation