Op-Ed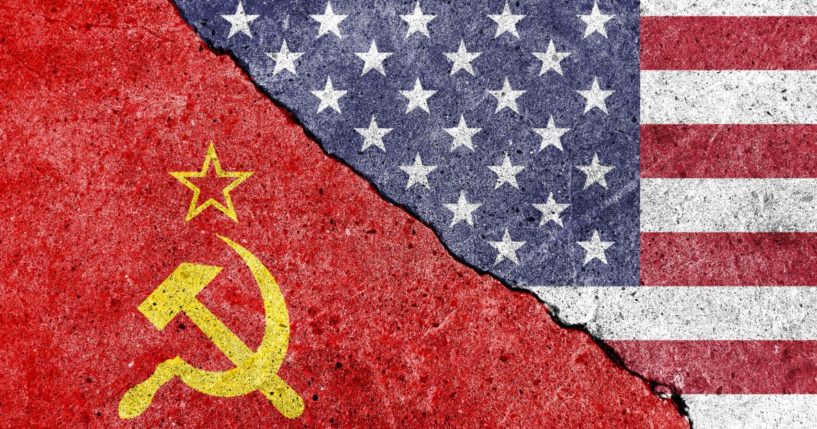 Op-Ed
Op-Ed: The US Has Never Been Serious About Defeating Communism
The uni-party's $113 billion flailing proxy war in Ukraine is becoming increasingly fishy.
Washington has never explained why the U.S. is maniacally defending the territorial sovereignty of a corrupt non-ally whose right to free secession was originally a Bolshevik concoction, and whose borders encompass land Stalin pilfered from Poland during World War II, with Allied consent.
Now, alarmingly, Moscow is accusing the U.S. of orchestrating an attempted drone attack on the Kremlin and is reserving the right to take necessary "countermeasures." Brokering a peace deal is more urgent than ever.
Advertisement - story continues below
The neurosis over Ukraine contrasts with the nonchalance regarding communist China.
Beijing is subverting U.S. national security by trafficking fentanyl into the U.S., establishing illegal overseas police stations, peddling anti-democratic narratives online, flexing military muscle in the Taiwan Strait, and even buying off the commander in chief's family members. On the 100th anniversary of the Chinese Communist Party, President Xi Jinping spelled it out: "Marxism is the fundamental guiding ideology upon which our Party and country are founded."
Yet in Washington, no one seems especially bothered.
They never were. For the past century, the establishment has been peculiarly fixated on Russa, swinging from adulation to demonization. But its interest in rooting out communism was always lukewarm.
Advertisement - story continues below
For decades after the 1917 Bolshevik Revolution, many distinguished voices sounded the alarm but were consistently sidelined.
Ambassador Francis David Rowland returned from Moscow in 1921 predicting that if this "foul monster" was not eradicated "branch, trunk and root," it would spread to all countries, ravaging institutions, society and humanity itself.
Are you concerned about the threat of communism?
William C. Bullitt, the first ambassador to the Soviet Union, helped negotiate the establishment of diplomatic relations under President Franklin D. Roosevelt. However, Bullitt soon realized that Stalin, contrary to assurances given, fully intended to undertake subversive activity within the U.S. In 1943, a disillusioned Bullitt advised Roosevelt that the Soviet Union was a "totalitarian dictatorship" and that when "Germany collapses we must be in a position to prevent … the flow of the Red amoeba into Europe."
In 1947, diplomat George Kennan outlined the now-famous containment doctrine. Kennan had long believed that collaboration with Russia was a chimera. He was horrified by Soviet war crimes and alarmed by Stalin's obvious intentions to install a communist puppet regime in Poland.
Even once Kennan's theory finally grabbed Washington's attention, the ideas were distorted. Kennan was a NATO skeptic and worried that "preoccupation with military affairs" distracted from the greater danger of Communist Party influence within Western countries themselves. "Communism is a parasite that feeds on malignant tissue," Kennan explained. "Much depends on the health and vigor of our own society."
Advertisement - story continues below
Unfortunately, the liberal elite glorified Soviet socialism and glossed over Stalin's atrocities.
In 1939, journalists and academics from The New Republic, The Nation, The New Yorker, Harvard, Columbia, Yale and Stanford signed an open letter urging closer cooperation with the Soviet Union and lauding the country's protection of civil liberties and its commitment to "a peaceful international order."
Successive administrations were similarly taken in. In 1938, Vice President John Nance Garner asked Democratic Rep. Martin Dies to set up and chair the House UnAmerican Activities Committee to investigate subversion. Roosevelt endeavored to shut it down.
According to Dies, Roosevelt insisted there was "nothing wrong with the communists in this country" and that Russia was "our greatest friend in the years to come." Yet Roosevelt's own attorney general concluded that the Communist Party had always sought "the overthrow by force and violence of the government of the United States."
Advertisement - story continues below
In 1939, Roosevelt slapped down the information provided by Communist Party defector Whittaker Chambers that the executive branch had been infiltrated. Many of the names identified, including senior State Department official Alger Hiss, have since been confirmed as Soviet assets.
President Harry Truman similarly mocked HUAC's investigations and ignored warnings from the FBI in late 1945 that Harry Dexter White, assistant secretary of Treasury, was a Soviet mole.
The year before, White had helped sabotage U.S. economic aid to the Chinese nationalists. He had also secretly been part of Stalin's Operation Snow to protect the Soviet Union's Pacific flank by provoking a war between the U.S. and Japan. Nevertheless, Truman nominated White to head the International Monetary Fund — the "pillar of the postwar economic order" that White co-founded.
The same lack of seriousness characterized postwar foreign policy catastrophes.
Advertisement - story continues below
Gen. George Marshall, acting on disingenuous advice from State Department experts like John Stewart Service, who had been arrested in 1945 for leaking classified information to the pro-communist magazine Amerasia, insisted Chiang Kai-shek take Chinese communists into a coalition government. When Chiang wouldn't cooperate, Marshall ordered an arms embargo. Gen. Douglas MacArthur labeled the fiasco "one of the greatest mistakes … in our history."
Then, a mere two years after Mao Zedong won the civil war, Truman was justifying U.S. intervention in Korea by warning of "a monstrous [communist] conspiracy to stamp out freedom all over the world."
President Dwight D. Eisenhower also blew hot and cold in his attitude toward the communist menace. As general, he halted the advance of American troops into Germany in 1945, allowing the Russians to take Prague and Berlin. He saw "nothing in the future that would prevent Russia and the U.S. from becoming the closest possible friends."
After his 1953 inauguration, Eisenhower was spending the equivalent of over $100 billion a year on nuclear weaponry to combat Soviet aggression. Yet he simultaneously plotted to stop Sen. Joseph McCarthy's investigation of the communist-infiltrated administrative state that Dies had begun looking into a decade earlier.
Advertisement - story continues below
When the Soviet Union eventually imploded, the communist sympathizers who once fawned over "Uncle Joe" Stalin and his "gallant Red Army" shifted seamlessly to celebrating "win-win" cooperation with China and heralding its "inexorable" move to democracy. The socialist heart of the establishment behemoth never missed a beat.
Meanwhile, the obsession with Russia never waned.
Today, our political elites are wantonly risking war with a nuclear power to fulfill Lenin's outstanding promise to Ukraine and irrevocably sever the region from its Russian and ultimately Christian past. But they're no more interested in taking down the Marxists in Beijing than they were, to paraphrase Dies, in killing the infant communist monster in its crib when they had the chance.
The views expressed in this opinion article are those of their author and are not necessarily either shared or endorsed by the owners of this website. If you are interested in contributing an Op-Ed to The Western Journal, you can learn about our submission guidelines and process here.
Conversation