News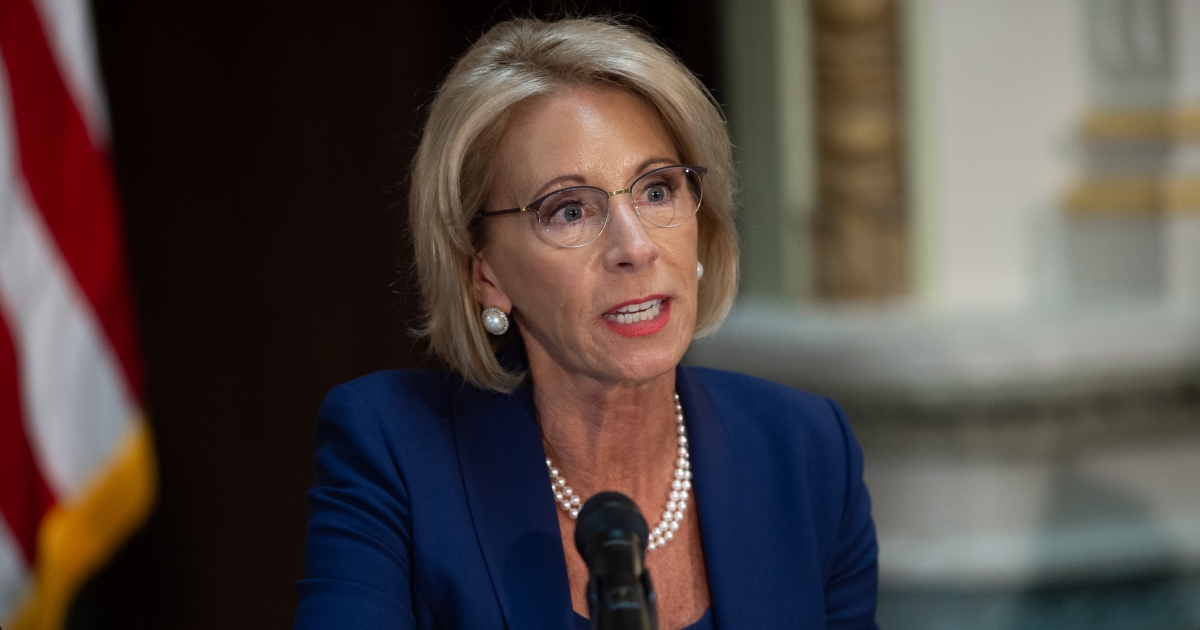 College Watchdog Previously Shut Down by Obama Administration Is Reinstated Under DeVos
Secretary of Education Betsy DeVos decided to reinstate a for-profit college watchdog Wednesday after it was shut down by former President Barack Obama's administration in 2016.
The Accrediting Council for Independent Colleges and Schools, a national accreditor for nonpublic colleges, was found to comply with 19 out of 21 areas of responsibilities applicable to accrediting agencies, according to The Associated Press.
"After the previous administration failed to review 36,000 pages of documents related to ACICS's application to continue as a recognized accreditor, the United States District Court in Washington, DC, remanded the case back to the Secretary," the press secretary told The Daily Caller News Foundation over email.
Advertisement - story continues below
The ACICS has one year to come into compliance with "competency of the representatives" and "conflict of interest" criteria, an ACICS press statement said.
"While it has been a challenging two-year process, we understand and appreciate the Department's need to be extremely thorough in its evaluation of our compliance," ACICS President Michelle Edwards said in the press release. "Now that the review is completed, we are eager to move forward and commit all of our energy to reinvigorating and strengthening the organization for a strong future."
Some do not approve of DeVos reinstating the ACICS.
For years, garbage heaps claiming to be colleges stayed in business because a shady accrediting agency gave them its rubber stamp. The Obama Admin shut it down – but @BetsyDeVosED is bringing it back to appease her #4profit pals. Congress must investigate. We owe it to students. https://t.co/TlFkuisuSX

— Elizabeth Warren (@SenWarren) November 21, 2018
Advertisement - story continues below
What does the Trump-DeVos Department of Education and deadbeat accreditor ACICS have in common? They both protect and enable predatory for-profit colleges that defraud students and cheat taxpayers out of millions. Today's decision isn't surprising but it's still outrageous. https://t.co/daTo4dLoAf

— Senator Dick Durbin (@SenatorDurbin) November 21, 2018
ED's decision to ignore the failure of ACICS and move ahead with reinstatement – after misrepresenting the endorsements of nine accreditors and without regard to its own analysis showing that ACICS does not meet federal standards for recognition – is deeply troubling.

— Suzanne Bonamici (@RepBonamici) November 21, 2018
The national college accreditor had 240 institutions under its wing before it was shut down by the Obama administration, which cited poor oversight, the AP reported. Corinthian Colleges and ITT Technical Institute were for-profit chains previously certified by the ACICS.
ITT Technical Institute announced on Sept. 5, 2016 that it would shut down all of its campuses following ACICS losing recognition.
Over 40,000 students did not have a school to attend while 8,000 employees lost their jobs.
Advertisement - story continues below
ACICS has been targeted by Democratic lawmakers who accused the accreditor for weak oversight that makes it so low-quality schools can gain accreditation. Once the schools get accredited, they can take advantage of the students by scamming them.
A version of this article appeared on The Daily Caller News Foundation website.
Conversation