Lifestyle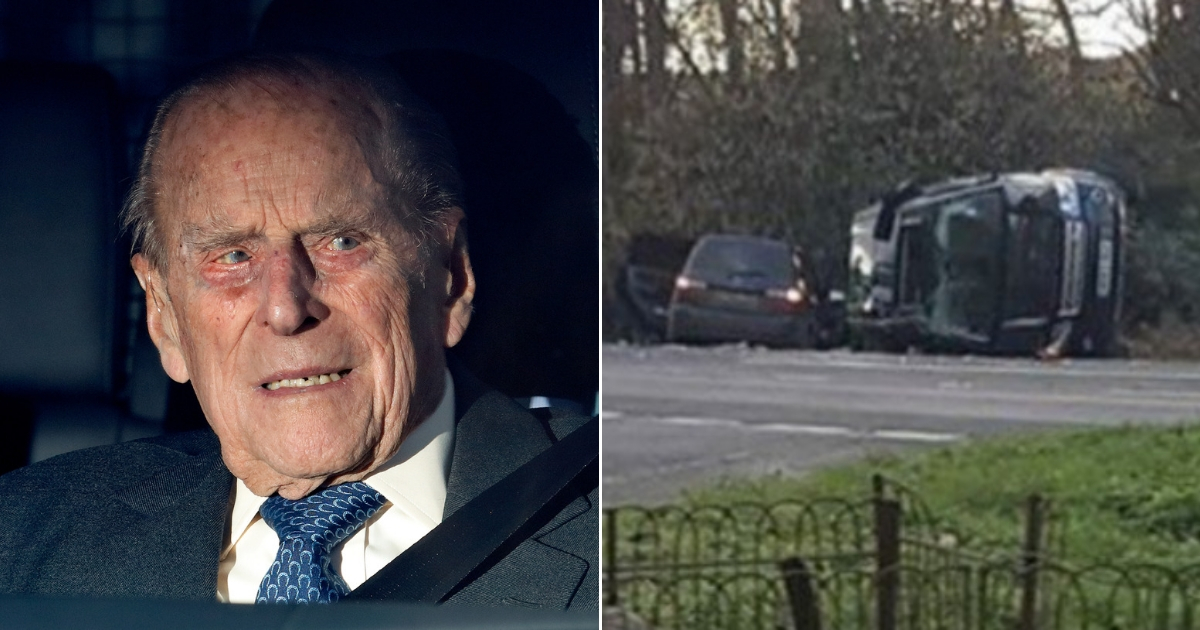 After Serious Crash, Prince Philip Gets Stern Warning from Police for Not Wearing Seat Belt
When people heard the news that Prince Philip was involved in a car crash on Jan. 17, some insisted that it's time for the 97-year-old to stop driving.
Anyone who has an elderly relative who values their independence knows it can be difficult for a person to hand over the keys and relinquish their freedom. Of course, members of the royal family have chauffeurs at their beck and call, but sometimes you just want to take the wheel yourself.
Prince Philip is nothing if not stubborn, and the idea of having someone else drive him around when he can do it himself may be galling — but there are some serious questions being asked after this incident.
Advertisement - story continues below
"He's a proud man and it's difficult to tell anyone to hang up their keys, but for a royal with so few opportunities to lead an independent life, this will come as a major blow to the duke," Victoria Arbiter, a CNN royal commentator, told USA Today.
"Philip will have been devastated to have caused harm to members of the public and so it's also possible that he will determine on his own that he should perhaps no longer drive on public roads," she continued.
Both drivers passed breathalyzer tests, too, so alcohol is not to blame for the wreck.
Advertisement - story continues below
Prince Philip has been involved in a car crash near to Sandringham – Buckingham Palace say he was unhurthttps://t.co/kKAVJYOlwX pic.twitter.com/WX8V5wA0md

— ITV News (@itvnews) January 17, 2019
It is still unclear (or hasn't been divulged) just who was at fault, who hit whom, and how fast the respective motorists were traveling, so it's not really fair to blame Prince Philip for being at fault when we don't know that's the case. Accidents happen all the time.
"We are aware of the public interest in this case, however, as with any other investigation, it would be inappropriate to speculate on the causes of the collision until an investigation is carried out," read a police statement, according to USA Today.
The accident involved Prince Philip in his Land Rover and two women and a 9-month-old baby in a Kia. Miraculously, the baby was fine, but his mother and his mother's passenger friend, Emma Fairweather, suffered minor injuries.
Advertisement - story continues below
Fairweather ended up with a broken wrist. She's also not pleased that she hasn't received an acceptable apology or been checked on by the royals.
"I'm lucky to be alive and he hasn't even said sorry," she told Mirror UK. "It has been such a traumatic and painful time and I would have expected more of the Royal Family."
Prince Philip's car crash prompts questions about why the 97-year-old was driving https://t.co/gxXzXX1PY5 pic.twitter.com/2dTJtzffwR

— CBS News (@CBSNews) January 18, 2019
Advertisement - story continues below
Fairweather admitted that she was contacted by a police family liaison officer, who told her "The Queen and the Duke of Edinburgh would like to be remembered to you," which she found insufficient.
Meanwhile, Prince Philip is doing well and sustained no major injuries. He did, however, endure a tongue lashing from the British police because two days after the accident he was driving in his new car without wearing a seat belt.
Advertisement - story continues below
It was a photo that outed the duke, as the image that circulated showed him on a public road without him wearing a seat belt.
A police spokeswoman assured the public that "suitable words of advice have been given to the driver," according to CNN. "This is in line with our standard response when being made aware of, or receiving such images showing this type of offense."
Conversation