Sports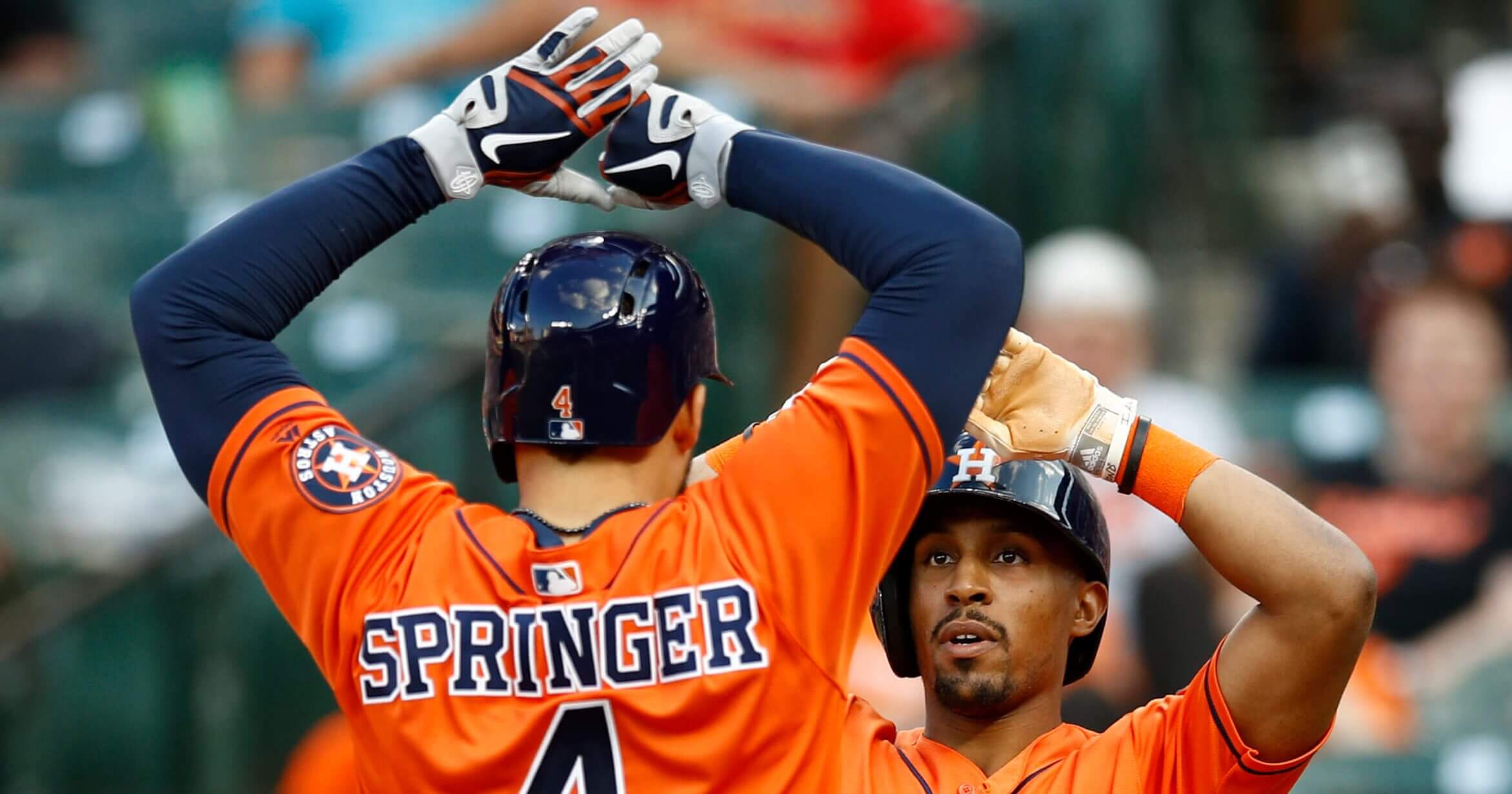 MLB Playoffs Have Arrived, Here's Everything You Need To Know A-to-Z
Last year's World Series between the Astros and Dodgers was a thriller, ending in Houston's Game 7 victory for its first championship.
Might they have an encore in store? Perhaps one with a Hollywood ending this time?
Time to find out. After two tight NL division races stretched the regular season to a pair of Game 163s, the Rockies and Cubs are set to begin the playoffs Tuesday night with the NL wild-card game at Wrigley Field.
Advertisement - story continues below
Before they do, a look at the 2018 postseason, from A to Z:
A: ACES OUT — Good news for NL hitters: Many of the league's top starting pitchers have already begun their offseasons. Cy Young Award favorites Jacob deGrom, Max Scherzer and Aaron Nola won't throw a postseason pitch. Same for Patrick Corbin and 18-game winner Miles Mikolas. Of course, longtime rotation leaders like Clayton Kershaw and Jon Lester are still in play.
B: BETTS IN SHOW — Mookie Betts enters his third postseason as the AL MVP favorite, though Boston's dynamic leadoff hitter has a rather ho-hum playoff resume. Despite hitting 87 home runs over the past three seasons, Betts has yet to deliver a playoff homer in seven games, batting .269 without an RBI.
C: CONTROVERSIAL CLOSER — The reigning World Series champs have a different look at the back of their bullpen after a midseason move met by some criticism. The Astros acquired Roberto Osuna from Toronto while he was serving a 75-game ban for violating Major League Baseball's domestic violence policy. Canadian prosecutors have since dropped the domestic assault charge against him because the accuser would not travel to testify.
Advertisement - story continues below
D: DEBUTS — This will be the first postseason for Yankees slugger Giancarlo Stanton and Brewers star Christian Yelich after years with the floundering Marlins. Stanton will face another powerful first-timer in the wild-card game in Oakland's Khris Davis. The Baby Braves are loaded with playoff rookies — only Freddie Freeman, Nick Markakis, Julio Teheran and Kevin Gausman have any postseason reps from Atlanta's lineup or rotation.
E: EXTRA DRAMA — This year's postseason got a special prelude — a pair of division tiebreakers. The Brewers beat the Cubs 3-1 on Monday to claim the NL Central title, and the Dodgers topped Colorado 5-2 for the NL West crown. The Cubs and Rockies will play in a wild-card game Tuesday. The winner heads to Milwaukee for a best-of-five Division Series.
Will you be watching the MLB playoffs?
F: FREDDIE AND THE KIDS — Freddie Freeman leads a young Atlanta squad back to the playoffs for the first time since 2013. Freeman is a career .400 hitter in the postseason, but the Braves are just 1-4 with him in the lineup. He has a whole new supporting cast this time, with Ronald Acuna Jr. and Ozzie Albies leading a charge that followed a fruitful rebuilding process.
G: GOOD GARY? — Yankees catcher Gary Sanchez batted just .208 in his postseason debut last year and followed that up with a .186 average during an injury-plagued 2018. New York has stayed patient with Sanchez's defensive shortcomings because of his potential impact on offense, but excessive passed balls don't pair so well with an average below the Mendoza Line.
H: HOME RUN KINGS — Speaking of New York, no team has ever clubbed more homers than this year's Yankees. With 267, they beat the mark of 264 set by the 1997 Seattle Mariners. Giancarlo Stanton led the way with 38, but this record was set more with depth. New York is the first squad with 12 players who reached double-digits in homers.
Advertisement - story continues below
I: INSTANT REPLAY: Every call matters that much more in the postseason, and that goes for managers just as much as umpires. Last year, Yankees skipper Joe Girardi was maligned after failing to ask for a review when the plate ump incorrectly awarded Cleveland a hit by pitch. After a restless night of sleep, Girardi declared the next day, "I screwed up." Girardi was replaced by Aaron Boone at season's end.
J: JULY PICKUPS — The Dodgers added Manny Machado and Brian Dozier before the trade deadline with an eye on a World Series. Same for the Brewers with Jonathan Schoop and Mike Moustakas. J.A. Happ will be a crucial piece for the Yankees, and Kevin Gausman will get big innings for the Braves. The most surprising player who could make an impact? Breakout slugger Luke Voit, acquired by New York without much fanfare from St. Louis.
K: KENLEY OK? — Kenley Jansen might be a point of concern for the Dodgers. After giving up two homers in Monday's 5-2 tiebreaker win over Colorado for the NL West title, Jansen has allowed 13 homers this season, more than double his previous career high of six. Jansen missed time in early August after a trip to Denver led to a recurrence of a heart issue, and he's been especially homer-prone since returning.
L: LONG RELIEF — Andrew Miller made the middle innings a must-watch event two postseasons ago with Cleveland, and last year, starters Justin Verlander, Chris Sale and Clayton Kershaw were ready for relief in big spots. Expect to see aces in play early and often, especially in elimination games.
Advertisement - story continues below
M: MVPS — There's plenty of playoff hardware already in the trophy cases of this season's participants. Houston's George Springer was last year's World Series MVP, while the Cubs' Ben Zobrist is back after winning the 2016 honor. David Freese took the 2011 award with the Cardinals — he's a bench piece now with the Dodgers — and the Cubs also have Phillies 2008 Series MVP Cole Hamels.
N: NO NOVEMBER — The past two World Series have gone to Game 7s on Nov. 1, but if this year's finale goes the distance on schedule, it'll have to carry past midnight to stretch beyond October. Game 7 is scheduled for Halloween.
O: ON THE MEND — All-Stars Aaron Judge and Trevor Bauer hit October trying to shake late-season DL stints. Bauer got a few tuneup appearances for Cleveland after breaking his right leg, and now the Indians are hoping he can provide some big innings. Judge, meanwhile, hit just .220 in 13 games after missing time with a broken right hand.
P: PITCHING TO ROCKTOBER — Sure, Nolan Arenado and Trevor Story finished 1-2 in the NL home run race, but this year's Rockies club has been pushed just as much by its pitching. Projected wild-card game starter Kyle Freeland set the franchise season ERA mark at 2.85, while German Marquez, Jon Gray, Tyler Anderson and Antonio Senzatela have rounded out a rotation that's kept opponents in check at hitter-friendly Coors Field.
Advertisement - story continues below
Q: QUITTING WHILE AHEAD? — Chase Utley is eyeing a chance to go out on top. The Dodgers second baseman is planning to retire after the season, but first LA will try to get him a second World Series ring. The Braves are doing the same for Brandon McCarthy, who was shut down in September and won't be on the active roster before retiring at year's end.
R: ROOKIE STANDOUTS — Rookie of the Year contenders Ronald Acuna Jr. of Atlanta and Miguel Andujar of the Yankees could contribute some big swings. The 20-year-old Acuna led all rookies with 3.8 wins above replacement (per Fangraphs) behind 26 homers, 16 stolen bases and a .293 average. Andujar tied for the rookie lead with 27 homers and led the pack with 92 RBIs.
S: STILL SLICK? — Last year's World Series was star studded, but perhaps nobody got more attention than the supposedly slick baseballs. The Dodgers and Astros combined for a Series record 25 homers while pitchers for both teams complained they couldn't get a grip.
T: TRIPLE THREATS — Boston's J.D. Martinez and Milwaukee's Christian Yelich both took serious runs at a Triple Crown this year. Martinez led the AL with 130 RBIs and finished second with 43 homers and a .330 batting average. Yelich topped the NL with a .326 average, but was third in homers at 36 and tied for second in RBIs at 110.
Advertisement - story continues below
U: UNHITTABLE — There have been just two no-hitters in postseason history — Don Larsen's perfect game in the 1956 World Series, and Roy Halladay's no-hitter in the 2010 NLDS. Considering this was the first regular season with more strikeouts than hits, though, the majors may be due for a third. Of the three no-hitters thrown this year, two came from playoff teams, including one by Dodgers rookie Walker Buehler and three relievers on May 4 against San Diego.
V: VENTERS' WILD RIDE — The last time Jonny Venters pitched in the postseason was the 2012 wild-card game with Atlanta. That 6-3 defeat to the Cardinals was Venters' final appearance in the majors until this season due to four major elbow operations, including three Tommy John procedures. He returned to the majors with Tampa Bay this year, was traded to the Braves and now might pitch again for Atlanta in October.
W: WILD, WILD VET — Jon Lester is set to become the first pitcher to start two wild-card games. The Cubs left-hander pitched in the 2014 AL game for Oakland, allowing six runs in a 9-8, 12-inning loss to the Royals. He'll face Colorado in the postseason opener Tuesday. Luis Severino could match Lester's feat with a second wild-card start Wednesday against the Athletics, though Yankees manager Aaron Boone was waiting until Tuesday to announce a starter.
X: XBH MONSTERS — Boston's Mookie Betts was the first player to lead the AL in extra-base hits and batting average since Mickey Mantle in 1956. Meanwhile, Yankees slugger Miguel Andujar tied Fred Lynn's AL rookie record with 47 doubles.
Advertisement - story continues below
Y: YANKEE WAY, WITH A TWIST — For years, New York was notorious for stocking its title contenders by combing through the free agent pool. Well guess who's borrowed the blueprint? The Oakland Athletics, who boast just four homegrown players. On its projected playoff roster, Oakland has seven players acquired via free agency — most of all the playoff teams — and 14 more picked up in trades, including Khris Davis, Jed Lowrie and Blake Treinen.
Z: ZACH BRITTON — The former Orioles closer was famously left in the bullpen by manager Buck Showalter during a tense 2016 wild-card loss to Toronto. Now a setup man with the Yankees, Britton will almost certainly see action against Oakland in this year's AL wild-card game, save situation or not.
The Western Journal has reviewed this Associated Press story and may have altered it prior to publication to ensure that it meets our editorial standards.
Conversation