Sports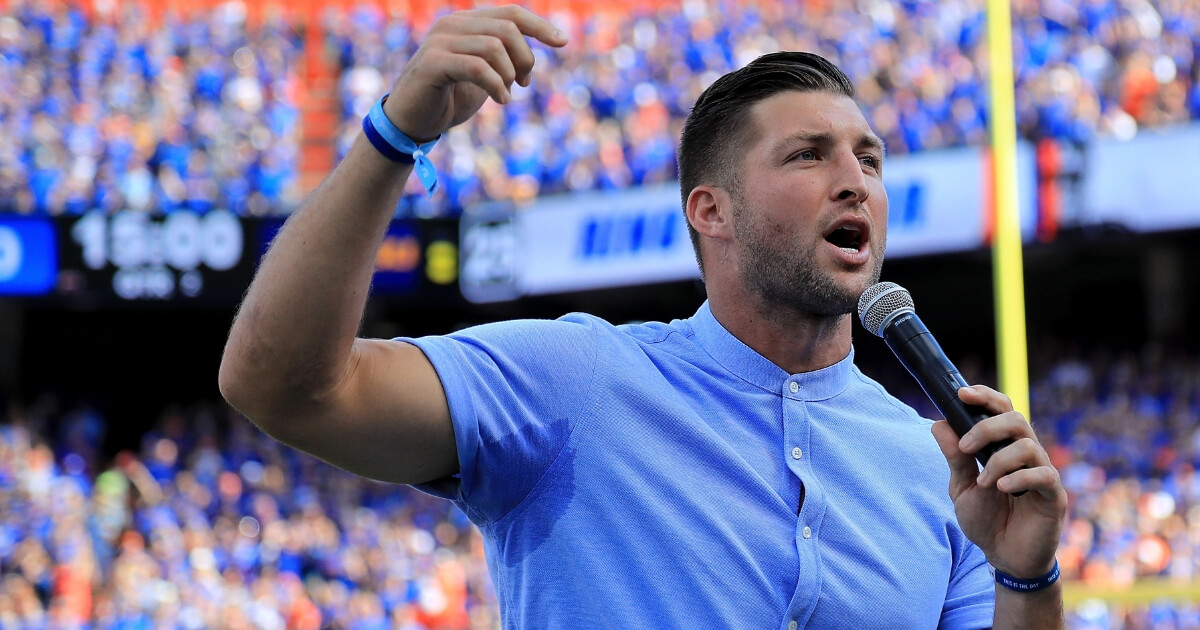 Sam Greenwood / Getty Images
Tim Tebow Reveals the Incredible Words He Told a Huge Fan Minutes Before She Died
Sometimes it gets lost in the shuffle of a hectic sports news cycle, but Tim Tebow has always put the betterment of those around him far above any sports accomplishments.
"What happens when football is over? What happens when baseball is over? What happens when people don't remember my name or who I am? If I found my identity in that, when it's done, I'd be crushed. There's nothing left," Tebow said in an interview in late November.
No, Tebow would rather find his identity in the good he does for his fellow human beings and the memories he creates along the way. That's a commendable attitude that the world could use a lot more from professional athletes.
Advertisement - story continues below
That attitude towards life was never more apparent, however, than when Tebow recently reminisced about Chelsie Watts.
Sadly, Watts passed away when she was only 20 years old after an off-and-on battle with cancer.
Despite being taken from this world far too soon, Watts had an undeniable impact on all of those around her, including Tebow himself.
Advertisement - story continues below
"What a special girl she was," Tebow said, per Fox News. "The attitude that she had, the legacy that she left. The number of people she impacted … in the midst of facing death but knowing that there's light at the end of it, she was able to see past her temporary pain into eternal significance and because of that more lives will possibly change than we could ever imagine."
Watts was first diagnosed with cancer at 17. She fought through it like a champion. She frequently used the slogan "God's got this" to help her through the dark times.
Is Tim Tebow a good role model?
When the cancer came back in college, she was chosen for the Tim Tebow Foundation's W15H program. Much like the "Make A Wish" program, the W15H program allowed young Tebow fans with terminal illnesses to meet him.
Tebow actually called up Watts to join him on the stage before a college football game he was doing a pregame show for in November 2014.
"This is Chelsie Watts, my hero," Tebow said, embracing her amid a raucous crowd that was chanting her name.
Advertisement - story continues below
"He was praying with her and they both had tears in their eyes, and she got ready to walk away and he said 'One more hug' … just a special connection," Jana Watts, Chelsie's mother, said.
Of course, as has already been established, Chelsie Watts passed away far too young. And Tebow was there until the very end.
"I could barely hear Chelsie's labored breathing as I prayed for and shared Scriptures with her," Tebow eventually revealed in his book "Shaken."
"I'm proud of you, Chels. You have had such an impact on this world and I know that God is proud of you too. You've been an amazing role model for me, for your family, for so many people," he added.
Advertisement - story continues below
Tebow also revealed that he had done something for Watts that he's unsure he'll ever do again.
"I never said this to a kid or anyone going through a sickness or an illness and I don't know if I'll ever do it again," Tebow said, according to Fox.
"Chels, if you want to stop fighting, stop fighting and go home. Remember, you are leaving a legacy. You are amazing! And I love you," he said. "Not many minutes after that Chelsie went home to be with Jesus."
Truly gut and heart-wrenching stuff.
Advertisement - story continues below
But at the end of the day, it's emblematic of everything that Tebow fans have come to cherish and expect from him.
Yes, they will all be rooting for him to come back from a hand injury and thrive as a baseball player. But at the end of the day, whether Tebow gets cut from the minor leagues or makes it to the majors, it's virtually irrelevant.
The man is beloved because of the good he does and the memories he creates for others. And, frankly, that will always be more important than how far he can smash a home run.
Though he's pretty good at that too.
Truth and Accuracy
We are committed to truth and accuracy in all of our journalism. Read our editorial standards.
Conversation