News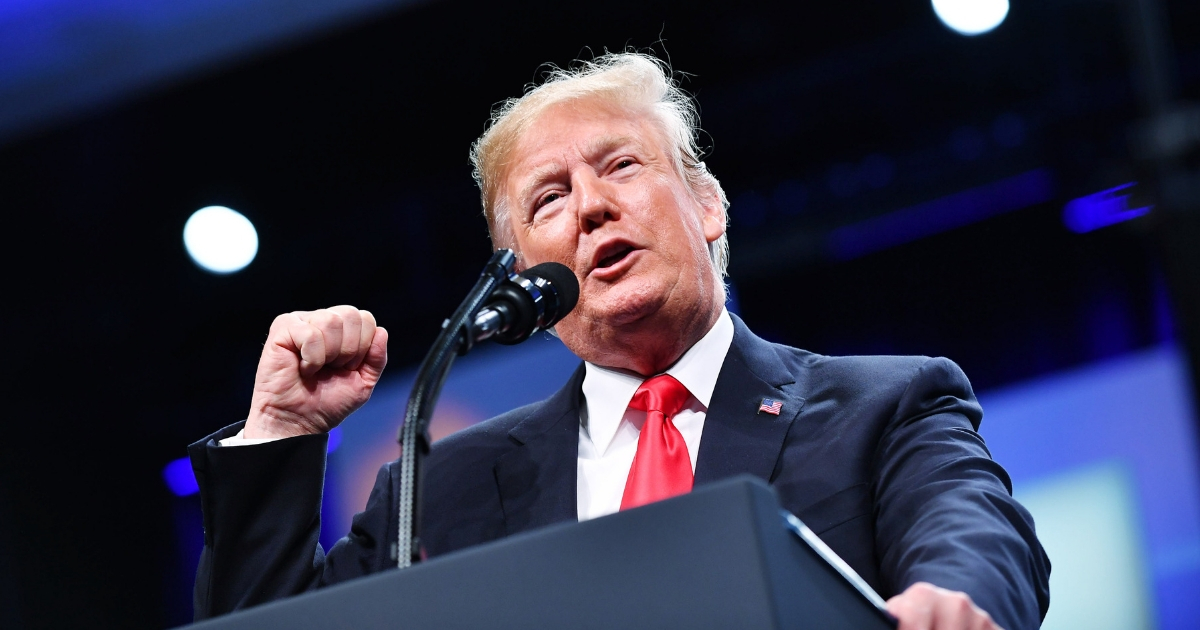 Trump Sends Strong Message to Cop Killers in Passionate Speech for Law Enforcement
Cop killers deserve to die, President Donald Trump said Monday.
"Reducing crime begins with respecting law enforcement," Trump told the International Association of Chiefs of Police in Orlando, Florida Fox News reported.
"We believe that criminals who kill our police officers should immediately, with trial, but rapidly as possible, not 15 years later, 20 years later — get the death penalty."
Advertisement - story continues below
To date, 43 officers have been fatally shot in 2018. That's approaching the 2017 total of 45 officers shot to death.
Trump mentioned the death last week of officer Terrence Carraway, 52, in Florence, South Carolina.
"Our hearts break for the family of fallen officer Terrence Carraway. We pray for his loved ones, and for the officers who are still recovering," Trump said, according to Florida Today.
"When a police officer is assaulted or killed, it is a wound inflicted upon our entire nation," he said,
Advertisement - story continues below
Trump framed Democrats as "anti-police," NBC reported.
"For too many years, we have watched politicians escalate political attacks on our courageous police officers and I've never seen it more than over the last few years — it's disgraceful," the president said.
Do you agree with President Trump?
"Politicians who spread this dangerous anti-police sentiment make life easier for criminals and more dangerous for law-abiding citizens, and they also make it more dangerous for police, and it must stop, and it must stop now."
Trump lashed out at Democrats who call for the abolition of Immigration and Customs Enforcement.
These brave ICE officers have been subjected to shameless attacks by leading members of the Democrat Party, including outrageous calls to abolish ICE," he said. "And also, they're not a big help to us in law enforcement. They don't want to give us the kind of funds that you people are requesting, but you're getting them anyway because we're giving them to you."
Advertisement - story continues below
Trump praised the efforts of police officers.
"They see the worst of humanity. And they respond with the best of the American spirit," Trump said. "America's police officers have earned the everlasting gratitude of our nation. In moments of danger and despair, you are the reason we never lose hope," Trump said.
Trump said that the federal government will seek to intervene to reduce the gun violence in Chicago.
"The crime spree is a terrible blight on that city, and we'll do everything possible to get it done," Trump said. "Law enforcement people in Chicago … they would solve the problem if they were simply allowed to do their job and do their job properly."
Advertisement - story continues below
"We strongly oppose efforts from politicians who try to shackle local law enforcement. Let's see whether Chicago accepts help. They need it," he said. "We'll straighten it out fast. They want to straighten it out. … Sometimes I think maybe it is possible that they don't."
Trump said a stop and frisk policy is what Chicago needs. Under that policy, officers are given a wide discretion for stopping individuals they think may be engaged in suspicious behavior.
"It works. And it was meant for problems like Chicago. It was meant for it. Stop and frisk," he said.
Conversation