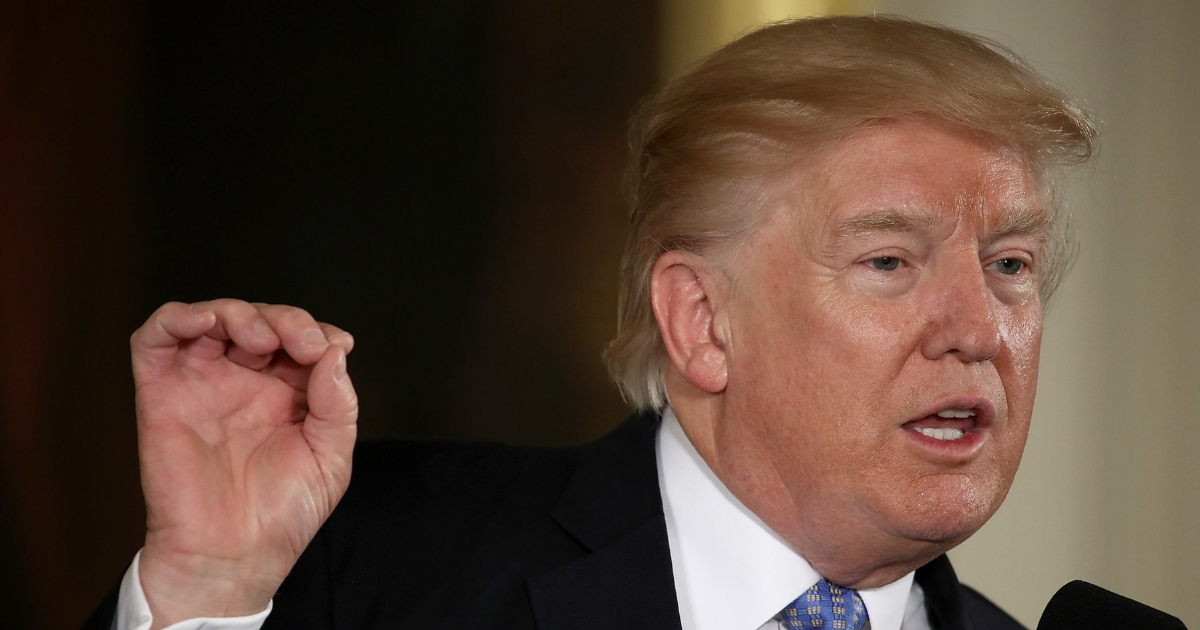 Ignoring Lower Courts, Trump Looks To Reinstate Transgender Military Ban
The Trump administration has asked the United States Supreme Court to decide quickly whether it will hear the case on the ban of those with gender dysphoria serving in the military.
The decision, commonly known as a transgender ban, was one that President Donald Trump initially announced in 2017, and was a rollback of an Obama administration era move that allowed individuals who identify as transgender to serve.
Trump's policy does allow transgender individuals to serve, but only if they serve as the sex assigned to them at birth, USA Today reported.
Advertisement - story continues below
The Friday filing included a request to reimpose the ban, which has been appealed by transgender advocates.
"The decisions imposing those injunctions are wrong, and they warrant this Court's immediate review," Solicitor General Noel Francisco wrote in the request, asking justices to "consider this important dispute this term."
"The district court in this case entered a nationwide preliminary injunction nullifying that exercise of professional military judgment and blocking the implementation of a policy that the secretary has deemed necessary to 'place the Department of Defense in the strongest position to protect the American people, to fight and win America's wars, and to ensure the survival and success of our service members around the world,'" the petition stated.
Should the Supreme Court decide to hear this case, it would allow the issue to bypass federal appeals courts.
Advertisement - story continues below
Thus far, the legal challenges to the ban have been won by transgender advocates, however, the petition cited what it called "the Mattis policy," and questioned, "whether the district court erred in preliminarily enjoining the military from implementing the Mattis policy nationwide."
Gay and Lesbian Advocates and Defenders project director Jennifer Levi said in a statement that "there is no urgency here and no reason for the Court to weigh in at this juncture," USA Today reported.
Do you think the Supreme Court will hear the case?
"The injunctions preserve the status quo of the open service policy that was thoroughly vetted by the military itself and has been in place now for more than two years," she said. "This is simply one more attempt by a reckless Trump administration to push through a discriminatory policy.
When the president announced his decision on the transgender ban, he did so over Twitter, causing a firestorm of backlash. He also announced that he had made the move after speaking with experts.
"After consultation with my Generals and military experts, please be advised that the United States Government will not accept or allow transgender individuals to serve in any capacity in the U.S. Military.
Advertisement - story continues below
"Our military must be focused on decisive and overwhelming victory and cannot be burdened with the tremendous medical costs and disruption that transgender in the military would entail. Thank you."
After consultation with my Generals and military experts, please be advised that the United States Government will not accept or allow……

— Donald J. Trump (@realDonaldTrump) July 26, 2017
….Transgender individuals to serve in any capacity in the U.S. Military. Our military must be focused on decisive and overwhelming…..

— Donald J. Trump (@realDonaldTrump) July 26, 2017
Advertisement - story continues below
….victory and cannot be burdened with the tremendous medical costs and disruption that transgender in the military would entail. Thank you

— Donald J. Trump (@realDonaldTrump) July 26, 2017
Conversation