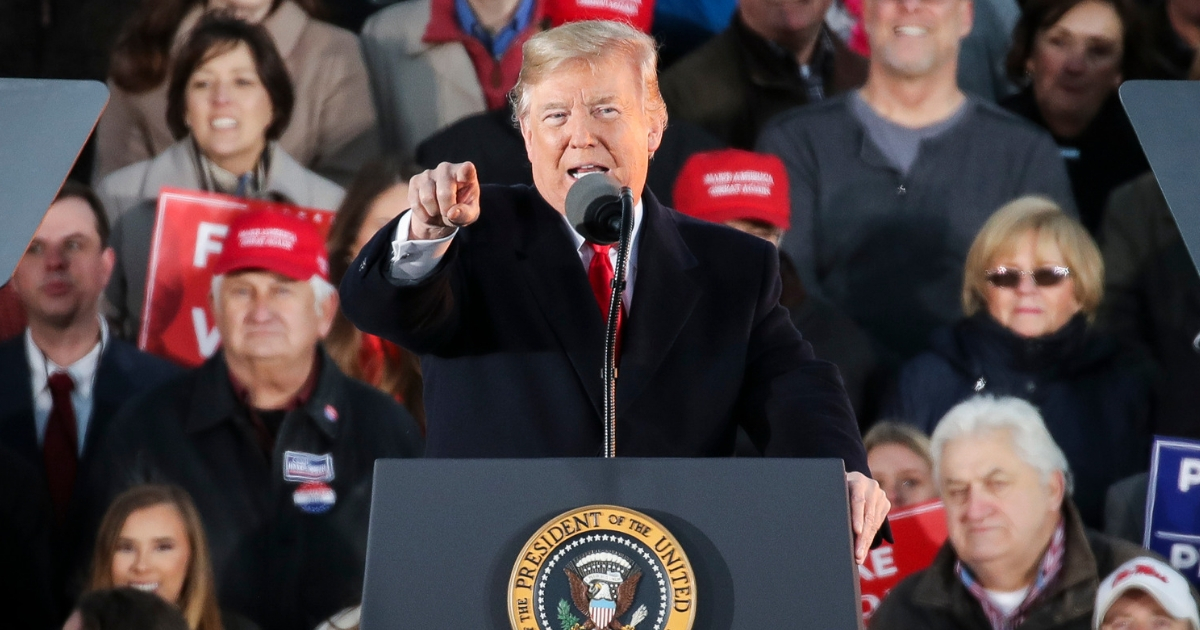 Trump's Energy Nominee Is One Step Closer to Confirmation Despite Democratic Opposition
President Donald Trump's pick to serve on the Federal Energy Regulatory Committee passed a Senate committee hearing on Tuesday, advancing him to the Senate chamber for a final confirmation vote.
Bernard McNamee's confirmation in the Senate Energy and Natural Resources Committee went quickly. Only Republican Chairwoman Lisa Murkowski and ranking Democrat Maria Cantwell issued statements before members took to a vote. McNamee ultimately passed 13-10, with the vote falling mostly along party lines.
"Based on the conversation I've had with Mr. McNamee, I think that he understands FERC must be an independent agency, it must continue to function as such, and I'm going to take his commitment to maintain FERC's autonomy and take an independent role as a commissioner at face value," Murkowski said.
Advertisement - story continues below
However, Cantwell channeled almost every Democratic member when she slammed McNamee's nomination. The ranking Democrat on the committee said his past criticism of renewable energy and praise of fossil fuels rendered him unable to serve as an unbiased commissioner.
"I find it hard to believe he will be an impartial reviewer of these issues," Cantwell said.
Democratic members stood opposed to McNamee's nomination — and sought to delay the Tuesday vote — after a controversial video of McNamee in February recently surfaced. McNamee is seen railing against renewable energy in the video.
"Renewables, when they come on and off, it screws up the whole the physics of the grid," McNamee stated at the time. The footage was taken while he led the Texas Public Policy Foundation, a conservative think tank. "So when people want to talk about science, they ought to talk about the physics of the grid and know what real science is, and that is how do you keep the lights on?" he added.
Advertisement - story continues below
In that same speech, McNamee also hit environmental organizations.
"The green movement is always talking about more government control because it's the constant battle between liberty and tyranny," he said. "It's about people who want to say I know what's better for you."
Do you think McNamee will be confirmed?
While the video irked Democrats on the committee, Murkowski pointed out that the members offended by McNamee's comments were already opposed to his nomination to begin with. In a previous committee hearing, Democratic members were already hostile because of McNamee's past work with the Energy Department, where he led an attempt to bail out failing coal and nuclear plants.
McNamee has continued to maintain that he would be an independent arbiter while serving on FERC. The nominee told committee members on Nov. 15 that "it's important to look at the law and the facts and make those decision based on that."
West Virginia Democratic Sen. Joe Manchin — who has been very supportive of the White House's energy agenda — was the sole Democrat on the committee to vote in favor of McNamee.
Advertisement - story continues below
In what would be an odd circumstance for a party that is increasingly hostile toward fossil fuels, Manchin could very well be the ranking Democrat on the Energy and Natural Resources Committee next year.
McNamee is likely to win his vote in the Senate chamber, where his confirmation will return a GOP majority to FERC, a 5-member federal agency.
A version of this article appeared on The Daily Caller News Foundation website.
Conversation