Commentary
Twitter Forced to Pull Out the History Book After Joe Biden Lies to the American People Once Again
President Joe Biden is well known as a teller of untruths, but the establishment media usually just ignore his falsehoods — or amplify them. But Twitter is no longer a "safe space" for such lies, and Elon Musk's social media platform has done it again by fact-checking Biden's false claims.
The president seems to pop off at least one lie every other time he walks up to a microphone. From little white lies to whoppers, he has spun wild tales and disgorged outright falsehoods for decades.
One of his latest occurred Tuesday when jumped into the fight about raising the debt ceiling in the federal budget talks in Washington.
Advertisement - story continues below
"America is not a deadbeat nation," Biden's tweet began.
"We have never, ever failed to pay our debt," he said. "But MAGA Republicans are engaged in reckless hostage-taking by threatening to force America into default. It's dangerous and wrong."
First, before we get to the false claims in his tweet, it is interesting that he would use the term "deadbeat" at the same time his son Hunter is appearing in court trying to get out of paying child support to the woman who had his out-of-wedlock baby. You know, the Biden grandchild that the president won't acknowledge.
Now, as to the false notions in his tweet, well, the Community Notes feature kicked in to point out that the U.S. has, indeed, defaulted on its financial debt. And not just once, but "multiple times," the user-generated "context" message said.
Advertisement - story continues below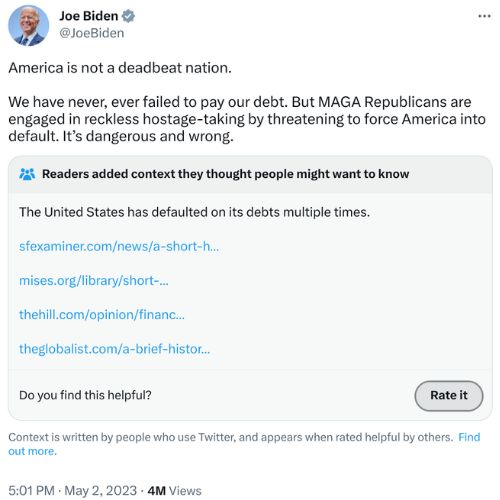 The Community Notes message has since been removed.
Before that happened, however, several Twitter users were thrilled by all the fact-checking going on:
Seeing all the Twitter Context is even better than the ratio.

— Randy the Savage (@reannadilley) May 4, 2023
How does that fact check taste

— Sara Rose 🇺🇸🌹 (@saras76) May 4, 2023
Advertisement - story continues below
Others blasted Biden for his out-of-control spending.
Let's just borrow more money and spend recklessly with no limits or oversight.

Might at well give endless amounts of money to a proxy war that could escalate to WWIII instead of taking care of problems at home.

Keep building back better sleepy Joe.

— Mike Marugg (@MikeMarugg) May 3, 2023
Advertisement - story continues below
Biden might not be adept at managing taxpayers' dollars, but he sure is an expert at stretching the truth.
Do you trust Joe Biden to tell the truth?
During his State of the Union address this year, for instance, he didn't even get five minutes into the thing before lying. The president claimed the economy was "reeling" when he took office two years ago and implied that it is in a better state now.
He's been so egregious that even the mainstream media have been prompted to fact-check him. After that State of the Union address, The Washington Post took issue with 13 of the president's claims.
Advertisement - story continues below
Sadly, Biden doesn't just lie about important things, though. He has also delivered a veritable tidal wave of lies about his personal life, too. The latest was his easily checked claim that he was born in the same hospital in which his "grandpop" died. In actuality, his "grandpop" died in Baltimore and Joe was born in Scranton, Pennsylvania.
It's all just part of decades of untruths that have marked his career in politics.
Conversation