Sports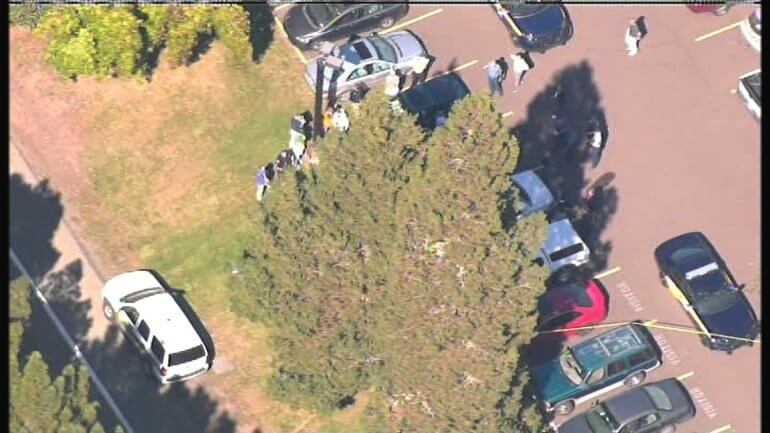 Video: Raptors Executive Accused of Hitting Sheriff's Deputy in Courtside Altercation
A Toronto Raptors executive allegedly hit a sheriff's deputy on his way to the court following the team's NBA Finals victory on Thursday night.
The Raptors defeated the Golden State Warriors 114-110 on the road at Oracle Arena to take home the title.
Following the Raptors' victory, the executive in question appeared to want to make his way onto the court and be a part of the team's celebration.
Advertisement - story continues below
Citing witnesses on the scene, NBC Bay Area identified the executive as Masai Ujiri, the Raptors' president of basketball operations.
An Alameda County Sheriff's deputy reportedly denied the executive court access because he did not have the proper credentials.
"Video after the alleged incident show a man pleading and stopping deputies from getting to the executive, who eventually gets onto the court for the championship ceremony after Raptors player Kyle Lowry pulls him from the crowd," NBC Bay Area reported.
#BREAKING: Sheriff's deputy reportedly pushed and struck in the face by a man believed to be a Toronto Raptors executive after Game 6 of the #NBAFinals at Oracle Arena, @ACSOSheriffs says. https://t.co/fobdK9iWEq pic.twitter.com/a4X0IysY5Z

— Kristofer Noceda (@krisnoceda) June 14, 2019
Advertisement - story continues below
The video does not actually show the executive allegedly pushing or hitting the deputy, though police have confirmed that's what happened.
Do you think the executive in question will face consequences for his alleged actions?
"We are working with the Oakland Police Department to file a report and contact witnesses and review video," Alameda Country Sheriff's Office spokesperson Sgt. Ray Kelly told Complex.
Kelly also told the San Francisco Chronicle what happened.
"[The deputy] did not know who the man was and asked for the credential, and that's when he tried to push past our deputy, and our deputy pushed him back, and there was another push that kind of moved up and struck our deputy in the face," Kelly said.
Advertisement - story continues below
"At that point, several bystanders intervened and the executive did ultimately get back onto the court without displaying credentials."
Kelly also noted that after a few minutes, the deputy received credible information that the man he attempted to stop was in fact a Toronto Raptors executive.
"It's not like we were going to chase him down," Kelly said. "He had a right to be there, but he didn't follow the credential policy."
No arrests were made on the night of the incident, nor would the department confirm it was Ujiri, but charges could be filed at a later date.
Advertisement - story continues below
Police are referring to the matter as "a misdemeanor battery on an officer," according to NBC Bay Area.
Conversation