Sports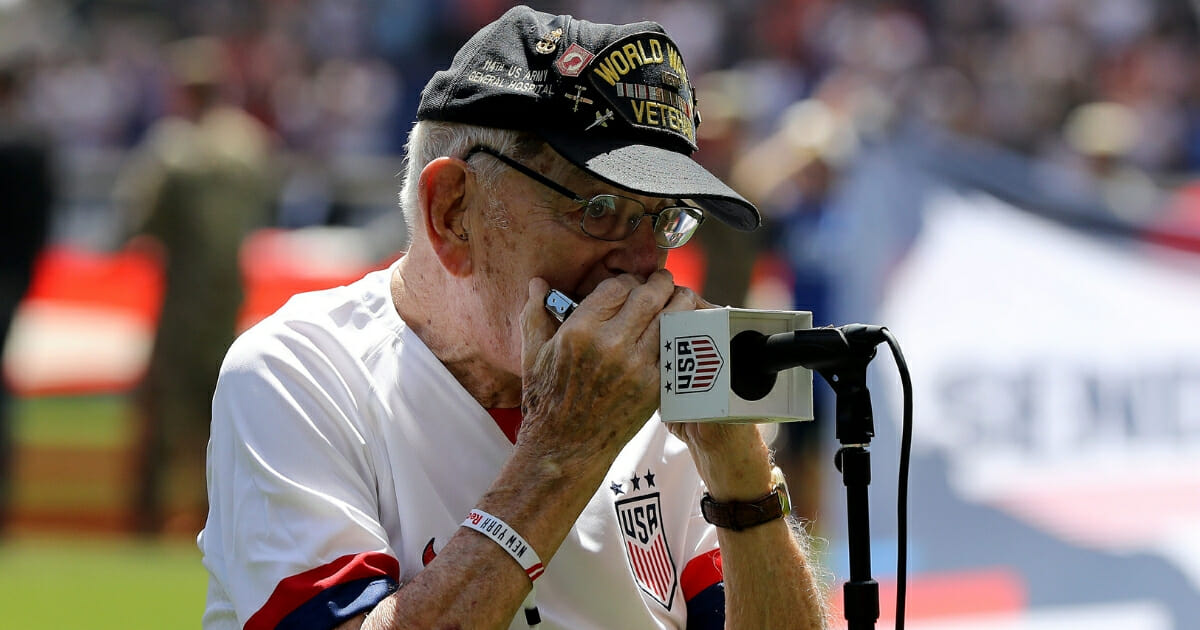 Watch: 96-Year-Old World War II Vet's Moving National Anthem Was Perfect for Memorial Day Weekend
This just might be the best rendition of the national anthem you'll ever hear.
To open the U.S. Women's National Team's game against Mexico on Sunday in the send-off series before next month's World Cup, 96-year-old World War II veteran Pete DuPre gave a stirring performance of the anthem on his harmonica.
Words can't fully describe the emotional intensity that comes from the performance of the man who's known as "Harmonica Pete."
Advertisement - story continues below
❤️😭❤️😭

we love Pete so much. pic.twitter.com/Lxd3Xqo9eu

— U.S. Soccer WNT (@USWNT) May 26, 2019
DuPre, who has seen and sacrificed so much, honored his fallen brothers and sisters on Memorial Day weekend as few others can. You can feel it in every note.
"I got chills listening to that," one of the announcers said.
Advertisement - story continues below
🥰 WHOLESOME NEWS 🥰

Before tomorrow's game, 96-year-old WWII vet Pete DuPre, who we met when we visited Normandy in January, will perform the National Anthem on his harmonica. pic.twitter.com/E6euvkSkxE

— U.S. Soccer WNT (@USWNT) May 25, 2019
The crowd at Red Bull Arena in Harrison, New Jersey, was equally struck by the powerful rendition, as one could scarcely hear a sound until the loud cheers for him at the end.
As were fans watching at home.
As a current Soldier I am Emotionally struck by this! I wish the #NationalAnthem is always televised! The nation was once wise and lest we forget what sacrifices were made to ensure we have our sport and freedoms! @NBCSports @abcnews @CBSSports @FOXSports Do the right thing!

— CYCLONE93 (@marcus_smoot) May 27, 2019
Advertisement - story continues below
DuPre served as a medic in the 114th General Hospital Unit in Kidderminster, England, during World war II, NJ.com reported.
Was this the most inspiring version of the national anthem you've ever heard?
"At age 17, both of his parents had already died, making him the acting patriarch of a five-person family. Within a year, Pete had enlisted in the Army serving three years overseas during which time he treated wounded servicemen from all areas of Europe," the report said, with information coming from the U.S. Women's National Team.
DuPre met the players in January at Omaha Beach in Normandy when the team traveled to France.
Advertisement - story continues below
"It's the most humbling thing I've ever been a part of and heard," Carli Lloyd, forward, and captain, on the U.S. women's national team, said of that January meeting at Normandy. "They literally saved the world. To hear their stories, what they went through, and how they're now sharing those stories after so many years …
"I don't think any of us really ever get the real feel of what they went through, but it was the most amazing thing that I've ever been a part of."
🇺🇸🇺🇸🇺🇸🇺🇸🇺🇸🇺🇸🇺🇸🇺🇸🇺🇸🇺🇸🇺🇸🇺🇸🇺🇸🇺🇸🇺🇸🇺🇸🇺🇸🇺🇸🇺🇸🇺🇸🇺🇸🇺🇸🇺🇸🇺🇸🇺🇸🇺🇸 pic.twitter.com/Ap2mcVzvkk

— U.S. Soccer WNT (@USWNT) May 25, 2019
Advertisement - story continues below
Team USA, perhaps inspired by Harmonica Pete, defeated Mexico 3-0.
The women now head to France for the World Cup. They begin their title defense June 11 with a match against Thailand.
Conversation
The Western Journal is pleased to bring back comments to our articles! Due to threatened de-monetization by Big Tech, we had temporarily removed comments, but we have now implemented a solution to bring back the conversation that Big Tech doesn't want you to have. If you have any problems using the new commenting platform, please contact customer support at
commenting-help@insticator.com
. Welcome back!