Sports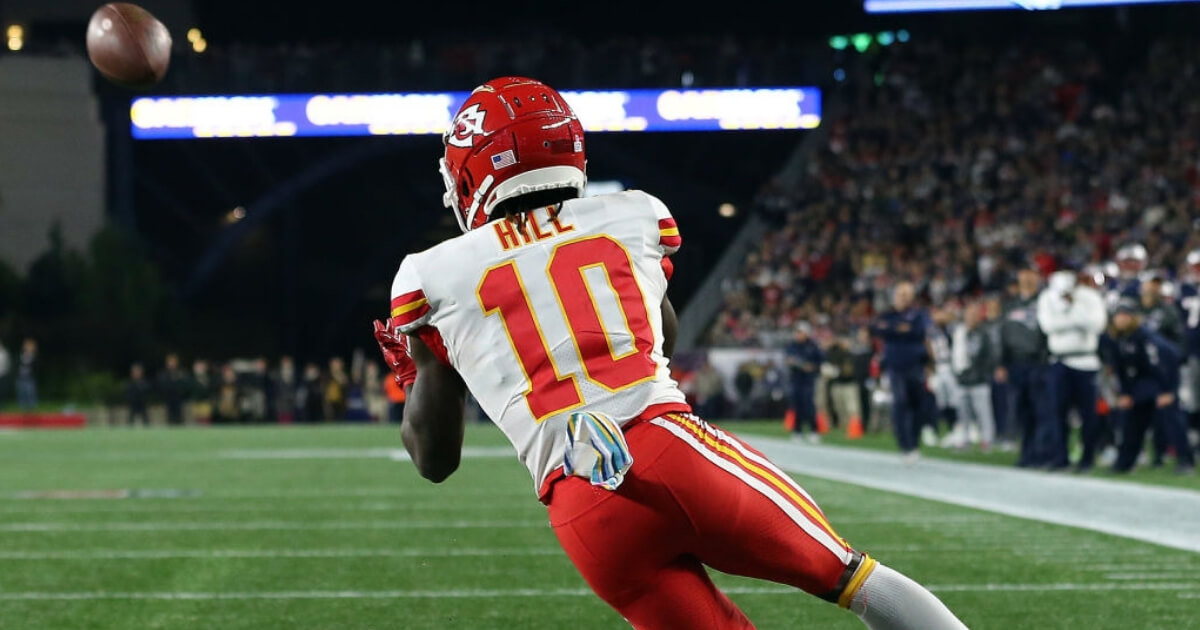 Watch: Classless Patriots Fans Show True Colors After Opposing Team's TD
Two things of note took place during Sunday night's NFL game at Gillette Stadium, one of which had never happened before in NFL history, the other of which happens so often that when you say you saw it, someone can correctly surmise "Oh, you went to a sporting event in Boston, I take it."
The never-before was the final score; the Patriots' 43-40 victory represented the first time in nearly 100 years of pro football that a game ended with that scoreline, something even Al Michaels pointed out on the NBC broadcast.
Score Update:
KC 40 – 43 NE
Final

That's Scorigami!! It's the 1043rd unique final score in NFL history.

— Scorigami (@NFL_Scorigami) October 15, 2018
Advertisement - story continues below
The "all the time" happening was these Patriots fans throwing beer on, and flipping the middle finger at, the Chiefs' Tyreek Hill after he scored a touchdown.
The end of that touchdown catch by #Chiefs Tyreek Hill not exactly a banner moment for #Patriots fans. Especially the Bud Lite to the face. pic.twitter.com/cYS4RC7I6H

— Charles Robinson (@CharlesRobinson) October 15, 2018
Boston fans are notorious for this kind of loutish behavior and have a long rap sheet for utterly classless acts.
If someone asks you to think of the first thing that comes to mind about Red Sox fans, you might come up with "they're a bunch of racists," and you would have evidence to support your case.
Advertisement - story continues below
The Baltimore Orioles' Adam Jones got a taste of that at Fenway Park against the Beantown crew in 2017.
Should teams be given unsportsmanlike conduct penalties for poor sportsmanship by fans?
A quick Google search for "Boston sports fans racist" brings up an article that Complex ran in the wake of the Jones incident, outlining the city's history of those sorts of acts.
And P.K. Subban, one of the few black players in the NHL, got a heaping helping of racism from fans in Boston when his Montreal Canadiens played the Bruins, forcing the team to denounce its own fans publicly.
The Twitter comments laid bare the reputation that Bostonians have in every other place in America.
It's Boston. What do you expect?

— Brent D. Coley?? (@bdcoley3) October 15, 2018
Advertisement - story continues below
So you're okay with throwing beer at a 14 year old wearing a yankees shirt? Happened to my brother at fenway….Constant booing and cussing at people wearing shirts for the opposite team…..I may live in Boston but you're fans are absolutely classless…

— ? Queen Née of the NFC North ? (@reh_beeXII) October 15, 2018
OK, the kid brought that second one on himself. The behavior can't be condoned, but anyone with an eighth of an ounce of common sense knows not to wear Yankees merchandise in Boston, a city whose civic motto is "Yankees Suck."
Granted, Bostonians are far from the only sports fanbase with a penchant for crass activity…
This is not the first time this has happened anywhere. The other night a Red Sox pitcher had a beer bottle thrown at him in the bull pen. This is not exclusive to Boston or anywhere for that matter. It happens everywhere

— Eddy (@edrotella) October 15, 2018
Advertisement - story continues below
And it could be worse. If you think getting a beer thrown on you is bad, Bill Simmons wrote a piece for Grantland that featured fans at Estadio Azteca in Mexico City throwing bags of urine on Americans who were there for a World Cup qualifying match in 2009.
All the same, though, just because someone else is doing something wrong does not make it right, and Patriots fans should be ashamed of themselves.
The Patriots themselves are not happy with this fan's actions and issued a statement Monday saying they have essentially banned the fan for life from all stadium events.
Statement from the New England Patriots: pic.twitter.com/VapBDpzzdg

— New England Patriots (@Patriots) October 15, 2018
Advertisement - story continues below
If pro football wants something better to talk about, let's keep the focus on how those three "Scorigami" outcomes that have happened this year all involved at least one team scoring 40 points and two cases where both teams did, heralding an offensive explosion that's making football a high-flying, faster-paced sport for the new century.
Which is one of the things the NFL needs to focus on if it's ever going to revive the sagging ratings from one group of fans quitting on the league because of the concussion issue and another leaving due to unchecked national anthem protests.
Conversation