Sports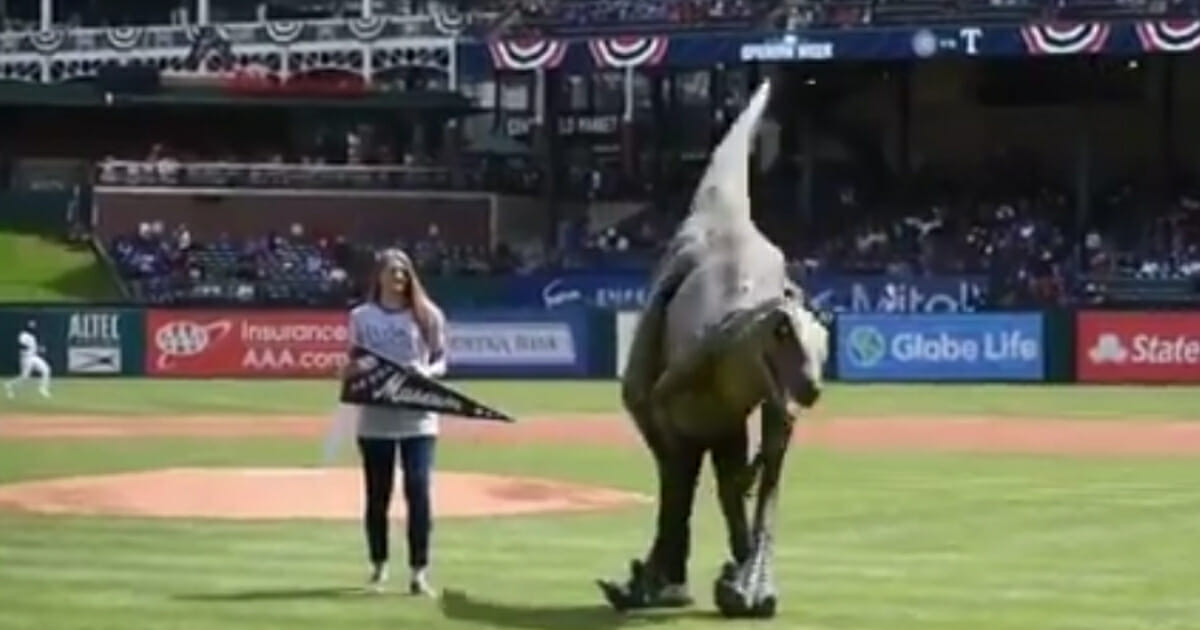 Watch: 'Dinosaur' Throws the Absolute Worst First Pitch Of All-Time
Globe Life Park in Arlington, Texas became Jurassic Park for one hilarious moment on Sunday, as the Texas Rangers' series-concluding game with the Chicago Cubs featured a first pitch thrown by a dinosaur to celebrate "Dino Day," according to MLB.
It was a million-dollar promotional idea with a 50-cent execution:
Just a bit outside. pic.twitter.com/SxORCCH4fA

— MLB (@MLB) March 31, 2019
Advertisement - story continues below
That's "Roxy," the dinosaur mascot of the Perot Museum of Nature and Science. With it's teeny little arms obviously not capable of throwing a baseball, an attempt to throw the first pitch with the ball its mouth did not fare any better.
On the bright side, no lawyers attending the game got eaten, so as far as catastrophes involving dinosaurs go, this one was a big win.
Someone should've pulled the Rangers' promotional department aside and told them that "Your marketing people were so preoccupied with whether or not they could, they didn't stop to think if they should."
Advertisement - story continues below
But hey, it could be worse. Roxy's embarrassing turn at the mound was hardly the first time a celebrity has thrown a terrible ceremonial first pitch.
Pop star and singer Carly Rae Jepsen's first pitch looked like it could have very well been the first time she's ever thrown a ball in her life.
There was the time Miss Texas threw out the first pitch and looked more like she was rolling a gutter ball at the bowling alley than trying to throw a baseball.
And, of course, there's rapper Curtis "50 Cent" Jackson's infamous first pitch, which has helped his name go down in history as synonymous with hilarious first pitch fails.
Advertisement - story continues below
It shouldn't be that hard to throw out a good ceremonial first pitch. After all, if former president George W. Bush can throw an impressive opening pitch in the immediate aftermath of 9/11, in one of the most inspiring moments in recent MLB history, then anyone should be able to.
As for the game itself, there wasn't much in the way of good pitching to be had there either.
Advertisement - story continues below
Was Roxy's pitch even worse than 50 Cent's effort?
The Rangers beat the Cubs 11-10 in a wild back-and-forth that saw a 4-0 Chicago lead turn into a 5-4 deficit in the bottom of the fourth.
The Cubs scored four runs in the sixth inning only to see the Rangers score one in the sixth and four in the seventh to go up 10-8.
Efforts to close out the game by the Rangers' bullpen led to Chris Martin blowing a save by giving up two runs at the top of the eighth.
Advertisement - story continues below
Finally, in the bottom of the ninth, the Rangers won on a walkoff wild pitch by the Cubs' Pedro Strop.
⚾️ #MLB | Así terminó el loco juego entre los @Cubs y los @Rangers, con "wild pitch" de Pedro Strop.

Formas dolorosas de perder y esta ⬇️ pic.twitter.com/kVQCaUxsPi

— Carlos Morales (@C_MoralesD) April 1, 2019
So the game started with a ridiculously bad pitch by a dinosaur… ended with a ridiculously bad pitch by an actual major league baseball player.
Advertisement - story continues below
Not everyone came out of Dino Day looking good, but at least Rangers fans went home happy.
Conversation