Sports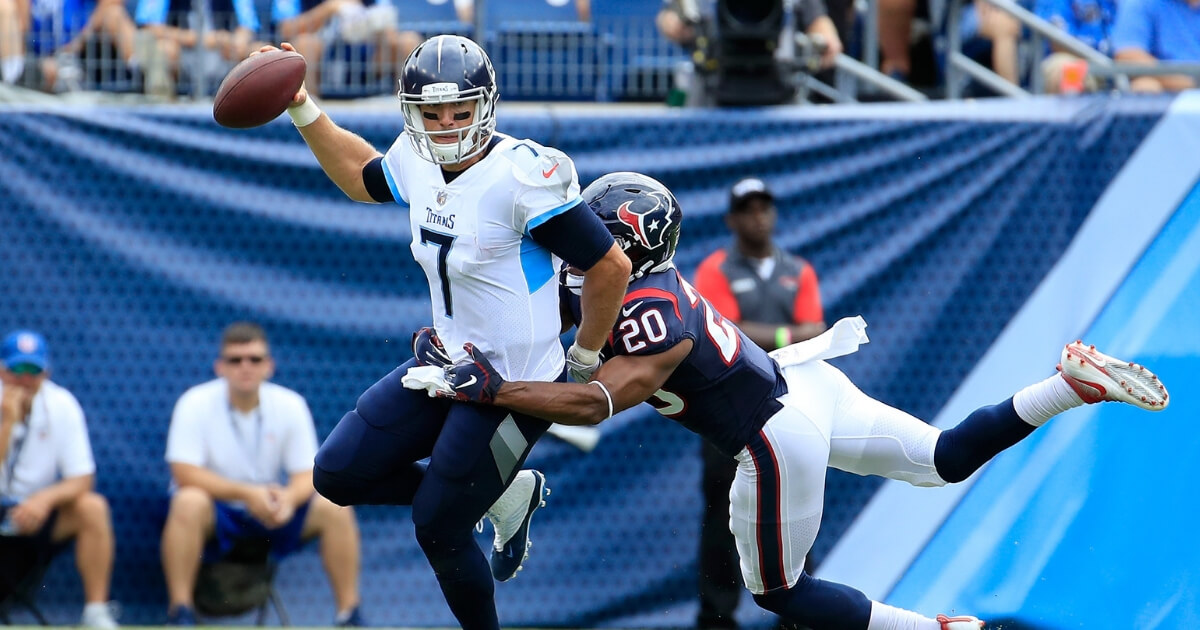 Watch: NFL Player Has On-Field Blunder Even a Pop Warner QB Knows Not To Do
Once upon a time, Blaine Gabbert beat out Colin Kaepernick for the starting job on the San Francisco 49ers, ensuring his place in the NFL history books when we're telling our grandkids that American football used to be played professionally.
Gabbert has since ended up on the Tennessee Titans, where he's keeping his destructive powers confined to just one team.
Or so it seemed, as Gabbert managed a football blunder so egregious that if your own kid did this in Pop Warner, you'd be embarrassed to be the kid's parent.
Advertisement - story continues below
@icedmilkbeanwad @dudeimsteve Blaine Gabbert throwing 2 incomplete passes in one play..pic.twitter.com/yUVOHDipNC

— Neil (@NeiliusPrime) September 17, 2018
Gabbert threw a forward pass that got deflected back into his hands. This in itself is unusual but not particularly noteworthy; had he simply gone down, it would've gone into the box score as a completed pass to himself the way tipped live balls work in NFL scoring.
Indeed, if he would have somehow managed to break loose and run for a touchdown, we probably would have headlined this article "Watch: NFL QB Pulls Off Amazing Pass Play for TD."
Making things even better, Gabbert's injured teammate, Marcus Mariota, did exactly that last year in a game against the Chiefs.
Advertisement - story continues below
But sadly, the football gods and Gabbert had other ideas.
Gabbert scrambled, ran out of room, saw that he was going to be tackled behind the line for a loss, and threw the ball away.
Do you believe Gabbert when he says he took the penalty on purpose?
And that too is a sensible football decision … if one has not already thrown a forward pass on the play.
Instead, a penalty flag was thrown and Gabbert got roasted on social media for the boneheaded move of trying to throw two forward passes on the same play from scrimmage.
Blaine Gabbert gets the "Stupid Guy Award" for trying to throw 2 forward passes on one play. This is the NFL Blaine, not the playground!

— Coach Z (@coachz1212) September 16, 2018
Advertisement - story continues below
"This is the NFL, Blaine, not the playground!" went the tweet.
Well, I don't know about you folks, but someone does that on my playground, they're not getting away with it there either.
And while all this could simply be chalked up to a brainfart on the part of Gabbert, it turns out that there was a method to his madness, at least according to NBC Sports.
Gabbert took a five-yard penalty and kept the down. If he hadn't chucked it, it would've been a 10-yard sack and a loss of down.
Advertisement - story continues below
Which is kind of brilliant … if it isn't just an after-the-fact justification.
And oh by the way, the move ended up being the right one in terms of keeping the drive alive and getting down the field.
Gabbert hit Corey Davis for 18 yards on the next play, and the Titans scored on a field goal.
And those three points? The Titans won the game 20-17.
Advertisement - story continues below
So while it looked like absolute lunacy for Gabbert to make a dumb play with the ball, he was instead rewarded with a chance to be the hero.
No wonder the 49ers thought he was starting material two years ago.
Conversation