Commentary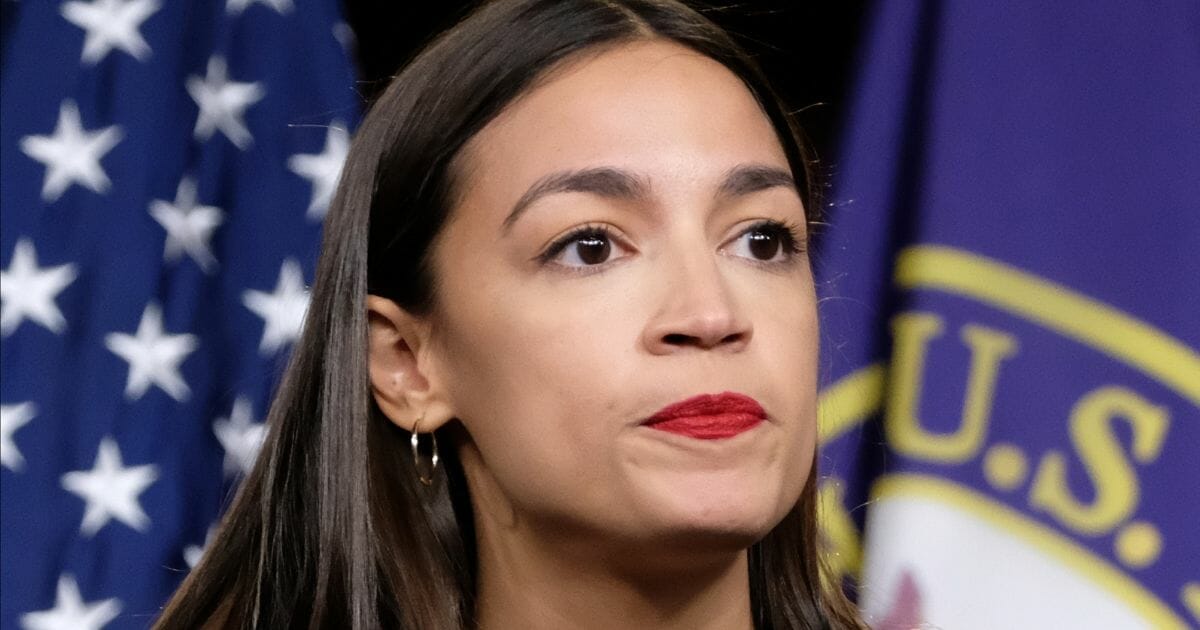 Watch Ocasio-Cortez's Pathetic Response to Antifa Attack on ICE Facility
Rep. Alexandria Ocasio-Cortez and "The Squad" (please, Lord, let that nickname stick around until at least November of 2020) have been busy addressing, um, other things these past few days, so the New York Democrat's response to an Antifa attack on an Immigration and Customs Enforcement facility pretty much flew under the radar. It's a shame, because it pretty much encapsulates why the Notorious AOC could end up costing the Democrats big next year at the ballot box.
The attack itself didn't get much press attention, which I suppose is understandable given a busy news weekend otherwise. According to The New York Times, early Saturday morning, a 69-year-old man identified as Willem Van Spronsen allegedly attacked the Northwest Detention Center in Tacoma, Washington, armed with a rifle and "incendiary devices."
Officials said that he had thrown the devices at buildings and cars, with one car "fully engulfed in flames."
Advertisement - story continues below
Spronsen was fatally shot by police during the attack.
"This could have resulted in the mass murder of staff and detainees housed at the facility," Shawn Fallah, the resident agent in charge of the ICE Office of Professional Responsibility at the facility, said. "These are the kinds of incidents that keep you up at night."
Curiously enough, there wasn't a whole lot of talk about whether or not "heated rhetoric" on abolishing ICE or "children in cages" had inspired the attack. The Times also didn't mention that he had identified himself as a member of Antifa in a manifesto, merely saying that the attack was a way of ending his life.
"He was ready to end it," Deb Bartley, a friend of Spronsen's, said. "I think this was a suicide."
Advertisement - story continues below
The fact that his manifesto described the center as "an abomination" and said "we are living in visible fascism ascendant" didn't really make it into many stories.
Many of the same outlets, mind you, had held conservatives responsible for "rhetoric" that led to attacks, but on this occasion The Times wasn't even going to identify the attacker as anything more than a suicidal man.
However, reporters for Canadian right-wing website The Rebel were curious as to what Ocasio-Cortez thought about it, particularly since the alleged attacker echoed her talk about ICE centers being "concentration camps."
For whatever reason, she wasn't particularly interested in answering:
.@AOC refuses to condemn the Antifa attack on the Tacoma ICE center; refuses to tell @TheRealKeean if her inflammatory comments about "concentration camps" radicalized the attacker. pic.twitter.com/YOjn0yL032

— The Rebel (@RebelNewsOnline) July 15, 2019
Advertisement - story continues below
"We'll be making a statement later today," she said when asked if she would condemn Antifa.
"It's easy to condemn a terrorist attack," the reporter said.
And it is. But Ocasio-Cortez just kept on walking.
When the reporter noted that they had "firebombed an American facility" and asked again for a condemnation, she again said something about issuing a statement.
Advertisement - story continues below
That statement, if it exists in any form, seems remarkably hard to find. I understand the events of the weekend may have overtaken Ocasio-Cortez, but it's not terribly difficult to condemn an attack like this.
Do you think Ocasio-Cortez should have condemned the attack?
Then again, the double standard here is appalling. Remember the Pittsburgh attack? Or the Christchurch attack? Or the Charlottesville attack? The press and the left couldn't wait to blame it on the right — and in particular, President Trump.
In this case, an attack occurred with someone who was clearly motivated by rhetoric about ICE detention centers and the press goes out of their way to excuse him of any real political motivation.
Advertisement - story continues below
If Alexandria Ocasio-Cortez feels differently about it, we certainly didn't hear it Saturday or in the intervening days. I understand she's been busy, but she's never been so busy that she couldn't talk about CBP agents forcing individuals in detention to drink from toilets or how they're housed in "concentration camps." Funny, that.
Conversation