Sports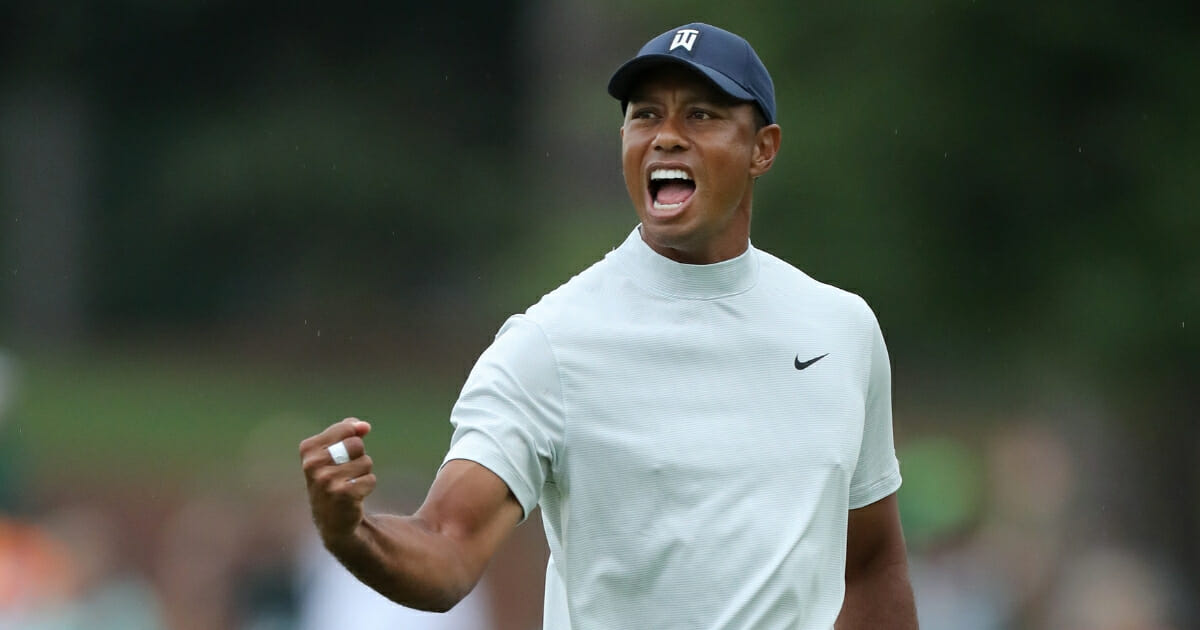 Watch: Tiger Still in Contention at Masters Despite Scary Moment with Security Guard
Not even an overzealous security guard nearly taking out Tiger Woods could stop the 14-time major winner from roaring back into contention at The Masters.
On the 14th hole, Woods hit a wayward tee shot that nearly left him in the trees and with a difficult second shot. As he's done so many times in the past, Woods had an amazing recovery shot to find the green and eventually net a birdie on the hole.
However, that second shot was not without a bit of controversy thanks to a security guard, who was trying to do his job, but slipped and crashed into Woods.
Advertisement - story continues below
Right after the shot the gallery moved forward to see where the ball was going to land and the guard ran in to try to keep the fans away from Woods.
But he slipped as he approached and clipped Woods on his back leg. Woods then hobbled for a few seconds while fans and ESPN, who broadcasted the round, held their breaths and prayed that Woods was okay.
Block or charge? pic.twitter.com/XpjgkFWcpQ

— No Laying Up (@NoLayingUp) April 12, 2019
Advertisement - story continues below
Woods, who has had four knee surgeries in addition to four back surgeries, was able to walk it off as he approached the green.
Lost in the commotion of what happened just after his second shot was what Woods did on his third shot. He sunk a 28-foot putt to move to five-under and would also birdie the next hole to move to six-under.
Do you think Tiger Woods will win The Masters?
The security guard had to be sweating bullets at the thought that he may have injured Tiger Woods and he was relieved that Woods appeared to be okay afterwards.
"Well, he made birdie, so I guess it all worked out," he told GOLF.com, shaking his head. "Man, I am really glad he made birdie."
After the round, Woods didn't want to make an issue out the the near-accident and said that he was "good".
Advertisement - story continues below
Tiger Woods on a security guard nearly kneecapping him (to ESPN): "I'm good, dude. … Other than having four knee surgeries and four back surgeries, I'm great." #TheMasters

— Adam Silverstein (@SilversteinAdam) April 12, 2019
At six-under, Woods sat just one shot back of the leaders at The Masters. The fivesome of Francesco Molinari, Jason Day, Brooks Koepka, Adam Scott and Louis Oosthuizen are all at seven-under and are all major winners.
Two birdies in a row places Tiger Woods at six under par, one off the lead.#themasters pic.twitter.com/uJ5oICPr34

— Masters Tournament (@TheMasters) April 12, 2019
Advertisement - story continues below
If history is any indication, Woods is exactly where he wants to be and is ready to strike.
Tiger Woods shoots 68 (-4) and is six under after 36 holes, one back of the lead. He has been inside the top 6 after 36 holes in all 14 of his Major wins…he is currently T6th #TheMasters pic.twitter.com/FnbuMAdduI

— Golf Monthly (@GolfMonthly) April 12, 2019
Advertisement - story continues below
The Las Vegas odds also favor Woods after the second round of play as Superbook updated their odds to win The Masters and Woods leads the way at 6/1.
Conversation