Commentary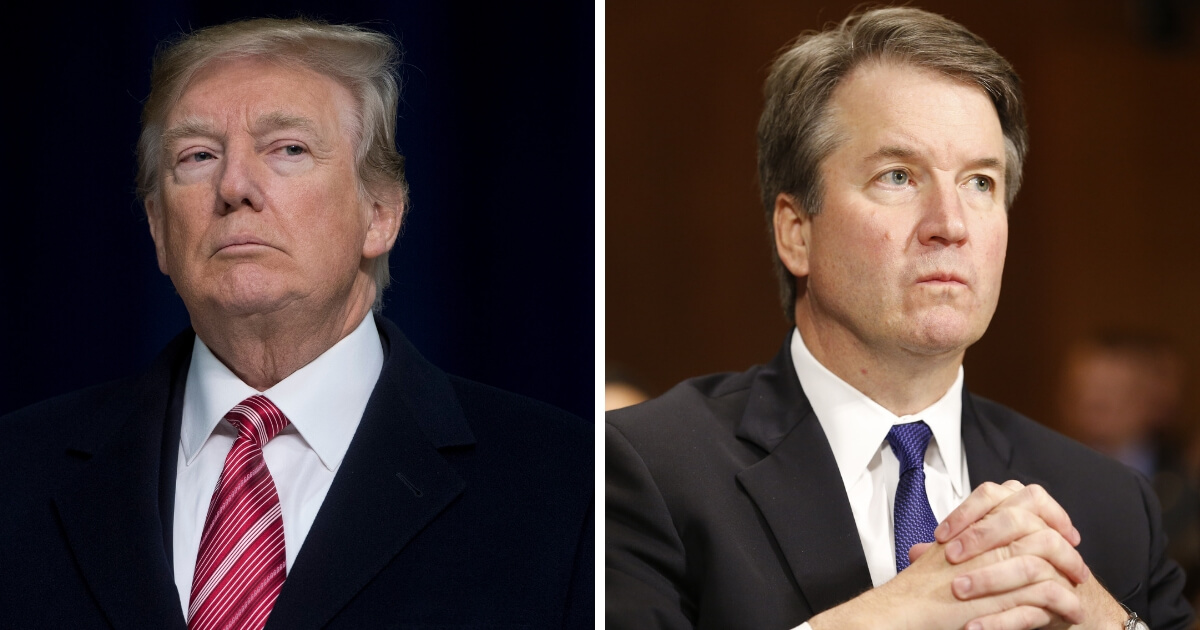 White House Orders FBI Investigation, Releases Statement from Kavanaugh
Following a contentious Senate Judiciary Committee hearing on Thursday during which both Supreme Court nominee Brett Kavanaugh and his accuser, Christine Blasey Ford, were able to deliver sworn testimony, it seemed like the process to confirm Kavanaugh was back on schedule.
The committee was prepared to hold a vote Friday afternoon to move Kavanaugh's nomination to the Senate floor when yet another wrench was thrown into the works, this time by Republican Sen. Jeff Flake from Arizona.
The senator spent the morning being harassed by angry liberal activists roaming the halls of the Senate building, and then was cornered just minutes before the vote in a back room by committee Democrats.
Advertisement - story continues below
After everyone emerged, Flake announced that he'd vote "Yes" to proceed on Kavanaugh, but only on the condition that a full Senate floor vote be delayed for a week so the FBI could more thoroughly investigate the "credible claims" against the nominee.
ABC News reported that it didn't take long for virtually all of the key undecided swing vote senators to agree with Flake on the week's delay, prompting committee members to meet with Majority Leader Mitch McConnell, which then led to the committee formally requesting the White House order the FBI to open a limited, one week investigation of the allegations.
It would appear that the White House has agreed to the additional one week delay and an FBI investigation, as per a statement that was released from the White House with remarks from the president.
"I've ordered the FBI to conduct a supplemental investigation to update Judge Kavanaugh's file. As the Senate has requested, this update must be limited in scope and completed in less than one week," said Trump in a statement released to the media by press secretary Sarah Sanders.
Advertisement - story continues below
The White House also released a statement on the development from Kavanaugh, via White House deputy press secretary Raj Shah, which indicated that he would continue to cooperate with the ongoing and further delayed process.
"Throughout this process, I've been interviewed by the FBI, I've done a number of 'background' calls directly with the Senate, and yesterday, I answered questions under oath about every topic the Senators and their counsel asked me. I've done everything they have requested and will continue to cooperate," said Kavanaugh in the statement.
Are you sick and tired of the incessant delays in Kavanaugh's confirmation?
McConnell, who reportedly believed that he had all the votes for Kavanaugh lined up Thursday night, had initially planned on holding a procedural vote Saturday to start the confirmation process that was estimated to be concluded by the middle of the week with a final confirmation vote.
That seems highly unlikely now, and odds are the process will be sitting dead in the water until next Friday, when the FBI would theoretically have wrapped up this reportedly limited probe of Kavanaugh.
The great danger here is that Democrats and the media will exploit this delay to dredge up additional vague allegations of wrongdoing and disgusting smears against Kavanaugh, whether entirely baseless and uncorroborated or not, and then call for even further delays to investigate those as well.
Advertisement - story continues below
Their ultimate goal — which has been openly stated by some Democrats — is to delay the confirmation until after the midterm elections, in which they hope to reclaim the Senate majority, upon which time they will hold the vacant Supreme Court seat open for the next two years and refuse to confirm any judicial nominees at any level that are put forward by Trump.
Furthermore, the longer this process gets delayed, the more likely it is that even if Kavanaugh is ultimately confirmed to the Supreme Court, he will have missed out on oral arguments in some cases of the new court session starting Oct. 1 and have to recuse himself, leaving those particular cases subject to potential 4-4 ties, which would simply leave the lower court rulings as the law of the land.
Whether Flake deliberately attempted to scuttle Kavanaugh's nomination, was merely trying to appease his Democrat colleagues and the liberal media in bipartisan fashion or buckled under the threats and intimidation of Democrats and activists, remains to be seen.
Hopefully this will be the last interminable delay in what has become an absolutely disgraceful debacle of a confirmation process, and the FBI will rapidly check things out and deliver back anything they find in a timely fashion, so Kavanaugh can finally be confirmed and this atrocious mess can be put behind us.
Truth and Accuracy
We are committed to truth and accuracy in all of our journalism. Read our editorial standards.
Conversation