Commentary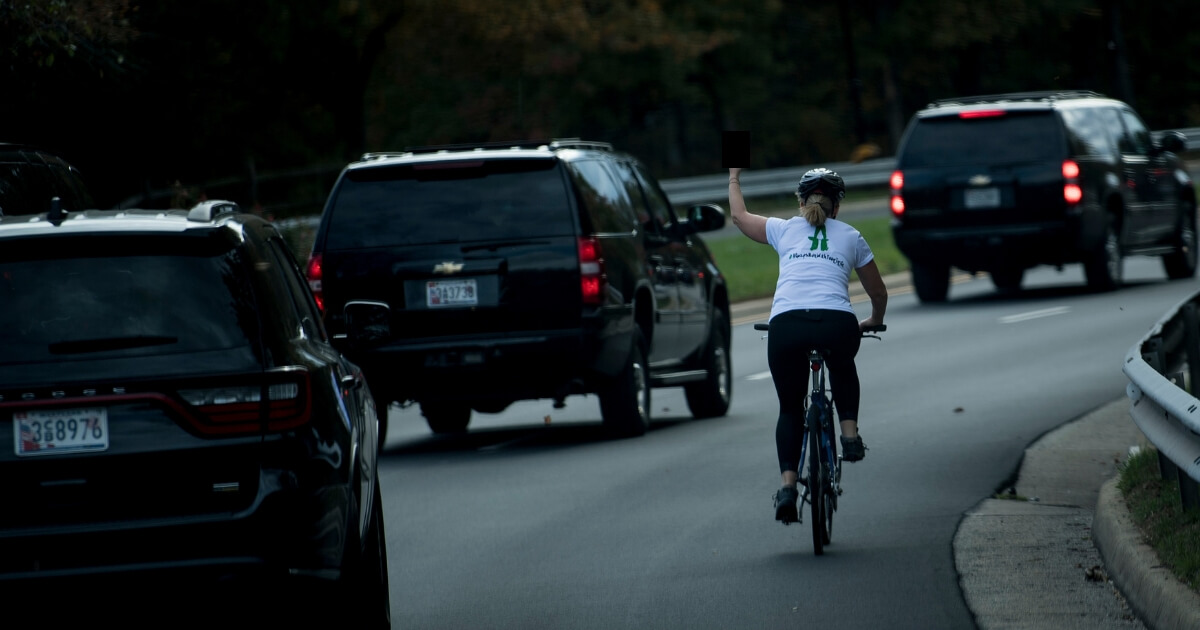 Woman Who Lost Her Job for Flipping Off Trump Has Decided To Run for Office
The image of a cyclist giving the middle finger to President Donald Trump's motorcade went viral in October 2017. Some cheered her form of protest.
Her employer, Akima LLC, a government contractor, fired her. A GoFundMe campaign was launched to help her after that, which raised over $138,801 — and still was receiving recent donations as of this article's writing.
Now Juli Briskman is doing something else that has generated headlines, and some people are already cheering her on for it:
Advertisement - story continues below
Today, I am filing my organizational papers in a bid for local office in Loudoun County, Va. Loudoun deserves transparency in government, fully funded schools & smarter solutions to growth. It's time for a change. https://t.co/OutRrIf40K

— Juli Briskman (@julibriskman) September 12, 2018
The Hill reported that Briskman has decided "to run for a seat on the Loudoun County Board of Supervisors in Northern Virginia in 2019," according to The Washington Post. She will be running against "Suzanne M. Volpe (R) in a race to represent the Algonkian District."
"Republicans currently control the board, 6 to 3. But the Post noted that the county historically votes for Democrats at the state and federal level." Some on social media have expressed hope that she will be part of the much-touted "blue wave" promised for the 2018 midterm elections season.
However, those who take umbrage with people holding elected office who show a lack of knowledge regarding the U.S. Constitution — particularly when they take an oath to defend and uphold it — will have a field day with Briskman. The reason may be found in what she reportedly told The Washington Post:
Advertisement - story continues below
"I've gotten some feedback that folks say you should respect the president. Even if you don't like what they're doing, you shouldn't show this sort of disdain. And I simply disagree, and I think the Constitution grants me that privilege."
The Constitution does not grant anything. And what it protects are unalienable rights, not privileges.
Would you vote for Juli Briskman?
The platform she intends to run on includes increased funding for county schools. Some may find that association problematic.
This is due to the fact that she does not seem to understand the Constitution, something that should be taught in schools. It is also the fact that the example she sets for schoolchildren isn't one every parent supports.
Her attitude is one of disrespect toward the president, lack of self-control to prevent job loss and a lack of remorse over a choice that led to the loss of her job.
Advertisement - story continues below
Those aren't exactly the things that some parents want instilled in their children and as an elected official, she could exemplify those "values" in other ways while in office.
A current member of the Loudoun County Board of Supervisors has taken to social media to express his thoughts on Briskman's run. His point may resonate with some, particularly in today's hostile — and sometimes violent — political climate:
https://twitter.com/Ron4VA/status/1040021121117167616
After Briskman lost her job, she sued her employer. According to Time, "Briskman told her bosses what happened after the photo went viral and was asked to leave her government contracting job or face termination. She sued and won her severance claim, but her wrongful-termination lawsuit was dismissed."
Advertisement - story continues below
In her Twitter bio, Briskman identifies herself with her viral photo and the fact that she is a "resister." She also notes that "I work @UPICHealth & views ARE aligned."
CBC Radio had reported that "she lost her job (with Akima) because she 'did not have the right politics.'" She elaborated during an interview on their "As it Happens" show.
"They said that the social media content on my Facebook and Twitter accounts was obscene and that violated their company policy on social media. But they also said that it was a risk for them basically to have me on staff because I didn't support the regime… I didn't support the person that's heading our government right now. Because they are government contractors."
What she posted to social media about it at the time also reflects a relatively poor understanding of our Constitution and government: The United States is a Constitutional Republic, not a democracy. There is a difference.
Advertisement - story continues below
Criticism of our leaders should be encouraged. For a government contractor to fire me for fear of govt. retaliation is an affront to that right & to our democracy @protctdemocracy @GellerLawyers #LongMaySheWave https://t.co/Q3CWhP7KF7

— Juli Briskman (@julibriskman) April 5, 2018
Ultimately, voters will decide if they want her brand of resistance or not.
With more and more people walking away from the left's rhetoric and taking issue with the hostile political atmosphere, she may have a challenge on her hands.
Conversation