News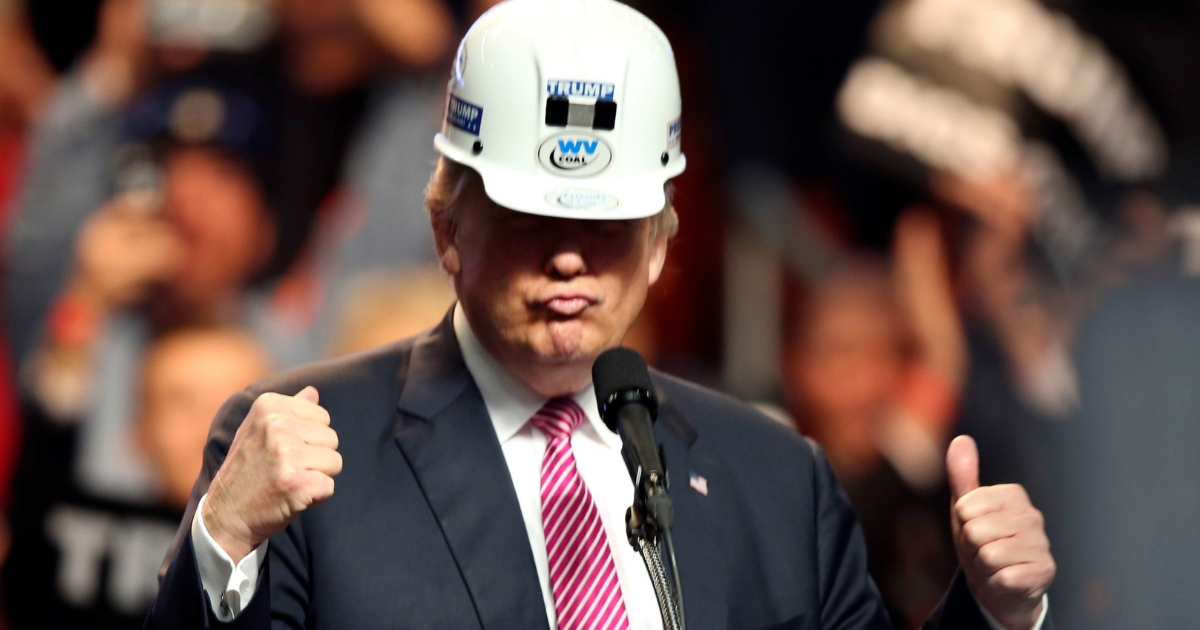 Year After Trump Dumped Paris Accords, EPA Reports Drop in Greenhouse Gases
Despite predictions from environmentalists that President Donald Trump's decision to withdraw from the Paris climate accords would lead to rampant pollution, America's greenhouse gas emissions have declined in the past year, according to a new report.
An Environmental Protection Agency report released in mid-October showed that according to EPA data, total greenhouse gas emissions dropped by 2.7 percent since 2016. Trump took office in January 2017.
Emissions from large power plants dropped 4.5 percent since 2016, and have fallen overall by 19.7 percent since 2011.
Advertisement - story continues below
"Thanks to President Trump's regulatory reform agenda, the economy is booming, energy production is surging, and we are reducing greenhouse gas emissions from major industrial sources," said Andrew Wheeler, the EPA's acting administrator.
"These achievements flow largely from technological breakthroughs in the private sector, not the heavy hand of government," Wheeler added. "The Trump administration has proven that federal regulations are not necessary to drive CO2 reductions. While many around the world are talking about reducing greenhouse gases, the U.S. continues to deliver, and today's report is further evidence of our action-oriented approach."
The release said that declines in emissions are projected to continue.
Under the Affordable Clean Energy Rule, proposed by the administration in August, carbon dioxide emissions from power plants are projected to ultimately decline by 34 percent from the levels recorded in 2005.
Advertisement - story continues below
The rule would transfer significant greenhouse gas regulating authority from the federal government to the states, CNBC reported.
Trump's rule was drafted to replace a clean energy rule developed by former President Barack Obama. That rule, heavily focused on the coal industry, would have forced coal-fired power plants to either close or face major upgrades.
Does this prove the president was right to leave the Paris accord?
Wheeler called the rule "overly prescriptive and burdensome."
"The ACE Rule would restore the rule of law and empower states to reduce greenhouse gas emissions and provide modern, reliable, and affordable energy for all Americans," he said.
Trump promoted the new rule during an August rally in West Virginia.
Advertisement - story continues below
"I'm getting rid of some of these ridiculous rules and regulations which are killing our companies, our states and our jobs," Trump said. "Our new Affordable Clean Energy proposal will help our coal-fired power plants and save consumers — you, me, everybody — billions and billions of dollars."
West Virginia Coal Association President Bill Raney supports the new rule.
"The coal industry has proven time and again that we are the best environmentalists out there," Raney said. "U.S. coal plants have reduced toxic air emissions by more than 90 percent over the last few decades."
Although America's emissions dropped in 2017, the same was not true of some nations that are still part of the Paris climate deal, the Daily Wire reported.
Advertisement - story continues below
Canada, Spain, the European Union, and China all increased emissions in 2017, with China increasing its carbon dioxide emissions by 120 million tons. The EU's carbon dioxide emissions increased by 40 million tons.
Conversation