Sports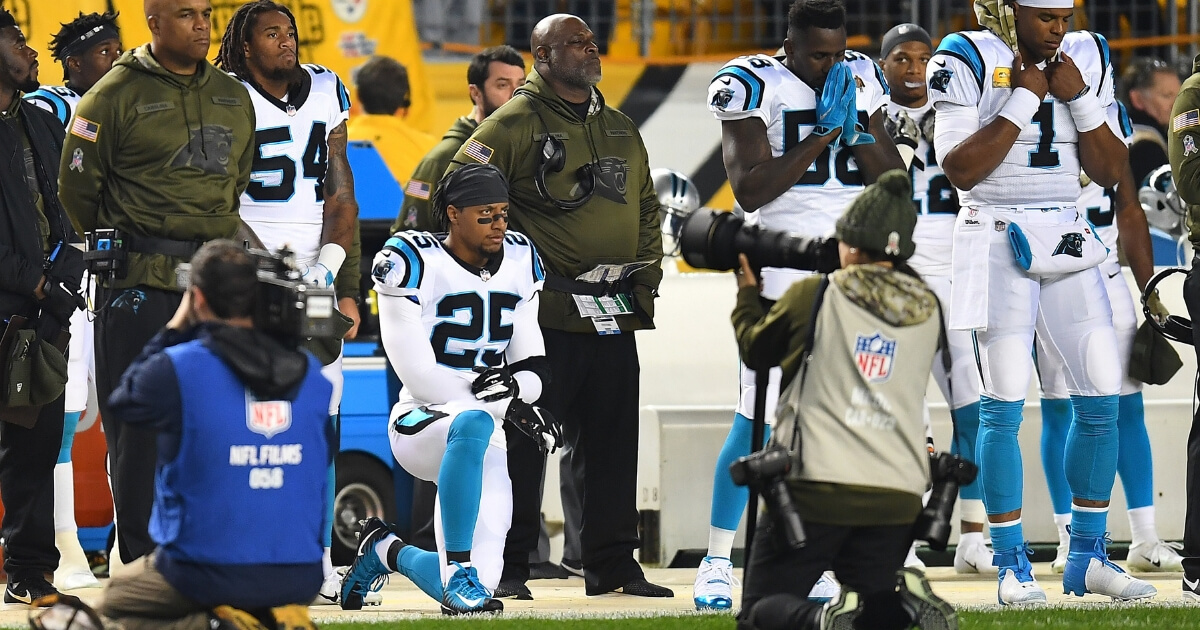 Anthem Protester Who Filed Grievance Against NFL Whines League Is Out To Get Him
Carolina Panthers safety Eric Reid has made it abundantly clear that he has no problem with making himself and his national anthem protests the center of attention.
After a big Panthers win? It's about how Reid's friend, former teammate and anthem protest instigator Colin Kaepernick isn't in the league.
Other anthem protesters? Reid is apparently the sole judge in determining their "wokeness," and he alone can determine who has "sold out."
Advertisement - story continues below
Eric Reid says Malcolm Jenkins "sold us out"

(via @MasterTes) pic.twitter.com/0sgMCA1bCT

— Bleacher Report (@BleacherReport) October 21, 2018
No Carolina player had ever knelt for the national anthem? Reid took it upon himself to change that.
Panthers coach Ron Rivera is pro-military and has strong familial military roots? Reid made sure to let his coach know that he "doesn't have a choice" but to support his protests.
Advertisement - story continues below
It's inarguable that Reid has made it a point to make sure as many eyes are as fixated on him and his cause as humanly possible. The evidence is overwhelming.
So then why exactly does Reid have such an issue with getting some attention from the league offices?
Reid found himself under scrutiny after a controversial late hit against Pittsburgh Steelers quarterback Ben Roethlisberger on "Thursday Night Football."
Eric Reid ejection after hit to Big Ben #TNF #NFL #nflonfox #PITvsCAR #Steelers #Panthers pic.twitter.com/fXebsTJFHs

— Ronnie Laybold (@CoyotesGlendale) November 9, 2018
Advertisement - story continues below
The hit got Reid ejected from the Panthers' embarrassing 52-21 road loss to the Steelers.
After the game, he all but whined about his current place in the NFL.
First, Reid displayed an astounding lack of knowledge regarding hitting the head of a sliding quarterback.
"I didn't even know you could be ejected in the NFL," Reid told reporters. "It was a bang-bang play. I was trying to do my job."
Advertisement - story continues below
The NFL clearly didn't feel that way. It didn't take long for Reid to pivot to another, completely unrelated gripe.
"This is like the fifth time (I've been drug tested) since I've been here," he groused. "They're not going to catch me on anything."
The NFL has randomly selected Eric Reid to take a drug test after tonight's game.

Reid's response: "This is like the fifth time since I've been here … They're not going to catch me on anything."

Says he's got nothing to hide, doesn't take anything illegal pic.twitter.com/hUIJSW4LqY

— Marcel Louis-Jacques (@Marcel_LJ) November 9, 2018
Advertisement - story continues below
The NFL quickly fired back through PR representative Brian McCarthy, who noted that the drug tests are randomly picked by a computer.
Re: PED testing: Each week during the season, 10 players per club will be tested. By means of a computer program, the policy's jointly appointed Independent Administrator randomly selects before the game players to be tested. Page 5 of NFL-NFLPA policy https://t.co/jhCO33pfzU

— Brian McCarthy (@NFLprguy) November 9, 2018
Reid's complaining seems solely based on some tin foil hat-type conspiracies. Then again, that shouldn't exactly be a surprise.
Advertisement - story continues below
Reid infamously filed a collusion grievance against the NFL claiming he couldn't get a job because of his anthem protests. That, obviously, turned out to be patently false as he signed with the Panthers.
If you're going to call attention to yourself in a team sport at every possible opportunity, you have to be willing to accept all of the attention, both negative and positive, that comes with it. When you start getting selective with what type of attention you want, in spite of your actions, it just comes off as petty whining.
Conversation