News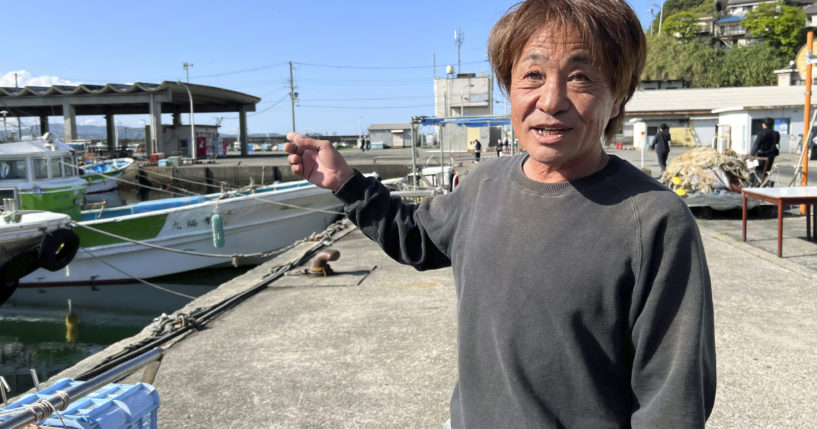 Fishermen Notice Something Fly Over Their Heads - The Next Moment They're Helping Police Take a Bombing Suspect on the Ground
As soon as Tsutomu Konishi noticed an object that flew over his head and landed near Prime Minister Fumio Kishida at a Saturday campaign event at this fishing port, he and a group of other fishermen swarmed the man who officials later identified as a suspect in the attack.
As a security officer covered the object with a bullet proof briefcase, one of the fishermen grabbed the man's neck from behind, another pushed his head down, and Konishi latched onto his leg. They were holding the man as police officers pulled him to the ground.
A few moments later, there was an explosion. The crowd fled in panic as officers dragged away the suspect, a man wearing a silver backpack.
Advertisement - story continues below
The team effort by the fishermen in this close-knit community has created a buzz on Japan's social media, prompting many to wonder if they were plainclothes police officers.
Senior members of the fishing community say they and police had fully prepared to welcome the prime minister on his first visit to the area, but there has been criticism by some who say that safety measures could have been tighter, especially after the national debate that followed the assassination of former leader Shinzo Abe last July.
"I never thought a crime like this would ever happen in my hometown, which is a rather small fishing area," Konishi said Sunday in an interview. He was taking a day off as police continued their investigation at the port facility. "I'm still shocked and stunned," he said of what happened to Kishida.
Perfect security may be difficult, but "at a time when Japan's serving prime minister was visiting, perhaps we may have needed a metal detector," Konishi said.
Advertisement - story continues below
Police arrested Ryuji Nakamura on suspicion of throwing a metal tube explosive at Kishida.
A Wakayama prefectural police investigator, speaking on the condition of anonymity because of departmental rules, said Kishida was safely evacuated before the explosion. Only one person, a police official, was injured, his arm cut from fragments of the possible tube bomb, which didn't fully explode.
Should these fishermen be rewarded?
Police sent a special counter-explosives team to the suspect's home in Hyogo prefecture to search for evidence of bomb-making. Officials have displayed a sense of urgency to show their commitment to security ahead of nationwide local elections later this month. Japan is also hosting a series of Group of Seven meetings leading up to the May 19-21 leaders' summit in Hiroshima. Diplomats arrived Sunday for the G-7 foreign ministers' meeting in Karuizawa.
Isao Itabashi, a public safety expert, said on NHK TV that the latest attack should be taken seriously because the loss of the prime minister could paralyze the country's administrative functions and "possibly shake international confidence in Japan."
Itabashi also said the attack raised questions over how election campaigns should be carried out. Guarding top politicians in campaigns is logistically hard, and balancing tight security with a free election is also difficult, he said.
Advertisement - story continues below
Masaki Nishide, a fisherman from Saikazaki, said most of the people at Saturday's event were residents and supporters of the local candidate. He said the young man carrying the silver backpack stood out.
"People here all dress like me, and nobody carries a backpack; it was only him," Nishide said. "If I were in charge of security, I would have asked for a bag check."
Kiyotaka Hamada, a senior member of the local fishing association, said he felt something hit his shoulder just as he heard the bang and was running from the scene. Police took his jacket to see if he'd been hit by a possible fragment of the explosive. "I just want to ask the suspect why he had to come here to make trouble," he said.
For Hamada and other fishermen, there's worry also about the expected income loss from the days they cannot work while the port facilities are closed for the investigation.
Advertisement - story continues below
"We put so much effort throughout the village to welcome the prime minister here on his first ever visit," Hamada said. "Now, we cannot even go out to sea."
The Western Journal has reviewed this Associated Press story and may have altered it prior to publication to ensure that it meets our editorial standards.
Conversation