Commentary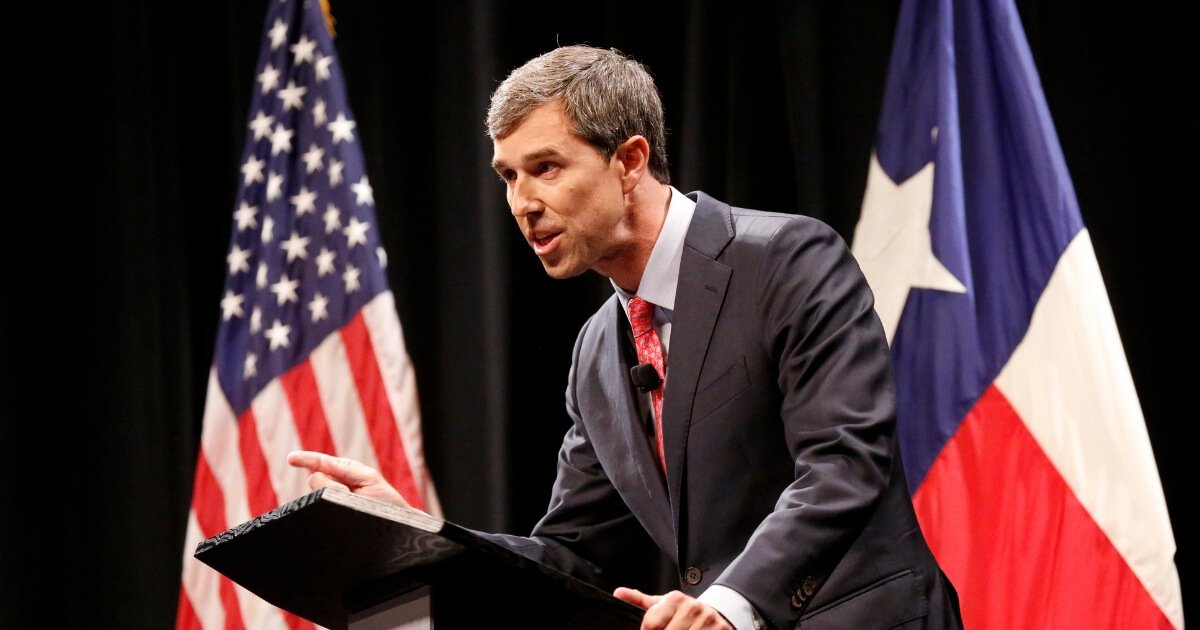 Beto's Hit-and-Run Story Takes Wild Turn with 'Passenger' Not in Police Report
Recently, some shocking information came to light regarding Democratic Rep. Robert Francis "Beto" O'Rourke's 1998 DUI crash and subsequent arrest.  And now even more has hit the headlines and this latest revelation has left some scratching their heads over the claim made by O'Rourke, himself.
O'Rourke: I reached out to the passenger who was in my car — "somebody that I've not spoken to in more than 15 years" & who doesn't appear in the police report — & asked her recollection of that night. She said we didn't try to flee and she was unsure where we could've even gone.

— Patrick Svitek (@PatrickSvitek) September 30, 2018
The man challenging Republican Sen. Ted Cruz for his seat has not only called the police report about the incident "wrong" in regards to him attempting to flee the scene, but has claimed to have had a passenger in the car with him who is not mentioned in the police reports. Additionally, this passenger has allegedly not been previously mentioned elsewhere in reporting or by O'Rourke.
Advertisement - story continues below
On August 27, O'Rourke wrote an Op-ed for the Houston Chronicle regarding criminal justice reform in which he briefly addressed his DUI crash. He wrote, "Three years later, I was arrested for drunk driving — a far more serious mistake for which there is no excuse."
Just days after his Op-ed was published, the Houston Chronicle published a shocking report about the incident. Citing both state and local police reports, they noted that "Although the arrest has been public knowledge, police reports of the September 1998 incident – when the Democratic Senate candidate had just turned 26 – show that it was a more serious threat to public safety than has previously been reported."
The details they revealed are that "O'Rourke was driving drunk at what a witness called 'a high rate of speed' in a 75 mph zone on Interstate 10 about a mile from the New Mexico border. He lost control and hit a truck, sending his car careening across the center median into oncoming lanes."
They added that "The witness, who stopped at the scene, later told police that O'Rourke had tried to drive away from the scene. O'Rourke recorded a 0.136 and 0.134 on police breathalyzers, above a blood-alcohol level of 0.10, the state legal limit at the time."
Advertisement - story continues below
They wrote about previously unreported information from the police reports, but made no mention of a passenger in the car with O'Rourke. That would seem like something important to note: that he not only put the public in general at risk with his choice to drive while intoxicated, but that he also made that choice for a woman in his car.
But there was no mention. Apparently, the passenger has never been mentioned until O'Rourke brought her up in defense of his claim that the police report was wrong and the witness at the scene as wrong and he did not attempt to flee after the DUI crash.
Do you believe O'Rourke's claim of having a passenger in the car?
According to the Dallas News, "At the time of his arrest, O'Rourke was 26. Last month, the Houston Chronicle obtained similar offense reports from the Anthony, Texas, Police Department and the Texas Department of Public Safety.
Both reports quoted an unnamed motorist who was headed in the same direction on I-10 saying O'Rourke's car passed him, struck a truck and ended up crossing the median. The motorist said he stopped O'Rourke from fleeing. According to the DPS report, the motorist 'turned on his over head lights to warn oncoming traffic and to try to get the defendant to stop.'"
But The Texas Tribune wrote that during the closing keynote of the Texas Tribune Festival on September 29, O'Rourke said, "I did not flee. The police report on this count is wrong."
Advertisement - story continues below
"I reached out to the passenger who was in the car that I was driving — who also does not appear in the police report, among other factual errors — somebody that I've not spoken to in more than 15 years, and asked her recollection of that evening. She said, 'No, we were in the median of the road. We did not try to flee. I don't know that there was anywhere we could have gone.'"
Naturally, people on social media have weighed in. Some have expressed their doubts about the passenger suddenly manifesting in the story all these years later.
So now Beto is saying the arresting officer made up a witness and didn't report there was a passenger in O'Rourke's car? ? https://t.co/AVw4bnRUcQ

— Jay Caruso (@JayCaruso) September 30, 2018
??? Beto's passenger? So Beto was driving drunk? His passenger must have been drunk as well. We should believe him, why? The witness who said he tried to flee, has much less reason to lie!

— Ginny (@ginkates) September 30, 2018
Advertisement - story continues below
His passenger.

Another words, his friend in the car NOT the police who cited him for attempting to flee the scene of the accident? What exactly would the Police have to gain by citing you for fleeing scene? Okay Beto, sure. ?

P.S. Your policies on immigration stink! Vote @GOP

— Educate America Initiative ?? (@RichJaeger) September 30, 2018
Maybe he forgot to get his judge daddy to change the official record.
Or maybe this 'passenger' didn't exist until the drunk driving crash became problematic for Robert #Beto O'Rourke!#VetoBeto #ChooseCruz

— Bossy Brat (@JGalt09) September 30, 2018
https://twitter.com/mbs213/status/1046429850301607938
In late August, the Houston Chronicle reported that more than one poll showed it was a tight race between O'Rourke and Cruz. The damage from the revelations about his DUI crash, which came just days after that report, could be viewed as a threat to him beating Cruz, with the midterm elections so quickly approaching.
Advertisement - story continues below
If he did have a passenger in the car and the police reports were wrong, it would be helpful for her to come forward and put the matter to rest.
However, if this is an eleventh hour attempt to sway the public with less than accurate claims, it could backfire horrifically for O'Rourke. He's already been busted for lying about other details of the DUI crash by The Washington Post.
Conversation