Commentary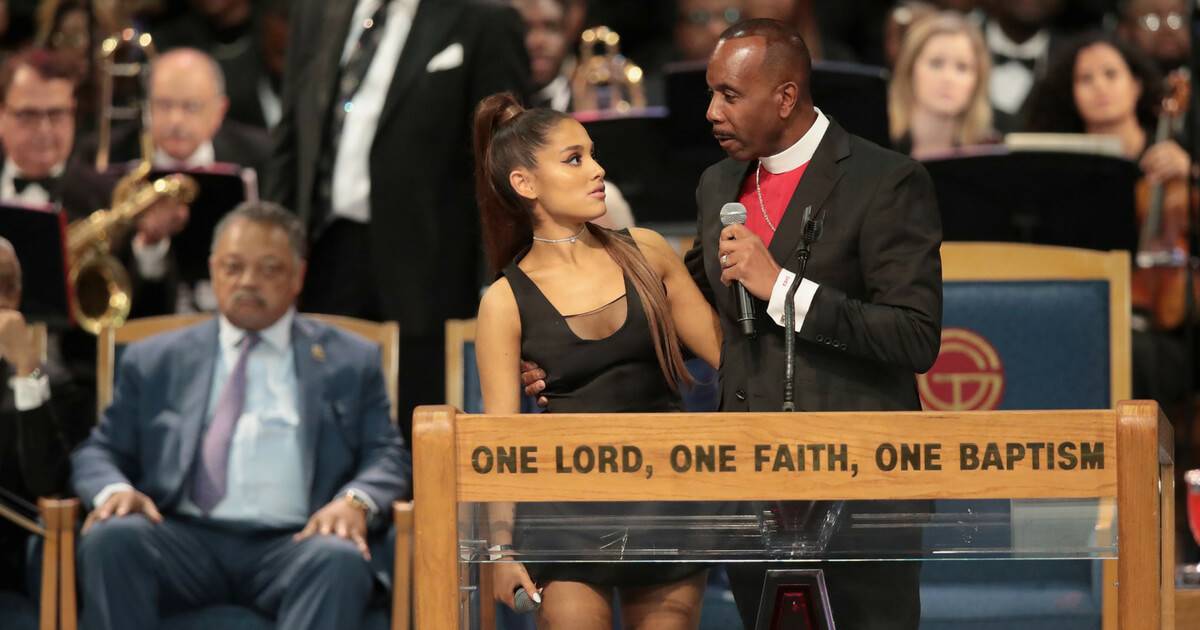 Funeral Bishop Apologizes After Coming Under Fire for Groping Ariana Grande
Despite her funeral having just taken place yesterday, Aretha Franklin is the last thing on the internet's collective mind at the moment.
Instead, the top stories to have come out of the Queen of Soul's funeral have been focused on 25-year-old pop icon Ariana Grande.
The way former president Bill Clinton ogled her, the length of her dress, and her uncomfortable interaction with the bishop presiding over the event have all taken Twitter — and the media — by storm.
Advertisement - story continues below
The singer, wearing her signature high ponytail hairdo, sang a tribute to Franklin with the song "(You Make Me Feel Like) A Natural Woman."
Afterward, Bishop Charles Ellis III, the pastor who officiated the funeral, awkwardly greeted Grande with a joke about her name sounding like a new menu item at Taco Bell and a lengthy sideways hug that appeared to have gone too far.
"I've got to apologize because I have to brush up," the bishop said. "When I saw Ariana Grande on the program, I thought that was a new something at Taco Bell."
The bishop then continued to talk to Grande while holding onto her side, just under her arm and well above her waistline. His hand appeared to be pressing on the side of her chest in what the internet has been quick to call out as extremely inappropriate "groping" and even sexual harassment.
Do you think Bishop Ellis deserves the criticism he's getting?
Advertisement - story continues below
Grande looked nervous and uncomfortable during the entire interaction, and the hashtag #RespectAriana quickly popped up on Twitter, alongside images of the two of them where she was trying to pull away from Ellis' embrace.
I'm really sorry you had to go thru that @ArianaGrande that groping was beyond blatant and we could all see and feel your discomfort. #NotCool

— Claudia Jordan (@claudiajordan) September 1, 2018
#RespectAriana is trending worldwide after a pastor got very handsy with @ArianaGrande at Aretha Franklin's funeral pic.twitter.com/FeJQ4f3lk4

— Ariana Grande Today (@ArianaToday) August 31, 2018
What was up with that pastors hand? pic.twitter.com/M8Ypgm7fQB

— Trevor Noah (@Trevornoah) August 31, 2018
Many women empathized with the singer's reaction and criticized the fact that others on the internet were talking about her dress or Ellis' Taco Bell comment while ignoring the bishop's hand placement.
https://twitter.com/MaggieAstor/status/1035716985764687877
Advertisement - story continues below
https://twitter.com/AshleeMPreston/status/1035751474230308864
It's troubling that a Taco Bell joke (which was extremely ignorant) is overshadowing the fact that Ariana Grande was groped during Aretha Franklin's memorial service. pic.twitter.com/clR9TbrgxZ

— Ash (@AshleyFatale) September 1, 2018
Ellis later offered a half-hearted apology for how he touched Grande onstage.
In an interview with The Associated Press, Ellis said, "It would never be my intention to touch any woman's breast. … I don't know I guess I put my arm around her. Maybe I crossed the border, maybe I was too friendly or familiar but again, I apologize."
Advertisement - story continues below
Ellis was quick to add that he hugged everyone who performed during the service.
"I hug all the female artists and the male artists. Everybody that was up, I shook their hands and hugged them. That's what we are all about in the church. We are all about love."
Whether his gesture was intentional or not, it's clear that the whole situation stole some of the attention that the bishop felt the Queen of Soul should have been getting.
"The last thing I want to do is to be a distraction to this day. This is all about Aretha Franklin," Ellis concluded.
Advertisement - story continues below
The bishop also apologized for his Taco Bell joke after facing backlash for that "extremely ignorant" comment as well.
"I personally and sincerely apologize to Ariana and to her fans and to the whole Hispanic community. When you're doing a program for nine hours you try to keep it lively, you try to insert some jokes here and there."
Franklin's funeral certainly did turn out to be lively, at least as far as Twitter is concerned, but regrettably, it was for all the wrong reasons.
Maybe next time a cultural icon passes away, their funeral will be less of a scandalous occasion than Franklin's.
Conversation