Commentary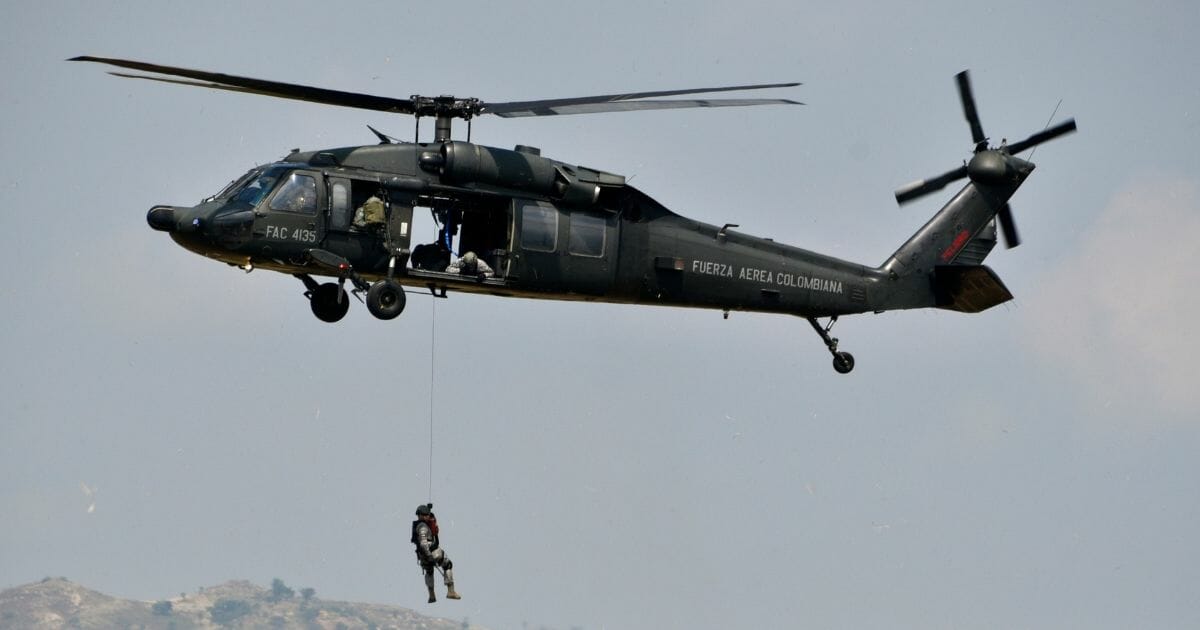 Bishop Will Drop Holy Water from Helicopter to 'Drive the Devil Out' of His City
One bishop is going to be a little closer to God while he performs a special mass-exorcism that has everyone talking.
According to The Guardian, Monsignor Rubén Darío Jaramillo Montoya, the bishop of Buenaventura, will sprinkle holy water from a helicopter on his entire city this weekend.
Buenaventura has long been a bastion of unfathomable evil, from rape to murder to corruption — but the bishop is looking to change the tide for good.
Advertisement - story continues below
On a local radio station, Montoya said, "We have to drive the devil out of Buenaventura, to see if we can restore the peace and tranquility that our city has lost due to so many crimes, acts of corruption and with so much evil and drug trafficking that invades our port."
"We want to go around the whole of Buenaventura, from the air, and pour holy water on to it to see if we exorcise and get out all those demons that are destroying our port, so that God's blessing comes and gets rid of all the wickedness that is in our streets," he stated.
The National Army of Colombia even agreed to lend the bishop a helicopter for the event.
The news of a city-wide exorcism comes on the heels of a 10-year-old girl from Buenaventura being tortured and murdered by wretched gang members from an unknown clan.
Advertisement - story continues below
According to The Guardian, the Vatican recently had an influx of requests for faith leaders to perform exorcisms, causing the home of the Vicar of Christ to build a training course for priests on how to perform these touchy rituals.
In 2014, Human Rights Watch — an international non-governmental organization headquartered in New York City — released an extremely uncomfortable summary of the Colombian port city.
"Many of the city's neighbourhoods are dominated by powerful criminal groups that commit widespread abuses, including abducting and dismembering people, sometimes while still alive, then dumping them in the sea," Human Rights Watch reports.
"The groups maintain 'chop-up houses' (casas de pique) where they slaughter victims, according to witnesses, residents, the local Catholic church and some officials."
It takes nothing less than a demonic individual to carry out such atrocities.
Advertisement - story continues below
The horrific barbarism comes years after warring paramilitary groups and militias were demobilized in 2003, with many of these fighters never being punished.
Pushed out onto the streets, they are now carrying out some of the worst human rights violations in the world.
In fact, there are so many gangs currently on the streets that the residents aren't even bothering to learn their names, opting to simply call them los malos — "the bad guys."
1 Peter 5:8, a testament to the reality of spiritual warfare, says, "Be alert and of sober mind. Your enemy the devil prowls around like a roaring lion looking for someone to devour."
Advertisement - story continues below
Hopefully, this act by Montoya will cause people to become more aware of their need for Jesus Christ and the saving grace he provides — not just those in Buenaventura, but those around the world.
And, hey, maybe when Montoya is done with his exorcism in Colombia, he can make a quick trip up to Washington D.C. on behalf of the American people.
Truth and Accuracy
We are committed to truth and accuracy in all of our journalism. Read our editorial standards.
Conversation