Commentary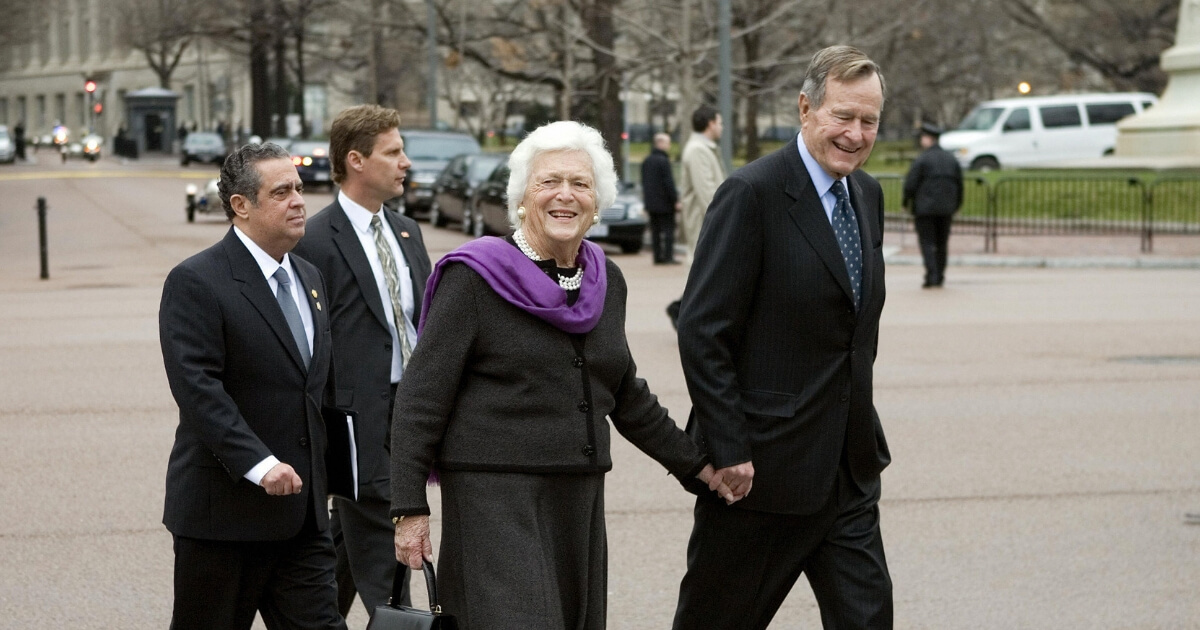 Touching Political Cartoon Reunites George HW Bush with Late Wife, Daughter
When news broke about the passing of former president George H.W. Bush, 94, social media was filled with tributes to his accomplishments and life. But perhaps one of the most touching tributes was in a political cartoon created by Marshall Ramsey.
Ramsey noted that the cartoon was a "bookend" to the one he drew in April because of former first lady Barbara Bush's passing. He also wrote that George H.W. Bush was the first president he drew professionally as a cartoonist.
Godspeed President Bush. This is the bookend to the Barbara Bush cartoon from April. My thoughts are with the Bush family tonight. On a personal note, he was the first president I drew as a cartoonist (I began my career in 1988.) @JennaBushHager #presidentBush #rip #georgehwbush pic.twitter.com/lnBXCHgCnw

— Marshall Ramsey (@MarshallRamsey) December 1, 2018
Advertisement - story continues below
The illustration shows Bush, the 41st president, taking his "final flight" in a TBM Avenger. It was the type of plane he flew in World War II.
In the cartoon, he meets up with his wife Barbara, who passed away in April, and their daughter Pauline Robinson "Robin" Bush, who passed away in 1953 at age three. George and Barbara are shown each holding one of Robin's hands.
Barbara and Robin are captioned as saying, "We waited for you." The touching tribute cartoon has been mentioned by multiple media outlets and has gotten high praise on social media.
Advertisement - story continues below
The other cartoon in the bookend pair is equally as emotionally-charged. Following Barbara's death, Ramsey drew her reuniting with her beloved Robin.
The child greets her mama with open arms, calling out "Mama" as she runs toward her. Barbara, all smiles, has her arms open wide, clearly looking forward to a long-awaited embrace from her little girl.
— Marshall Ramsey (@MarshallRamsey) December 1, 2018
The Clarion Ledger editorial cartoonist Ramsey spoke about the cartoons on Fox News. He said that he originally got the idea for former President Bush's cartoon following the passing of his wife, Barbara.
When former president Bush got ill in the aftermath, Ramsey thought about the possibility of his passing and got his inspiration. But then he pushed it aside.
Advertisement - story continues below
"(Bush) got sepsis, and both my parents who've since passed, they had sepsis. And I thought, 'This is gonna be tough' but I forgot."
"It was George Bush. The guy was Superman."
Do you believe Marshall Ramsey did a good tribute cartoon for former president George H.W. Bush?
Ramsey also revealed that a number of Bush family members have contacted him about the cartoons he drew of George and Barbara, and were very appreciative.
Advertisement - story continues below
He added that they were really moved by his portrayal of George's love for and reunion with family. "The family just talked to me and told me that was the thing that they were talking about, too."
Ramsey added that he gave the family the original drawings. He said they may end up in the presidential library for all to see.
Conversation