Commentary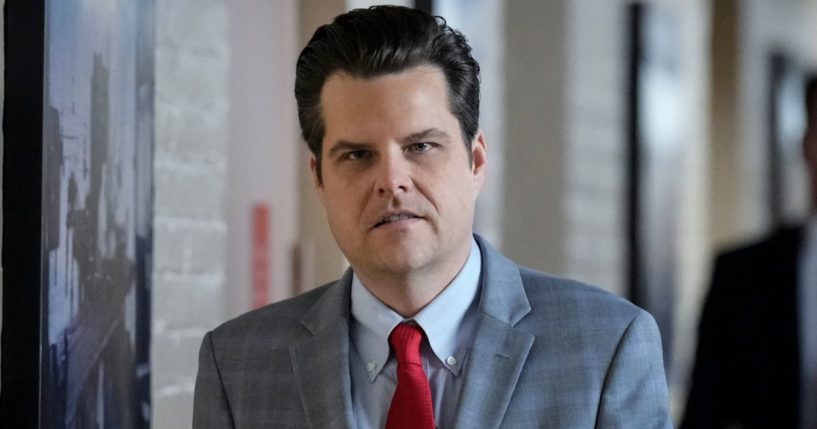 Commentary
College Student Charged After FBI Agents Trace Terrifying Voicemail Left for Matt Gaetz
A college student is facing charges after allegedly leaving a voicemail threatening to kill a Republican congressman.
According to the United States Department of Justice, on March 29, Allan Poller, a student at Keene College in New Hampshire, allegedly left a threatening voicemail for a member of the House of Representatives, who was later confirmed to be Rep. Matt Gaetz of Florida.
In the voicemail, Poller allegedly threatened to kill Gaetz due to his stance on LGBT rights.
Advertisement - story continues below
"[I]f you keep on coming for the gays, we're gonna strike back and I guarantee you, you do not want to f*** with us," he allegedly said,  "We will kill you if that's what it takes. I will take a bullet to your f***ing head if you f*** with my rights anymore. And then if you want to keep going down that path, you know who's next."
According to local outlet WMUR, FBI agents traced the call back to Poller's phone after he left his name (even spelling it on the recording) and number. The agents then contacted Keene police. Poller now faces a federal charge of threat in interstate communication.
Poller did not deny having left the message, but he reportedly told investigators that he never intended to harm anyone and was "emotional and intoxicated" when he called Gaetz.
WMUR reported that Keene State College issued a statement condemning Poller's alleged actions, saying, "While the College supports a culture that embraces the free and open exchange of ideas, it does not condone violence, or threats of violence, as a means for overcoming differences. Keene State College has policies and practices to address actions that run contrary to our values; our Student Code of Conduct explicitly prohibits behaviors that threaten or endanger the health or safety of any person."
Advertisement - story continues below
If convicted, Poller could face up to five years in prison and a fine of up to $250,000.
What's interesting here is the fact that the left likes to say that conservatives like Matt Gaetz are inciting and encouraging violence against LGBT people. It is currently a favorite theme among the Biden administration, which often likes to claim that LGBT people are under attack.
Do you think conservatives are under attack in America?
However, Gaetz and other conservatives, while often not shying away from strong language to describe the LGBT movement, are not the ones threatening to kill anyone or to put a bullet through someone's head.
No, instead, this is an unhinged leftist who is allegedly threatening violence against a sitting member of Congress for standing firm in defense of the biblical teaching on gender and sexuality.
What makes this even more interesting is the fact that this phone call was allegedly placed just days after a transgender militant murdered Christian children and teachers at a school in Nashville.
Advertisement - story continues below
So, here we have another LGBT militant allegedly threatening violence not long after this horrific massacre in Nashville. This is really not a good look for the "tolerant" left.
The left is thoroughly convinced of the righteousness of its cause and is therefore not afraid to use any means necessary, including violence, to accomplish its goals.
This is not just confined to LGBT issues. We saw this in the summer of 2020, when Black Lives Matter and antifa activists engaged in violent actions across the country in response to the death of George Floyd.
Now, recent events in Nashville and elsewhere further prove what many of us have long known, which is that the left has become more unhinged than ever, and is growing even more aggressive.
Advertisement - story continues below
It is not conservatives, but leftists, who are inciting violence against those they disagree with.
Conversation