News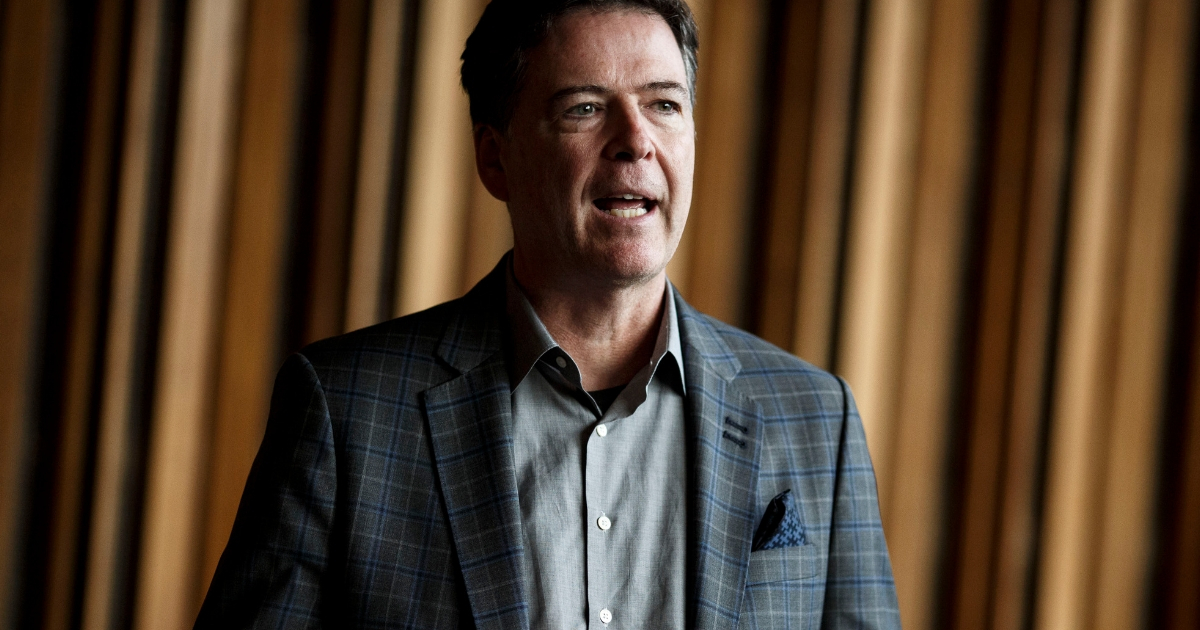 Comey Jumps Into Kavanaugh Controversy: FBI Shouldn't Have 'Shot Clock' on Investigation
Former FBI Director James Comey inserted himself into the debate regarding investigating sexual assault allegations against Supreme Court nominee Brett Kavanaugh, arguing the Republicans have wrongfully placed a "shot clock" on the supplemental background check.
In a Sunday Op-Ed for The New York Times, Comey wrote, "It is idiotic to put a shot clock on the F.B.I. But it is better to give professionals seven days to find facts than have no professional investigation at all."
He continued, "When the week is up, one team (and maybe both) will be angry at the F.B.I. The president will condemn the bureau for being a corrupt nest of Clinton-lovers if they turn up bad facts. Maybe Democrats will similarly condemn agents as Trumpists if they don't."
Advertisement - story continues below
Comey then offered sentiments that appeared to be in support of sexual assault accuser Christine Blasey Ford and against Kavanaugh.
"Yes, the alleged incident occurred 36 years ago. F.B.I. agents know time has very little to do with memory," Comey wrote. "They know every married person remembers the weather on their wedding day, no matter how long ago. Significance drives memory."
"They also know that little lies point to bigger lies," he added. "They know that obvious lies by the nominee about the meaning of words in a yearbook are a flashing signal to dig deeper."
The Washington Post reported, Comey's reference was to entries in Kavanaugh's high school yearbook, which came into question during last Thursday's hearing before the Senate Judiciary Committee.
Advertisement - story continues below
The inscriptions included, "Beach Week Ralph Club," "boofed," "Renate Alumnius," and "Devil's Triangle."
Kavanaugh explained to Democratic Sen. Sheldon Whitehouse of Rhode Island that the word "ralph" referred to throwing up, conceding he has a weak stomach for both beer and certain types of food.
Do you think there should be a certain time for the FBI to end its Kavanaugh investigation?
"Boofed referred to flatulence; we were 16," Kavanaugh said regarding the entry Mark Judge made. "We want to talk about flatulence at age 16 on a yearbook page, I'm game."
– "Beach Week Ralph Club — Biggest Contributor"
– "Boofed"
– "Renate Alumnius"
– "Devil's Triangle"
– "FFFFFFFourth of July"

Brett Kavanaugh just explained the ambiguous references on his high school yearbook page https://t.co/yVU7AUDtpY pic.twitter.com/r2vyGoEcFO

— CBS News (@CBSNews) September 27, 2018
Renate Alumnius was referring to woman named Renate Schroeder Dolphin, who was a high school contemporary of Kavanaugh, attending a nearby school. The same phrase appeared in multiple yearbooks of Georgetown Preparatory School students, while Kavanaugh attended there.
Advertisement - story continues below
The nominee said it was a term of "affection, and that she was one of us… A bunch of us went to dances with her. We hung out as a group."
He refuted that it referred to sex, saying he "never had any sexual interaction with her."
"She's a good person, and to have her name dragged through this hearing is a joke and really an embarrassment," he said.
Dophin was one of 64 women to sign a letter in support of Kavanaugh, The New York Times reported.
Advertisement - story continues below
However, she was not pleased after being made aware of the yearbook entries.
"I learned about these yearbook pages only a few days ago," she told The Times. "I don't know what 'Renate Alumnus' actually means. I can't begin to comprehend what goes through the minds of 17-year-old boys who write such things, but the insinuation is horrible, hurtful and simply untrue. I pray their daughters are never treated this way. I will have no further comment."
Finally, Devil's Triangle was in reference to a drinking game.
Comey expressed confidence that FBI agents will be able to dig deeper into Kavanaugh's answers and other issues in relation to the sexual assault allegations.
Advertisement - story continues below
"Once they start interviewing, every witness knows the consequences," he said. "It is one thing to have your lawyer submit a statement on your behalf. It is a very different thing to sit across from two F.B.I. special agents and answer their relentless questions."
Comey's observation was apparently regarding Kavanaugh's friend, Mark Judge, who Ford testified was in the room when the alleged assault took place in 1982.
Judge declined to testify before the Judiciary Committee, citing his struggles with anxiety and depression.
In a letter to the Judiciary Committee, he has agreed to be interviewed by "any law enforcement agency," including presumably the FBI, in relation to the matter.
Advertisement - story continues below
Judge has denied the incident Ford described ever took place.
JUST IN: "I will cooperate with any law enforcement agency that is assigned to confidentially investigate these allegations," Mark Judge says in letter to Senate Judiciary Committee. https://t.co/W56scjVEVV pic.twitter.com/JKLDDLa4Ki

— ABC News (@ABC) September 28, 2018
Comey concluded his Op-Ed: "Despite all the lies and all the attacks, there really are people who just want to figure out what's true. The F.B.I. is full of them."
Conversation