News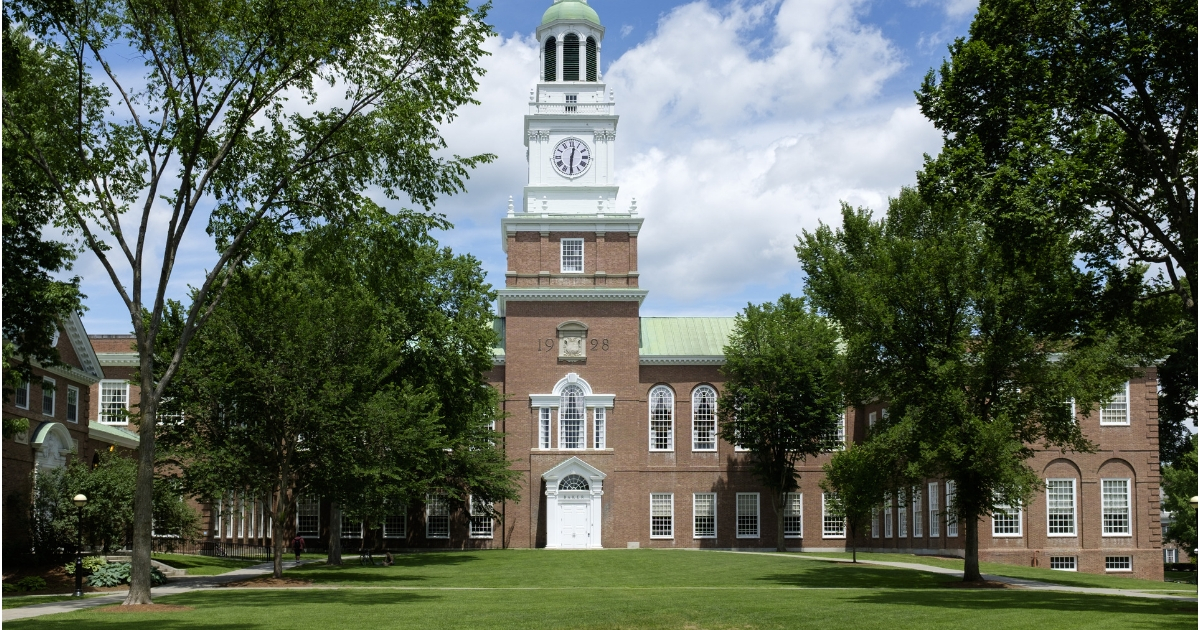 Dartmouth Profs Under Investigation for Running '21st Century Animal House,' Allegedly Raping Students
Dartmouth College is being sued for $70 million in a federal lawsuit that claims three former professors subjected female students to rape and sexual harassment while the college turned a blind eye.
"The seven Plaintiffs, each an exemplary female scientist at the start of her career, came to Dartmouth to contribute to a crucial and burgeoning field of academic study. Plaintiffs were instead sexually harassed and sexually assaulted by the Department's tenured professors and expected to tolerate increasing levels of sexual predation," the lawsuit said.
The suit claims that although the activities of the former professors were exposed in 2017, the college was aware of them for 16 years.
Advertisement - story continues below
According to the suit, Dartmouth's Department of Psychological and Brain Sciences became a "21st Century Animal House."
The lawsuit named tenured professors Todd Heatherton, William Kelley and Paul Whalen.
In a statement from Heatherton, he categorically denied "playing any role in creating a toxic environment at Dartmouth College," CNN reported.
Heatherton said he was "extremely concerned about being grouped together with the other professors," and noted that the allegations chiefly focus on Kelley and Whalen.
Advertisement - story continues below
The two former professors did not respond to requests for comment.
Heatherton said "he had no knowledge of the specific allegations that were made about them" and that "he did not engage in the general patterns of conduct they are accused of."
Do you think Dartmouth ignored these alleged pattern of abuse?
Allegations of sexual misconduct surfaced publicly in 2017, but the Title IX disciplinary process was "unilaterally terminated" when the college allowed Heatherton to retire and Kelley and Whalen to resign. Current and former students were not involved in that decision, the suit said.
College officials "disagree with the characterizations of Dartmouth's actions in the complaint and will respond through our own court filings," they said in a statement.
The lawsuit said that one of the defendants called a plaintiff into his office "under the guise of academic advising and then aggressively initiated sexual activity with her."
Advertisement - story continues below
That same professor sent the student "sexually graphic text messages," according to the suit.
The suit said Kelly sent the student illicit photographs of male reproductive organs and asked the student to compare them. Kelly also, the suit claims, sent the student "pictures of sex toys, asked her what she was wearing, demanded that she send him sexually graphic photographs of herself, and urged her to talk about his sexual fantasies."
The student now "will only work in research labs run by women because of her deep distrust of male employers. She was forced to withdraw from her first semester in a postbaccalaureate premedical program due to mental health reasons resulting from her time at Dartmouth," the lawsuit said.
One plaintiff said she was punished for refusing to participate in "mandatory fun" events, such as pajama parties and "boozy lunches," the lawsuit said.

One student claims she was raped at the home of a professor, who continued to ask her to meet him at bars after the event and called her "paranoid" for seeking medical attention.
Conversation