News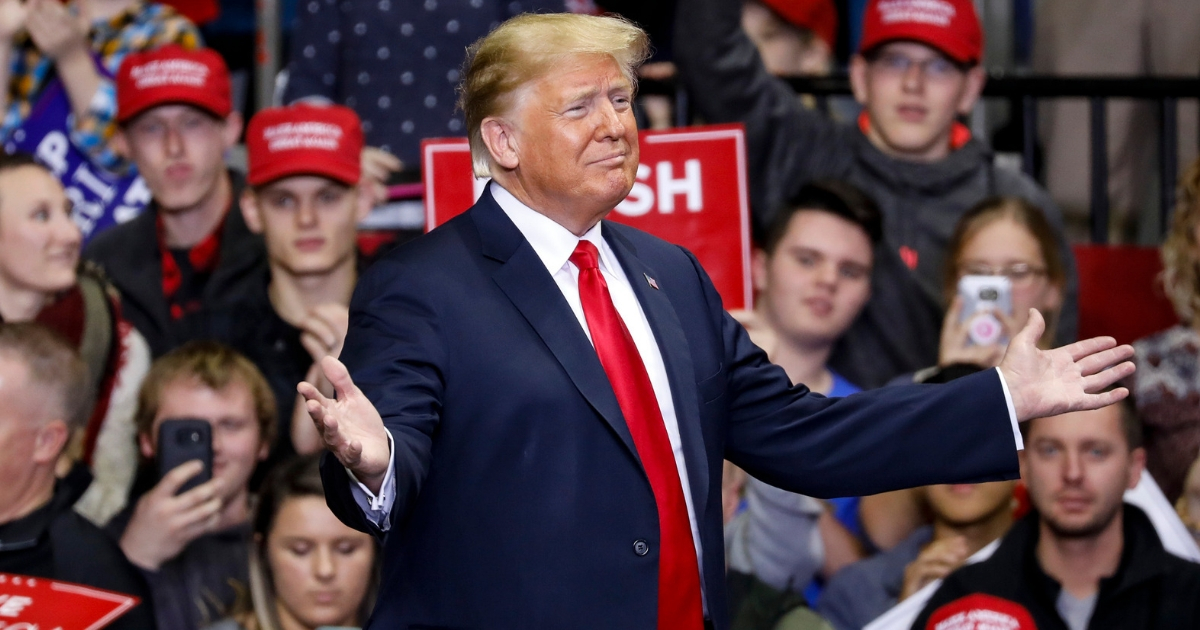 Democrats Winning the House Could Play Right into Trump's Hands
Republican losses in the midterm elections could turn into a real positive for President Donald Trump, who now has an enemy to oppose and play up in the media after Democrats flipped the House Tuesday night.
Democrats flipped the U.S. House of Representatives from a Republican majority by gaining 27 seats Tuesday, a shift that could benefit the president leading into 2020. With a Democratic House majority, Trump will likely again face questions about his undisclosed tax returns, political and personal affairs, and alleged ties to Russia.
Exit polls, however, indicate that Americans are tired of special counsel Robert Mueller's investigation into alleged ties between the Trump administration and Russia. Only 40 percent of voters approve of Mueller's investigation, according to voters polled at election sites Tuesday, CNN reported. Forty-five percent of voters polled disapprove of Mueller's handling of the investigation, according to NBC.
Advertisement - story continues below
The probe into possible collusion between Trump and the Russian government began on July 31, 2016.
If House Democrats choose to push the unpopular Russia investigation, they could alienate their voters. "At its most extreme, a Democratic House could even potentially pose an impeachment threat against the president depending on the results of the [Russia] investigation by the special counsel," The New York Times' Peter Baker wrote Wednesday.
Democratic Rep. Adam Schiff of California, who is the ranking member of the House Intelligence Committee, will likely subpoena Donald Trump Jr. for phone records regarding a meeting he took with a Russian lawyer in the Trump Tower.
"The subpoena process and investigations will be difficult," former White House legislative director Marc Short said, according to The NYT. "But there's probably nothing that could help the president's re-election prospects better than having Nancy Pelosi as speaker."
Advertisement - story continues below
House Minority Leader Nancy Pelosi has also indicated she will subpoena for Trump's tax returns. Trump called Pelosi late Tuesday night to congratulate her on the Democrats' midterm wins.
Only 29 percent of voters approve of Pelosi, according to a June Gallup poll marking a nine-year low.
Do you think Democrats winning the House can be a positive for Trump?
Congress has subpoena power and if Democrats press the Russia investigation, Trump may double down on House Democrats, pushing through judges he favors and killing legislation he doesn't without having to exercising his veto power. Republicans still hold a majority in the Senate.
"Trump is in a good position for 2020," Real Clear Politics president Tom Bevan said on Fox and Friends Wednesday morning. "By and large I think Trump's in good shape," he added.
Trump is not the first president to face midterm losses and bounce back.
Advertisement - story continues below
Former Presidents Bill Clinton and Barack Obama both faced significant losses in 1994 and 2010, respectively. The former presidents profited from their losses by playing off their opposition. The American people elected both Clinton and Obama for a second term.
With a Democratic House, Trump can potentially work with Democrats on bipartisan legislation. "Democrats winning the House provides a silver lining for the president in that he could craft bipartisan solutions for prescription drug costs and infrastructure," former White House political director Sara Fagen said, The NYT reported.
"From a dealmaking standpoint, we are all much better off the way it turned out," Trump said at a Wednesday press conference, The Washington Post reported. "Now we have a much easier path because the Democrats will come to us with a plan for infrastructure, a plan for health care, a plan for whatever they're looking at, and we'll negotiate," he also said.
Trump described Tuesday night's midterm elections results as a success. "I thought it was very close to complete victory," he said Wednesday.
Advertisement - story continues below
The president also called the midterm election results, "extremely good for me politically," according to WaPo.
A version of this article appeared on The Daily Caller News Foundation website.
Conversation