Sports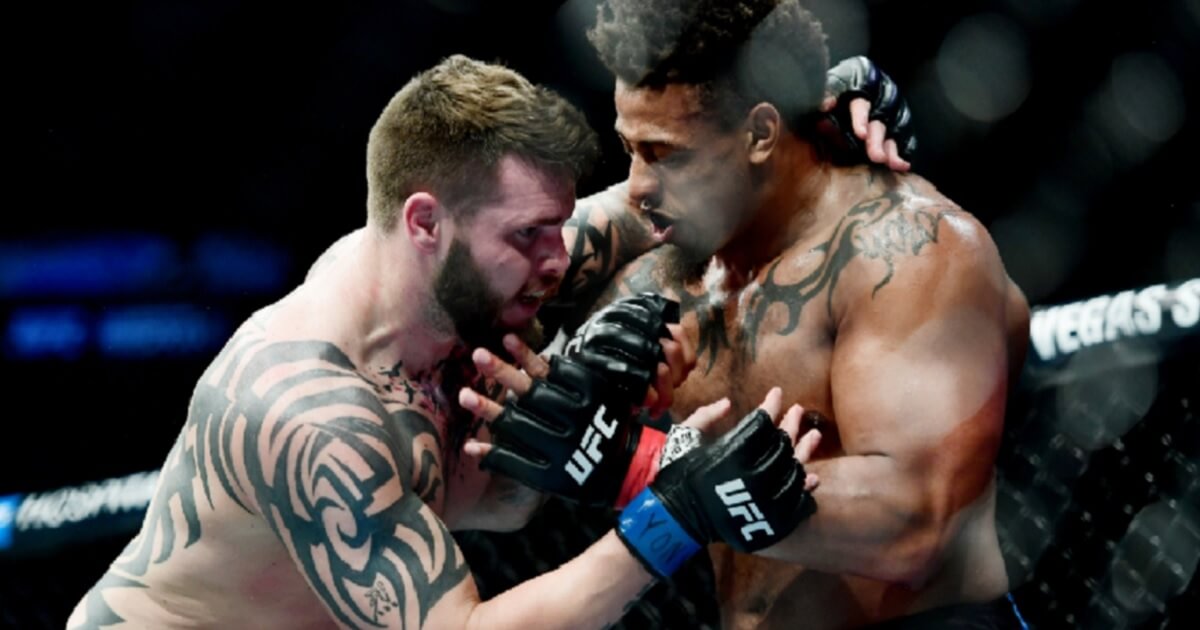 Disgraced Ex-NFL Star Loses by DQ in His UFC National Debut
When it comes to reputation, disgraced former NFL standout Greg Hardy's reputation can fairly be said to be in the sewer.
And when it comes to the opinion of ESPN radio host Dan Le Batard, the reputation of the sport of mixed martial arts is also in the sewer.
And since birds of a feather flock together, one good sewer deserved another on ESPN as Hardy fought in UFC Fight Night 143.
Advertisement - story continues below
And his performance? Well, it's the kind of thing that you flush into the sewer.
Hardy, who had been 3-0 in MMA competition, got his feet wet against the sorts of strip club bouncers and wannabe tough guys who are not hard to find as cheap opponents to build records in combat sports. He suffered his first pro loss against Allen Crowder, who improved to 9-4 as he sent Hardy's record to 3-1.
The thing that made this utterly ignoble rather than an honest defeat?
Well, it's easier to show than to tell. The first seconds of this video have the action.
Advertisement - story continues below
https://youtu.be/SKiWnw5b6UM
When an opponent is on one knee on the canvas, MMA rules clearly state that delivering a knee strike is an illegal move. Even though "ground and pound" tends to obliterate the idea that you shouldn't hit a man while he's down, there exists a significant difference between grappling on the ground and hitting someone with a cheap shot that could do permanent damage.
Referee Dan Miragliotta stepped in, and when it was clear that Hardy's cheap shot had the effect you'd expect when a guy helpless to defend himself and held in place takes a knee directly to the face from a professional fighter, Miragliotta disqualified Hardy and awarded Crowder the win.
"I was aware of the rule as it stands; I was not aware that that was what was going on," Hardy told ESPN. "I got deep into the fight, was in the moment, was trying to time it — and I mistimed it. For that to end my day, man, is a hard pill to swallow, man. And it's a hard way to go down, especially when I wanted to portray a lot of appreciation and show everyone that I'm here to do it the right way, man.
"This is not how I wanted to do things. And I just hope everybody understands this is not who I am, that it's not something that I would do purposely.
"This is not who I am."
Advertisement - story continues below
This is from a guy who, according to CBS, once threw his girlfriend on a pile of guns and had her convinced he was going to murder her. A guy who lost his gig with the Dallas Cowboys because, as the Fort Worth Star Telegram described it, he was a bad influenc?
But but kneeing a man while he's down in an MMA fight? That's beneath him.
UFC impresario Dana White called Hardy's disgraceful maneuver a "rookie mistake."
"He was in his first real fight tonight. He's got three fights, he fought a guy with 13 fights, you know what I mean?" White told ESPN. "Greg Hardy can fight. He's got a chin — he can fight. And he made a rookie mistake tonight, and it cost him a perfect record.
Advertisement - story continues below
"He knows what he needs to work on. He knows what he needs to do and get back in the gym. And we'll see where we go from here."
Now, whether White, with those comments, made Dan Le Batard's point about MMA being a sewer and a sport for barbarians is a debate for another time, but "follow the money" makes a lot of sense when MMA is trying to rehabilitate Hardy's image and remake him as a star.
Hardy didn't know you're not supposed to knee a guy who's down in the face? That's like a boxer not knowing you can't hit below the belt and, as Rich Eisen famously quipped about Andrew Golota, "punching the forbidden speedbag." If you don't know the basic rules of a sport, you shouldn't be playing that sport professionally.
The worst part of this from a marketing perspective is that Crowder was supposed to be another one of those palookas that promoters put in when they're trying to, in pro wrestling parlance, "push" a fighter so they can "put him over" with fans and make him more popular. This fight was, in theory, a fair contest of athletic ability, but in practical terms, it was straight out of WWE — get a former football player on ESPN and have them show him off against a guy who might as well have been taking a dive.
Advertisement - story continues below
Where it initially went wrong is where the fight was less like a WWE "jobber" and more like the climactic fight of the film "Rocky III", where Clubber Lang (played by Mr. T) punches himself out, and Rocky Balboa (Sylvester Stallone) then stops him in the middle rounds after weathering the storm.
Just like that Hollywood movie, Hardy came out strong, landed a few hard strikes to Crowder, and looked to be on his way to another quick knockout.
But Crowder weathered the assault, and Hardy's failure to pace himself had him laboring with his breathing, the steam having been taken out of his shots.
Should UFC keep pushing Greg Hardy after this disqualification?
Advertisement - story continues below
Crowder even taunted Hardy ahead of the second round, He dropped his guard, exactly the way Rocky did in the movies, daring Hardy to hit him, and when Hardy did, Crowder shrugged the punches off.
Crowder then went in for a "deep takedown", where he basically tried to take Hardy's legs out from under him and force the fight to ground, and that's when Crowder was on his own knee and ate Hardee's…er, Hardy's…for dinner.
Hardy, having just distinctly demonstrated otherwise, claimed he belongs in MMA.
"I belong here, I belong on the main card, I belong in this community, in this organization," Hardy said. "And I will get better. I do take responsibility, and that's a big part of what I want everybody to know. That's why I belong here."
Advertisement - story continues below
When asked what he would say to his critics, Hardy was unrepentant.
"I say the character of myself has to do with how I answer questions, how I conduct myself and how I take responsibility for what's been done, man," Hardy said.
"And I don't run from anything. I'm not hiding from anybody, any interviews or any person. I did it, it was an accident. I'm gonna fix it, and everybody's still entitled to their opinions, man. I'm here. I'm here to stay. And this is where I belong. God bless anybody else that doesn't agree."
Let's get him on Dan Le Batard's show. Because Hardy's fight, and Dana White's efforts to push him with the full cooperation of ESPN and the Walt Disney Co., belongs in the sewer.
Conversation