Commentary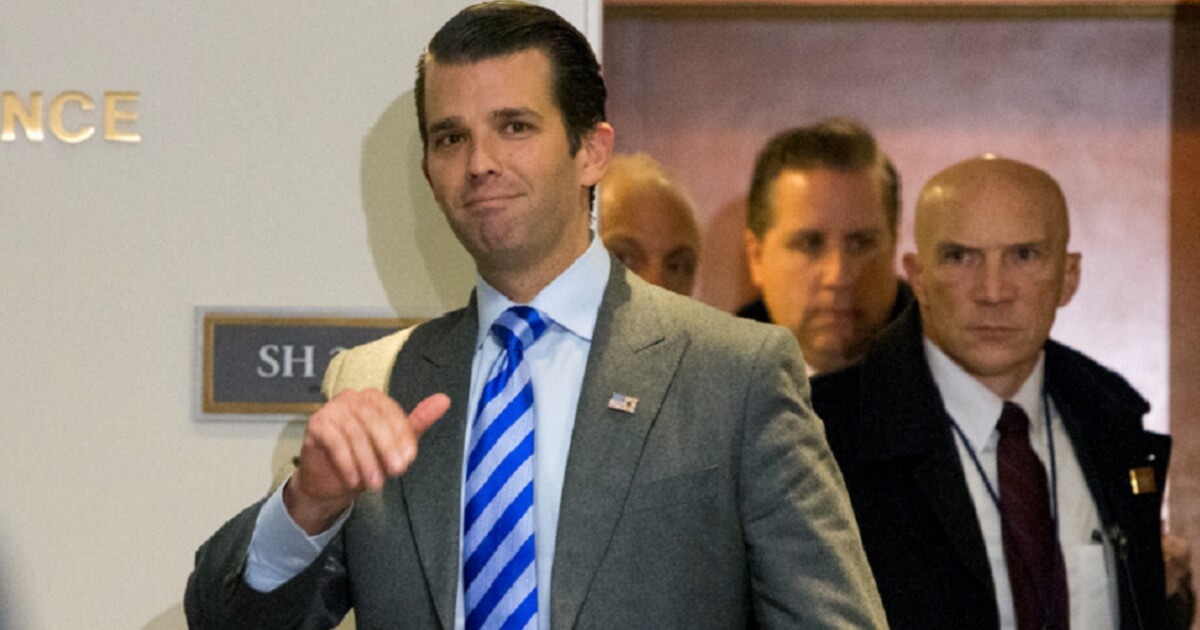 Don Jr. Goes Off on Brainless Obama Supporters as He Touts Roaring Economy
After eight years of watching and reading liberal media spin that fawned over everything that came out of the Obama administration, it's nice to hear some reality checks coming from people in the Republican Party.
Donald Trump Jr. has certainly been lighting up social media with support of his father's policies and setting the record straight on fake news aimed at the Trump administration.
With a booming economy being one of President Donald Trump's glowing accomplishments since he took office, the left is still trying to diminish his success. Well, Donald Jr. has something explosive to say about that.
Advertisement - story continues below
In an interview with Breitbart News on Saturday, Trump Jr. took on former President Barack Obama's recent claims that the Trump economy is just riding the momentum Obama's Democrat policies started.
"No one with a brain actually believes (Obama) did anything good for our economy or for our foreign policy," Trump Jr. told Breitbart. "Everyone saw that anything he did basically put America at risk and made us weaker. Every time he drew a red line, other countries walked all over it. He did it again, and they walked all over it.
"Guess what? Countries, whether it's foreign policy-wise or whether it's business-wise, they realize you have someone now that actually cares about America in there, that's actually doing it – not someone who's going to make us look weak where you can walk all over us because that's the precedent that he set. There's a new sheriff in town. We've changed all that," he added.
Trump Jr. also told Breitbart that he's thrilled that former Obama has resurfaced on the midterm campaign trail because he considers him: "Without question, he's our best salesman."
Advertisement - story continues below
But he saved special fire for Obama's claims about the economy.
"The biggest joke I've seen in the last two years is Obama claiming credit – trying to claim this economy because his policies of over-taxation, oppressive regulation, guess what? That didn't do anything. That drove this country into the ground. That led to the worst recovery in the history of probably economics but certainly our country's history," Trump Jr. said.
Do you think the economy is better under President Trump?
"For him to run around doing this now – there's a reason why on November 9, 2016, all of those matrices shot up like a rocket. It's because businesses, employers, people realized you got someone who's actually going to fight for you, not fight just for special interests, not fight for people in countries that hate our guts, but actually fight for real Americans. Real Americans, their jobs, their companies, their businesses.
"That's what happened, and when consumer confidence started going up the day my father won because they knew he wasn't going to oppress them, everything started following. I want to keep that going. That's how we get rid of some of the other problems we're having. That's how we get rid of unfunded pension liability. That's how we get rid of some of our deficits, is by producing, having GDP numbers above 4 percent.
"Okay, remember when Obama said you need a magic wand to make that happen? Well, abracadabra, Obama. We're doing it."
Advertisement - story continues below
Never let it be said that the liberal media passes on a chance to spin for their side.
The Hill published an articled titled "Trump, Obama Spar Over The Economy: Who's Right?" The piece credited Trump with a soaring stock market and lowest unemployment in decades, but threw cold water on his success because he's ruffling foreign feathers.
"But Trump's economic policies have their critics, especially when it comes to trade relations, an area where Trump has entered a high-stakes game of tit-for-tat tariffs with major trading partners like China and the European Union."
And CBS News reported Tuesday: "President Donald Trump pitched a wildly off-base claim about economic growth Monday as the White House used selective statistics to build a case that the economy is doing much better than when Barack Obama was in office."
Advertisement - story continues below
I believe most people with a stock portfolio would tell you that they never saw such rapid growth under an Obama administration. And maybe the trade war issue is an issue, maybe it's not. I also believe the president is implementing a philosophy that some short-term pain will lead to long-term gain.
Regardless, Donald Jr. is right about one thing regarding the economy: "Well, abracadabra, Obama. We're doing it."
Conversation