Sports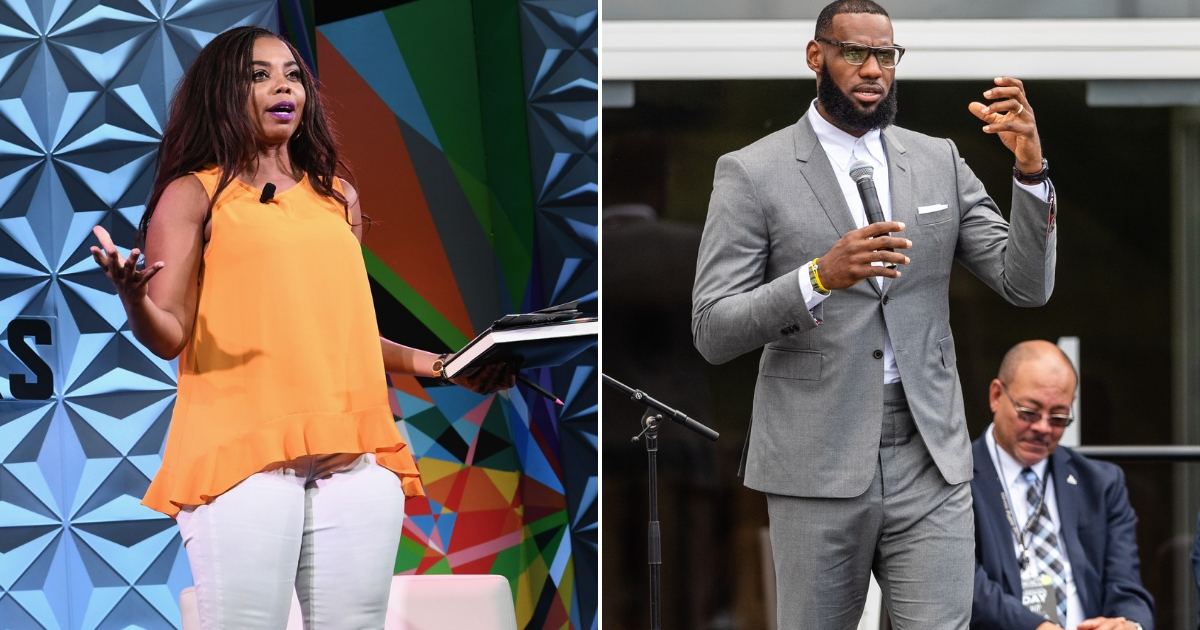 Trump-Hating Former ESPN Host Teams Up with LeBron James for New 'Shut Up and Dribble' Project
Former ESPN host Jemele Hill has found a new gig as the narrator of basketball star LeBron James' documentary series titled, "Shut Up and Dribble."
According to the Hollywood Reporter, the name for the docuseries comes from a comment made by Fox News' Laura Ingraham in February when she recommended that James and a fellow NBA player, Kevin Durant, dial back their anti-Trump sentiments.
Ingraham's comments to James and Durant came after James released a profanity-laden video directed at President Donald Trump and the voters who elected him.
Advertisement - story continues below
Hill left her position at ESPN just days ago, and announced her involvement with this project shortly after.
The vocal sportscaster was originally slated to be interviewed for the film, due to her time in the spotlight for criticisms of Trump and his statements on the violence in Charlottesville, Virginia.
At the time, Hill called the president a "white supremacist who has largely surrounded himself w/ other white supremacists."
Donald Trump is a white supremacist who has largely surrounded himself w/ other white supremacists.

— Jemele Hill (@jemelehill) September 11, 2017
Advertisement - story continues below
That comment caused a backlash which kept Hill in the news for some time and won her the appreciation of many other anti-Trump Americans.
"I think LeBron, like a lot of people, has been very frustrated by the behavior of this administration," Hill told The Hollywood Reporter. "[Black Americans] feel very insulted and vulnerable within this time because of who's in charge."
Do you think NBA players should "Shut Up and Dribble?"
James came to Hill's aid when she received pushback for her comments about the president. Hill recounted his support saying, "Once you're in the club," she says, "it's something that binds you."
The series is slated to feature interviews with not only James, but former NBA players such as Isaiah Thomas, Charles Barkley and Kevin Durant, as well as pop culture figures like Jay Z, Justin Timberlake and others.
Advertisement - story continues below
Hill believes that her part in narrating a sports series will also be a win for women, saying that it's unusual to hear a woman narrate a sports film.
"Especially," added Hill, "a black woman."
"Lately LeBron has talked about gender and wanting to uplift and position black women in particular," said Hill. "I get the sense that this is all part of that. He was raised by a black woman, he is married to a black woman and he is raising a black woman.
"If you look at the societal ladder, black women remain on the lowest rung. He clearly understands that we are facing a unique battle. It means a lot that he understands the intricacies of that."
Advertisement - story continues below
CNN reported that Showtime President David Nevins said of the upcoming series, "If being a star athlete is inherently a political experience, 'Shut Up and Dribble' tells that complex and dramatic story from the past to the present and from the inside out."
Conversation
The Western Journal is pleased to bring back comments to our articles! Due to threatened de-monetization by Big Tech, we had temporarily removed comments, but we have now implemented a solution to bring back the conversation that Big Tech doesn't want you to have. If you have any problems using the new commenting platform, please contact customer support at
commenting-help@insticator.com
. Welcome back!