News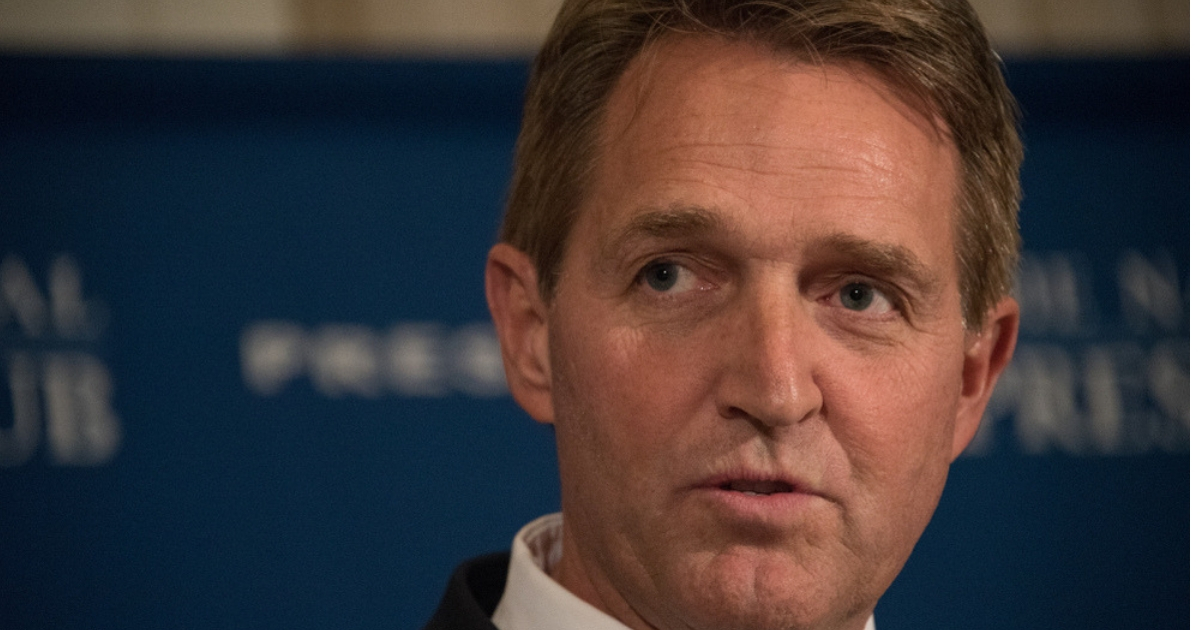 Flake Announces He Will Vote Yes on Kavanaugh, But Can't Resist Adding a Caveat
Sen. Jeff Flake told reporters on Friday that he will vote to confirm Supreme Court nominee Brett Kavanaugh, barring "something big changes."
The Arizona Republican voted for cloture earlier in the day, ending debate on the nominee and allowing the full vote to happen as early as Saturday.
The Republican was asked by a reporter if he planned to vote to confirm.
Advertisement - story continues below
"Unless something big changes, but I don't see it," he replied as he got into a car outside of the Capitol building. "But anyway, I'm glad we had a better process."
Flake gave Kavanaugh a "yes" vote in the Senate Judiciary Committee last Thursday, with the proviso that the FBI further investigate the allegations of sexual assault made by Christine Blasey Ford against Kavanaugh and any other credible allegations that had been made public by that time.
VIDEO: In a big win for the GOP, Arizona Sen. Jeff Flake said he'll vote to confirm Brett Kavanaugh to the Supreme Court "unless something big changes." https://t.co/NotKLW7Z8P

— The Associated Press (@AP) October 5, 2018
The FBI submitted its report on Thursday of this week, which was made available for senators to review.
Advertisement - story continues below
After reading the bureau's findings, Flake said there was nothing in the material to back up Ford's allegation that Kavanaugh sexually assaulted her at a party in the early 1980s when they were both in high school.
"Thus far we've seen no new credible corroboration, no new corroboration at all," Flake said Thursday, according to The Hill.
Do you think Kavanaugh will be confirmed?
On Friday, Flake was asked what he thought of fellow Republican Sen. Lisa Murkowski's decision to vote against allowing Kavanaugh's confirmation to move forward to a full vote.
"I admire her a lot … a lot," Flake said. "Everybody has to had to make their own decision, and I think the world of her."
Alaska Native organizations, a key constituency of Murkowski, have been pressuring her to oppose Kavanaugh's nomination, Reuters reported.
Advertisement - story continues below
They have cited concerns that he would not fully recognize their tribal rights and seek to overturn President Barack Obama's Affordable Healthcare Act.
Murkowski was one of three GOP senators (including Sens. Susan Collins of Maine and John McCain of Arizona) who voted against the repeal of Obamacare in July 2017.
Sen. Joe Manchin of West Virginia was the one Democrat who crossed over to vote for Kavanaugh's nomination to move forward on Friday.
What asked about Manchin's vote for cloture, Flake said, "I admire him too."
Advertisement - story continues below
Manchin indicated he will also be voting to confirm Kavanaugh, as did Collins, Fox News reported.
As of Friday, 50 Republicans senators and Manchin have committed to voting for Kavanaugh, meaning even if a senator changed his or her mind, Vice President Mike Pence could cast the tie-breaking vote sending Kavanaugh to the Supreme Court.
Conversation