News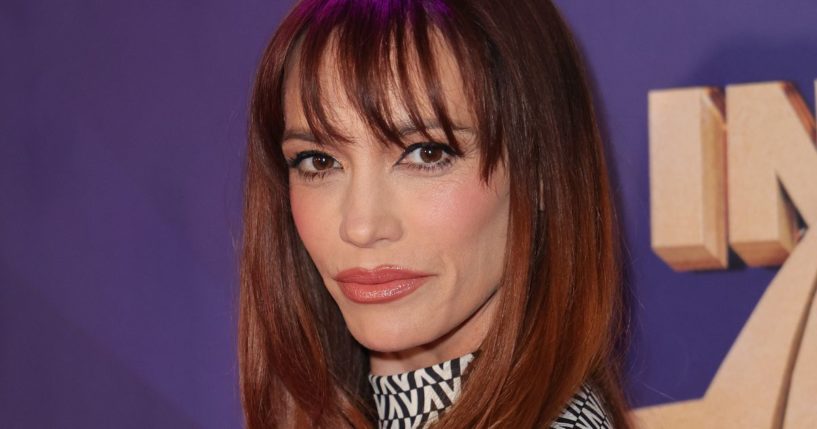 Former Pussycat Dolls Member Shares Her 'Invisible Injury': 'It Spread Through My Whole Body'
A successful singer and dancer told an interviewer on Thursday that she has developed severe health challenges that she blames on the COVID-19 vaccines.
In an episode titled "Invisible Injury," Jessica Sutta, a former member of the multi-platinum Pussycat Dolls pop music and dance troupe, told "American Thought Leaders" host Jan Jekielek that "I was severely injured by the Moderna [COVID] vaccine."
Sutta said she developed a severe, stabbing muscle spasm in her side a few days after her first Moderna vaccine in August 2021. At first, she thought she'd broken a rib.
Advertisement - story continues below
Because that problem was initially diagnosed as a kidney infection, she didn't connect the condition to the shot.
"I was severely injured by the Moderna vaccine…I know it's brave for me to do this—which I think is crazy—but now I have the strength to do it. And that's why I'm here."

Former Pussycat Dolls member @JSutta shares her story

🔴PREMIERE 3/16 – 7:30pm ET: https://t.co/SXOQJ2H4E5 pic.twitter.com/Wrt8BuSzLU

— Jan Jekielek (@JanJekielek) March 16, 2023
Sutta said things got much worse after her second Moderna dose the next month.
Advertisement - story continues below
She began struggling with brain fog, weight loss and pain throughout her body.
"I started developing a tremor," she told Jekielek, "and then the next couple nights I started getting involuntary head jerks and leg jerks."
Have you received the COVID-19 vaccine?
"It scared me," she said.
A rheumatologist told her she had fibromyalgia and advised her to work out, but that led to a debilitating experience of waves of burning nerve pain, or neuropathy. 
"When the neuropathy came, it spread through my whole body. I remember staring at the ceiling and thinking, 'Oh my god, this is it. I'm dying,'" Sutta said.
Advertisement - story continues below
That led to a visit to a neurologist, who asked her when she had received the vaccine.
"I think you had an adverse reaction," he told her.
"That was the first time that I acknowledged the fact that that was actually happening to me," she said.
After close to two years, she said, her condition is "not getting any better. If anything, it's getting progressively worse." 
Advertisement - story continues below
She discussed the widespread censorship that initially kept her from learning about vaccine side effects and where she could find help.
"Thank God for Elon Musk. Thank God for him unveiling all of the things that were hidden, all of the censorship and all the things that I needed to read," she said.
"I needed to see those protocols that these doctors were giving to people that had adverse reactions. … There were all these protocols and things I just didn't have access to. So it just became a very isolating world."
On top of dealing with her condition, she said she also has been accused — by medical workers and others — of lying about her symptoms.
Advertisement - story continues below
"To this day I still get gaslit to think that it's not real," she said.
Sutta said that isolation and gaslighting have driven many to despair.
"I know there's a lot of people that have taken their life over this, and I understand that," she said. "That's not an option for me. I'm a mom."
She advised sufferers to "stay strong" and seek help from organizations like React19, which has helped her get a diagnosis and treatment.
Advertisement - story continues below
Sutta said she knows "a lot of people" in the entertainment industry who have experienced similar side effects from the COVID vaccine.
"A lot of these people are a lot bigger than me," she said. "I was kind of angered by the fact that they're not speaking out. … They want to work. They have endorsement deals."
Sutta said she expects her career to suffer because she has chosen to go public with her injury.
Career-wise, "it's probably one of the worst things I could ever do," she said. "It's very frowned upon still in the industry. People get treated so poorly for speaking their truth."
Advertisement - story continues below
Sutta said she recently decided to defy the "taboo" and speak up about her injury.
She said she hopes her message will reach others who are vaccine-injured "and let them know that they're not alone."
"This is real," she said. "Your voice matters. You are loved. … You're not crazy. It's happening."
Sutta shared the interview with her fans on Instagram with the message, "I stand strongly with the injured. May god bless you, your voice matters and you are not alone."
Advertisement - story continues below
Federal agencies like the Centers for Disease Control and Prevention maintain that the COVID-19 vaccine is "safe and effective" and that side effects are "rare."
"Maybe it's rare, but it's real," Sutta said. "I live it every single day."
Conversation