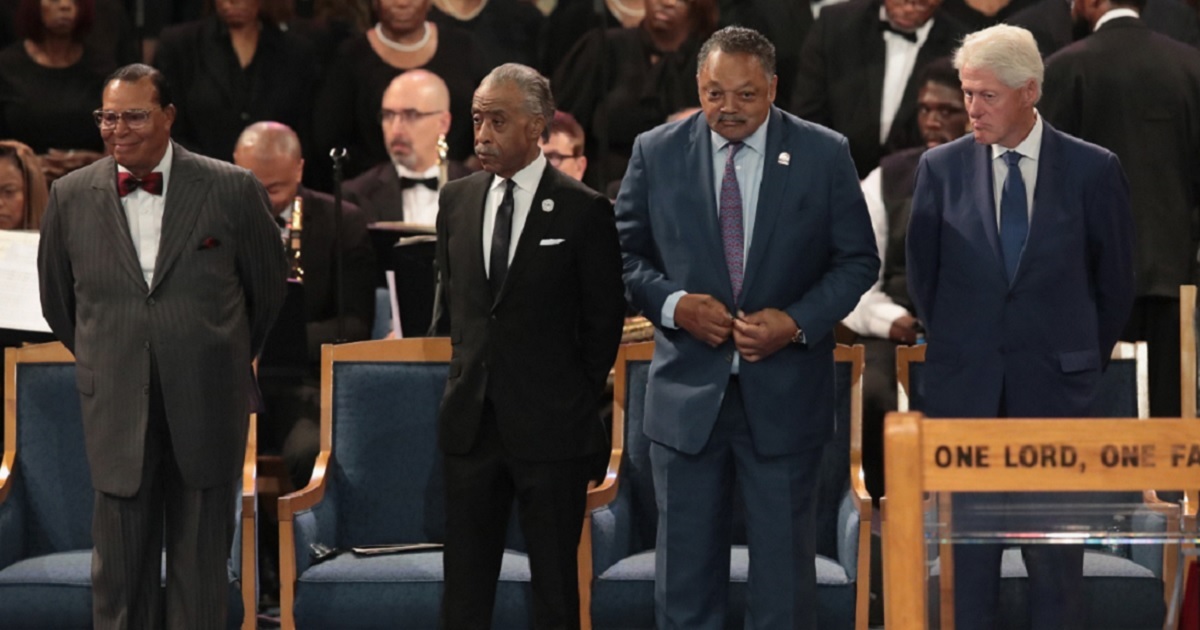 Fox Host Blows Whistle on Who Was Sitting 3 Seats from Clinton at Aretha's Funeral
After Friday's celebration of singer Aretha Franklin's life — a celebration that preached the themes of joy and unity — Fox News host Martha MacCallum put her finger on one prominent aberration.
Seated with prominent dignitaries, in fact seated just three seats away from former President Bill Clinton, was Nation of Islam leader Louis Farrakhan, who has made no secret of his hatred of Jews, gays and whites, TheBlaze reported.
"There were some beautiful performances today at Aretha Franklin's funeral in Detroit. The guests ranging from world leaders to musical legends and one especially controversial figure seated in the front row. Many people kind of wondering what the unapologetic anti-Semite Louis Farrakhan was doing up there," MacCallum said Friday.
Advertisement - story continues below
"He, you know, has said awful things about Jewish people, about white people, about gay people and I thought it was never the message that I heard in Aretha Franklin's music," MacCallum said.
MacCallum said that despite inspiring musical performances at Franklin's funeral, she was "distracted by Louis Farrakhan who was in every single shot."
"I'm thinking, 'What was he doing there?'" MacCallum said.
Advertisement - story continues below
Farrakhan sat next to Al Sharpton, who sat next to Jesse Jackson. Jackson sat next to Bill Clinton.
"Why was (Farrakhan) so front and center?" MacCallum asked. "It's something that's supposed to be about Aretha Franklin became, I thought, in many ways about some of these gentlemen who were right behind."
I was honored to be among the many who attended the beautiful funeral services in Detroit for our dear sister Aretha Franklin. She could never know how many lives her songs, her soul, have actually saved. https://t.co/TKDNmMYuEe pic.twitter.com/5FFBD4hNAo

— MINISTER FARRAKHAN (@LouisFarrakhan) September 1, 2018
Kylie Patterson of the New Leaders Council told MacCallum that Franklin and Farrakhan both worked for liberation of black Americans.
"We forget that she was really at the head of the liberation movement for years," Patterson said.
"This is her funeral. I mean, it's her choice- who she wants there, how she wants people sitting."
Advertisement - story continues below
In a separate broadcast, Fox News' Pete Pete Hegseth suggested that under different circumstances, the presence of an extremist would have become a major story.
"I just think it's such a double standard. Imagine if the inverse were to be true and there were a white national racist there, the media would blow it up," he said, according to Newsbusters.
Should Bill Clinton have remained seated near Louis Farrakhan?
Some media organizations dealt with Farrakhan's presence by omitting him in photos of the funeral.
Advertisement - story continues below
Deadline noted that Franklin and Farrakhan went way back, citing a statement from Farrakhan.
"In 1972, when I was minister in New York City, Temple No 7, the police attacked our mosque. Within a few hours, Aretha Franklin came to the mosque, to my office, and said that she saw the news and came as quickly as she could to stand with us and offer us her support," Farrakhan wrote in the Aug. 21 edition of The Final Call, a publication of the Nation of Islam.
"She asked me if Rev Jesse Jackson had been there to show support. I said, not yet. She said, he'll be here within 48 hours. Rev Jackson came and stood with the Muslims."
Conversation