Op-Ed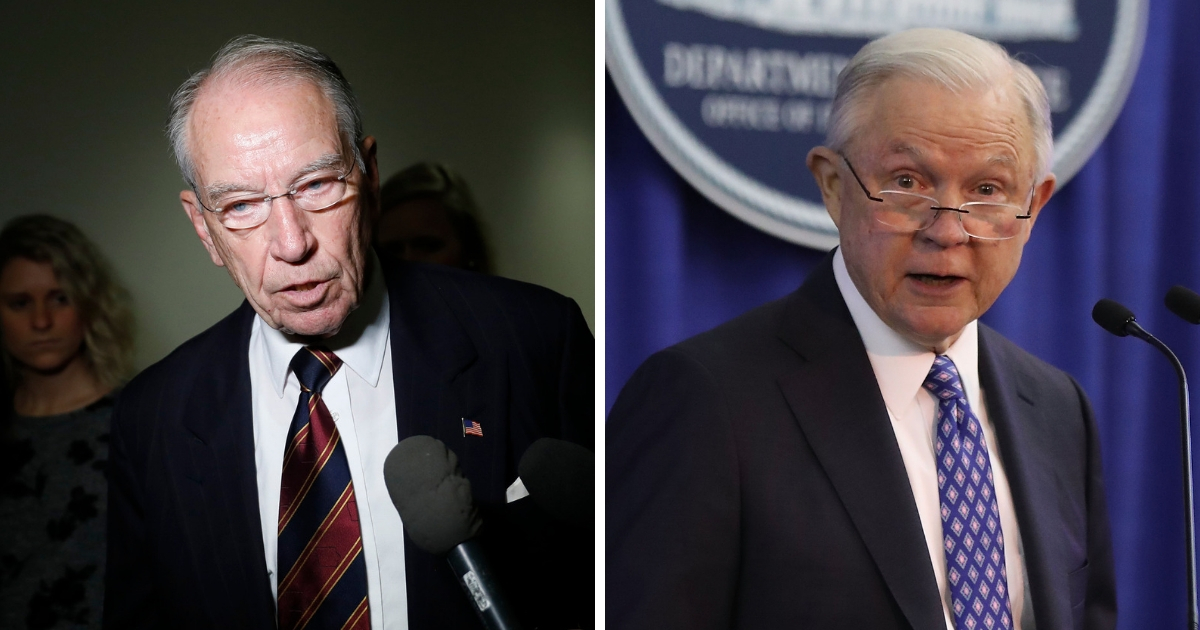 Grassley and Sessions: Portraits in Weakness
A man can live his entire life and never really be tested. He may never experience that defining moment which reveals to the whole world what he is made of. Indeed, it is probably true that most people never have to chose between accepting — or meekly walking away from — a challenge that has the potential to destroy or horribly harm their careers or their very lives.
Within a short time after he recused himself from the so called "Russia Investigation," Jeff Sessions must have realized that President Donald Trump's enemies were strong, numerous and determined, and that they were going to use this phony investigation as a tool to do tremendous and possibly fatal harm to both the Trump presidency and everything it represents.
In other words, far from being drained, Sessions must have seen that the swamp waters were rising up and making a determined effort to drown and crush the president and anyone associated with him.
Advertisement - story continues below
It was at that point that Sessions had to make a decision: He could either roll up his sleeves and enter the fray, thereby risking the wrath of almost the entire political and media establishment, or he could stay out of harm's way. He chose to flee. Thereupon his life was defined for all history. He is now understood by every serious thinker who embraces traditional Western values and civilization as a coward.
He is a political hack with no backbone who only seeks to be "liked." He stands for nothing, risks nothing and is not worthy of even a footnote in history, except to say that he fled the battlefield. He is a nobody who will soon be replaced, and his failure to fill the breach caused tremendous harm to those who wish to fight to save non-despotic, limited government.
And now citizens fighting liberal despotism have discovered another coward in their midst; another man who just experienced his moment of truth and blinked. That man is Senator Chuck Grassley. It's true that until now he did a good job pushing Trump's circuit and district nominees through the Judiciary Committee, but that did not provide the measure of the man because he did not face an onslaught of critics for doing so.
The mainstream media never threatened to call him a sexist, misogynist or a persona non grata. People did not confront him in restaurants and throw soft drinks at him or organize demonstrations outside his private home. In other words, one reason why he did the right thing advancing Trump's nominees is because it was safe to do so. Not much was at risk.
Advertisement - story continues below
The Brett Kavanaugh nomination is another matter. Rightly or wrongly, Grassley sensed that he would be pilloried if he did not bend over backwards, make that doubly backwards, to give the leftists and radical feminists orchestrating the immoral and shameless fight against Judge Kavanaugh every opportunity to derail his nomination. Sensing that danger, he folded.
Between Sept. 19 and 21, he issued deadlines that meant nothing and made requests that were simply ignored. In response, he merely complained and whined like a little child. He was used and humiliated. Not once did he stand firm and fight, even though he could have done so without paying an electoral price because is not likely to run for re-election.
In short, he proved himself, like Sessions, to be a coward.
What is the lesson? Those of us willing to fight for our culture first must engage in a house cleaning. We already got rid of John Boehner and Paul Ryan is on the way out. Those were two good moves but there needs to be more.
Similar to the French Army in May to June of 1940, our "Traditional Values Army" cannot fight if we have generals who do not have the stomach for it. We still have troops, but they will melt like snowflakes if we do not provide them with strong leadership. Our house cleaning effort needs to be redoubled and then redoubled again.
The views expressed in this opinion article are those of their author and are not necessarily either shared or endorsed by the owners of this website. If you are interested in contributing an Op-Ed to The Western Journal, you can learn about our submission guidelines and process here.
Conversation