Sports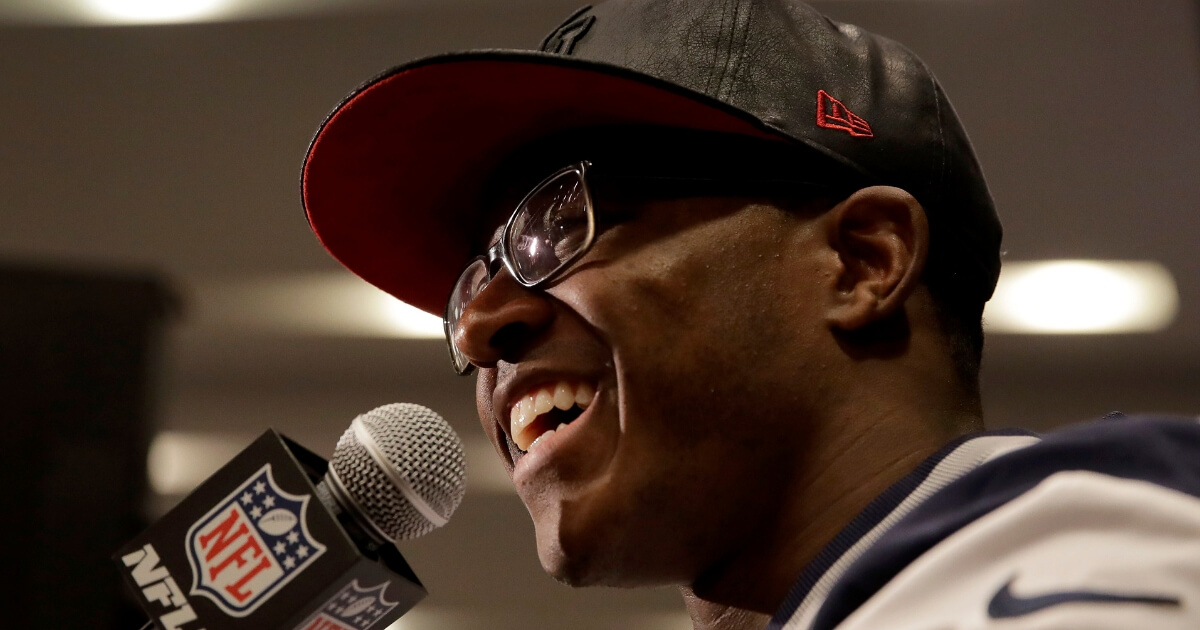 The Greatest Super Bowl News Conference of All Time Shunned Football for Jesus
With Super Bowl LIII just days away, it's no surprise that the professional sports news cycle (one NBA blockbuster trade notwithstanding) has primarily been focused on all things NFL.
Will Tom Brady win his record sixth Super Bowl championship, or will he tie the record for most Super Bowl losses?
Will the New England Patriots' talented but starless offensive line be able to withstand a barrage from the Los Angeles Rams' Ndamukong Suh and Aaron Donald?
Advertisement - story continues below
Will Jared Goff be able to spur a Rams offense that desperately misses peak Todd Gurley?
A lot of those questions can't be answered until Sunday, but that doesn't mean they won't be broached in the news conferences and interviews leading up to the big game.
Yet, there's a sneaking suspicion that, regardless of whatever questions are asked or answers are given, they'll be hard-pressed to top one of the greatest news conferences of all time that happened just a few years ago.
Prior to Super Bowl LI, which turned out to be the first of three straight Super Bowl appearances for the Patriots, special teams ace Matthew Slater gave a spectacular interview that eschewed football in favor of Jesus and His glory.
Advertisement - story continues below
"You have to understand who God is and who His son is," Slater said. "And you have to understand what God says about your sin.
"And from there you realize that, hey, I am a sinful person, and my sin has separated me from an eternal, perfect God."
As a quick reminder, this was during a news conference ostensibly about the biggest game of the NFL season.
"But there's a backup plan to that. He sent His son, Jesus. And I believe that Jesus is the son of God, is God," Slater said. "He came here, he died on the cross for my sins, your sins, everybody's sins, everybody who's willing to accept that from Him.
Advertisement - story continues below
"And if you're able to put your trust in Him and confess with your mouth and believe in your heart that He is who He says He is, then from there you can initiate a relationship with Him.
"But I also believe that repentance is a big part of that as well. You have to turn from your old life of sin and try to model a Christ-like life. And I think that that's something that we'll never fully figure out on this side of glory, but it's certainly a one-day-at-a-time process that I've been so blessed to be on for the last 25 or so years."
Love the Patriots or hate them — and there's strong evidence that most hate them — it's hard to argue against the message that one of the team's unsung heroes pushes at any given chance.
Last year, before Super Bowl LII, Slater couldn't heap enough praise on his opponents, the Philadelphia Eagles, for their strong Christian beliefs.
Advertisement - story continues below
During his Super Bowl LIII news conference Monday, he talked about the powerful influence of his father, former Rams great Jackie Slater, who, in his 2001 Hall of Fame induction speech, said, "Well, you see, I know that God provided it all — the good health, the teammates, and even the driving desire to be the best. I'm thankful to my Lord and savior Jesus Christ."
Win or lose on Sunday, it sounds like Matthew Slater, like his father, has his priorities straight. That's far more important than any championship ring.
Conversation