Commentary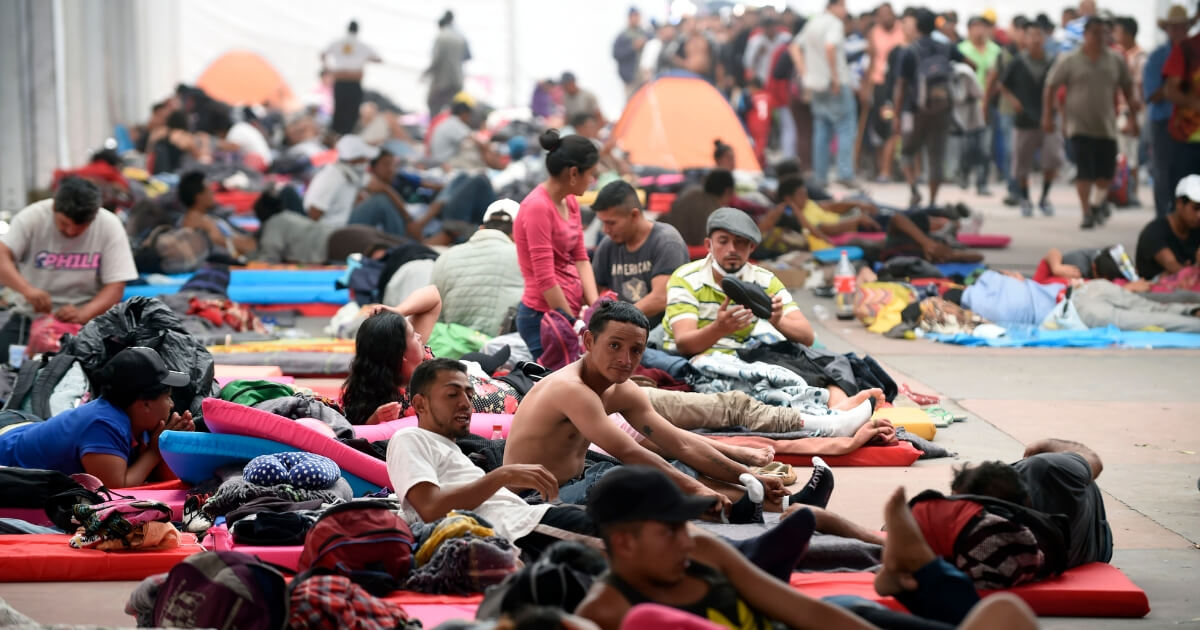 Homeland Security Blows Huge Hole in Left's Asylum Narrative with Eye Opening Numbers
When the topic of the approaching migrant caravans comes up, it is common to hear leftists change the wording from "migrants" to "asylum seekers." The two things are very different, but using the "asylum seekers fleeing for their life" narrative works better for them than "foreign nationals seeking illegal entry into the United States for economic reasons."
The "caravan" is not about seeking refuge, it's about seeking economic opportunity. That isn't wrong in of itself, but numerous other people are also waiting in line to LEGALLY immigrate into the country for the same reason. https://t.co/XWNQfZsKze

— RedBloodedAmerica (@RedBloodedGuy) November 8, 2018
Advertisement - story continues below
Now Homeland Security has blown a huge hole into the left's chosen narrative with the release of some very eye opening numbers.
Breitbart reported that new data from the DHS shows that of the Central American migrants who seek entry at the Mexico-United States border, fewer than 10 percent actually even qualify for asylum.
That means the overwhelming majority of migrants in these caravans are making their way to the U.S. for reasons other than fleeing for their lives.
Yes, because "0" is less than 10. They could get asylum in Mexico, Honduras or one of a dozen other countries if they were truly fleeing something. https://t.co/wrlPm1iEiF

— Ann Coulter (@AnnCoulter) November 9, 2018
Advertisement - story continues below
And it gets worse. Current lax asylum laws in the U.S. allow for the foreign nationals seeking asylum to be set free in the U.S. until their court date. Nearly half the time, those foreign nationals choose to become illegal aliens by ignoring their court date and disappearing into the U.S.
@realDonaldTrump Just an idea, I'm former CBP, the laws allow the release of asylum seekers to return for a "court date". Seeker chooses to miss the court date becomes illegal.Can we not make a two step process, one step at home country embassy before being allowed passage to US?

— ttweed (@ttweed) June 21, 2018
To his credit, before resigning, former Attorney General Jeff Sessions did make a change to the asylum rules to help ensure the original intent of the concept. He eliminated claims of "fleeing violence, gangs, or domestic abuse" from being eligible for asylum.
Attorney General Jeff Sessions is imposing sharp new limits on who can get asylum in the U.S., ruling that most migrants fleeing domestic abuse or gang violence will not qualify. https://t.co/TYaUtx0qdj

— NPR (@NPR) June 12, 2018
Advertisement - story continues below
More than 1.5 million foreign nationals are granted legal entry into the U.S. annually. Breitbart noted that, "In 2016, the legal and illegal immigrant population reached a record high of 44 million."
While the left pushes for lax border security, there are good reasons to tighten it up instead. It isn't just that Central American migrants typically want to be here for economic reasons — it is that the intent of the caravan is to cross the U.S. border illegally.
This is why we must have National Guard & US Military authorized to use deadly force at the border. Caravan thugs will storm it, physically tear down the restraints & injure anyone who attempts to stop their illegal entry into America, if they get the chance https://t.co/egyDoOR4VN

— Shirley Ruth Morgan (@BarbieFirstmate) November 4, 2018
Advertisement - story continues below
Christian charity?? So supporting a caravan that is committed to committing illegal entry into the US, refusing the Mexican government's help, as well as allowing major criminals within their ranks, endangering their lives, is something you describe as Christian charity? #KoolAid

— Robert Ethridge (@RobertEthridg11) November 2, 2018
Illegal entry prevents invaluable screening that can help keep criminals out and protect U.S. citizens and residents from harm.
Advertisement - story continues below
Do you believe the United States needs to tighten its immigration laws, including those for asylum seekers?
An earlier DHS report revealed that prior to additional migrant groups forming caravans, more than 270 members of the caravan were known criminals and gang members.
The bottom line is that the asylum seeking narrative is not supported by the facts. Furthermore, protecting the border and American citizens from potential threats is a constitutional duty of the government.
It may not fit the left's narrative, but that is what happens when you deal in feelings and not facts.
Conversation