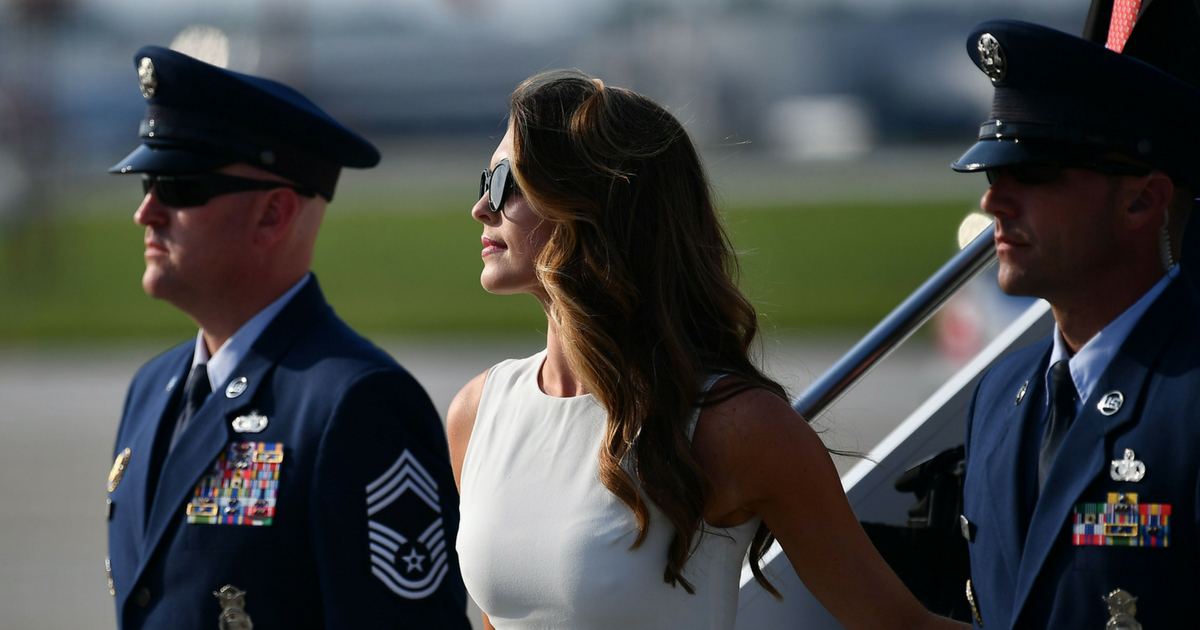 Hope Hicks Spotted Boarding Air Force One Ahead of Trump's Ohio Rally
Former White House communications director Hope Hicks was spotted at an airport in New Jersey on Saturday, getting ready to board Air Force One.
CNN noted that the Morristown, New Jersey airport is "near the Trump Bedminster resort where the President is staying."
The 29-year-old was one of President Doanld Trump's longest-serving aides during his presidential campaign and served as communications director at the White House from August 2017 to March 2018.
Advertisement - story continues below
Trump held a rally near Columbus, Ohio, on Saturday to endorse Republican House candidate Troy Balderson in Ohio's 12th District.
It appears that Hicks accompanied the president to the rally, although the exact reason she attended is still unclear.
Hicks officially left her position as communications director back in March; however, she announced her resignation in February, just one day after being interviewed by the House Intelligence Committee regarding Russia's interference in the 2016 presidential election.
Advertisement - story continues below
During that interview, Hicks reportedly admitted that sometimes her job required telling "white lies," but she did not elaborate on what she meant by that statement. She also declined to answer questions from the committee regarding her time at the White House.
Do you think Hope Hicks will return to the Trump White House?
Despite the rumors, Hicks said the announcement of her resignation was unrelated to the interview as she had been planning to resign for several months.
Hicks reportedly told Trump she wanted to leave to explore other opportunities outside of the White House, and Trump issued a statement regarding her departure, according to The Hill.
Advertisement - story continues below
"Hope is outstanding and has done great work for the last three years," Trump said. "She is as smart and thoughtful as they come, a truly great person."
"I will miss having her by my side but when she approached me about pursuing other opportunities, I totally understood. I am sure we will work together again in the future," the president added.
Advertisement - story continues below
Whatever the reason for the unexpected visit, Hicks' association with the president at this stage in the Mueller investigation has some concerned.
David Atkins at Washington Monthly said that while "Hicks' presence could be innocuous," the public should be "demanding answers."
"Improbable as it may be, there's at least an outside chance that Hicks could be allied with Mueller. Even if not, if it turns out that Hicks remains a person of interest in the investigation and Trump officials have knowledge of that fact, it allows a new line of inquiry regarding potential witness tampering. At best it looks really bad and gives the whiff of even more scandal at a time when the administration hardly needs the distraction," Atkins wrote.
"Nor has the administration voluntarily provided any exculpatory rationale for Hicks' visit," Atkins concluded.
Advertisement - story continues below
According to the Washington Examiner and White House reports, Hicks did later speak with journalists on the subject of her flight with the president, although her comments were off the record.
It remains to be seen whether Hicks' visit with Trump signals her potential return to a position in the White House.
Conversation