News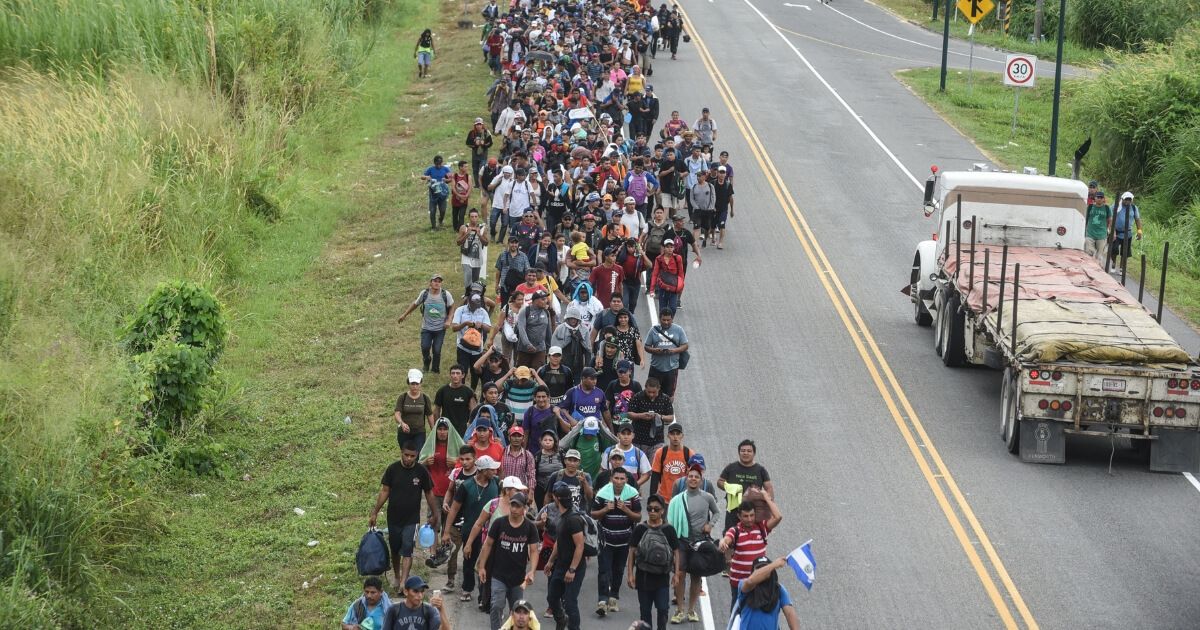 'Human Stampede' Migrant Caravan Finalizes Plan as One Group Is 500 Feet from US Border
As desperate migrants who ignored pleas from President Donald Trump and other officials to return to their home countries plot their strategy for entering the United States, the mayor of Tijuana is calling their presence a humanitarian crisis for the Mexican border city.
Mayor Juan Manuel Gastelum called for United Nations intervention because Mexico's federal government has failed to deal with the crisis, the Arizona Republic reported.
"They have categorically omitted and not complied with their legal obligations," he said. "So we're now asking them and international humanitarian aid groups to bring in and carry out humanitarian assistance."
Advertisement - story continues below
Estimates peg the number of migrants in Tijuana at between 4,000 and 6,000. That number could grow to 10,000 in the coming days as another migrant caravan arrives from the south.
One group of about 150 migrants on Thursday moved to within about 500 feet of the border with the United States, according to the San Diego Union-Tribune. The group carried white flags and sought a meeting with U.S. officials.
While Gastelum sought help, migrants who have come hundreds of miles to find the U.S. meant what Trump said when he vowed they would not be allowed in the country are turning to increasingly desperate measures to enter the United States. Migrants are currently staying in a soccer stadium that is overflowing.
"Most of us, yes, we want to be on the other side," said Jorge Molina, a Honduran migrant, according to Fox News."Some want to jump over the wall, others to go another way, and others want to wait and see what kind of response they get."
Advertisement - story continues below
Rushing the border is an option, a member of one rescue group said.
"They have that intention," Sergio Tamai, a founder of Angels without Borders. "I believe that thousands could make that jump."
Can President Trump win this war of wills at the border?
"A human stampede would be an immediate provocation to the U.S.," said Manuel Monárrez, a Tijuana councilman. "And justify Donald Trump to impact the binational dynamics of the economy."
On the other side of the border, about 5,800 active-duty troops have been dispatched to the border by the president. That number is scheduled to go down as the forces rotate home, but could be increased if circumstance change.
Trump touched on the migrant caravan during a Thanksgiving call with U.S. troops.
Advertisement - story continues below
Marine Gen. David Lyons noted that his force in Afghanistan is designed to keep terrorists away from the U.S., according to a White House transcript of the call.
Trump picked up on that comment as he talked about the southern border.
"Well, he said it better than anybody could have said: 'Keep them away from our shores.' And that's why we're doing the strong border. As you probably see over the news what's happening in our southern border and our southern border territory. Large numbers of people, and in many cases, we have no idea who they are. And in many cases, they're not good people; they're bad people. But large numbers of people are forming at our border, and I don't have to even ask you; I know what you want to do. You want to make sure that you know who we're letting in. And we're not letting in anybody essentially because we want to be very, very careful. So, you're right. You're doing it over there, we're doing it over here."
Conversation