Commentary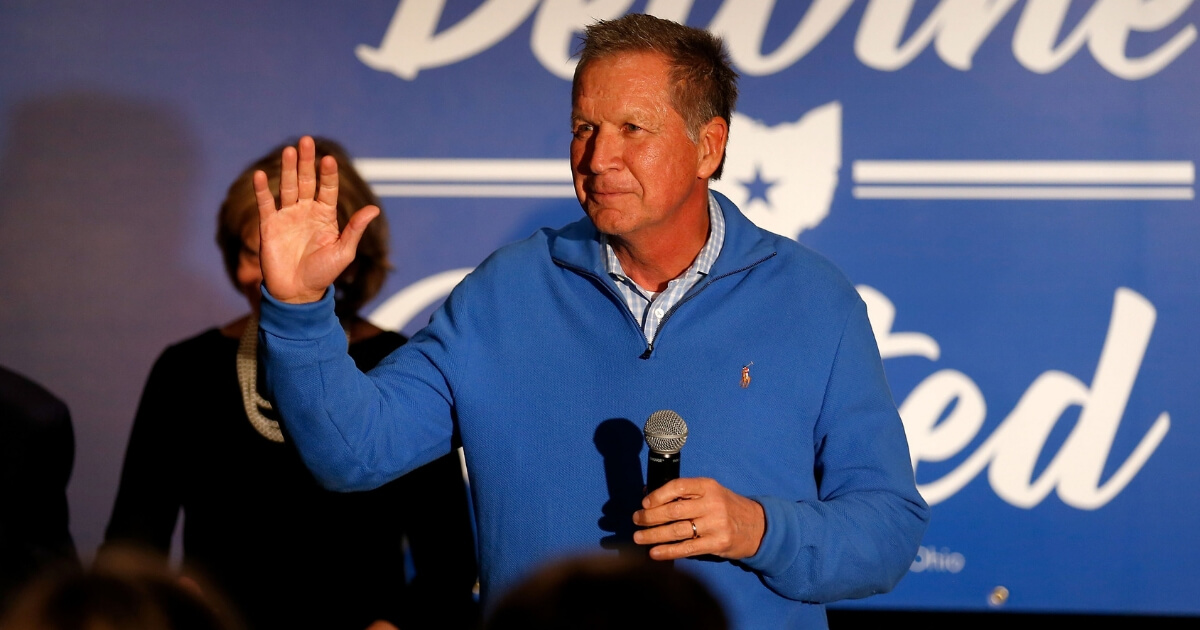 Kasich Whirlwind Sees Him Veto Pro-Gun, Anti-Abortion and First Responder Aid Bills
As most of President Donald Trump's biting nicknames tend to do, there is always a kernel of truth at the heart of them.
But when Trump called Ohio governor and failed Republican presidential candidate John Kasich "deeply unpopular," there was more than just a kernel of truth there. There was practically an entire cob.
The very unpopular Governor of Ohio (and failed presidential candidate) @JohnKasich hurt Troy Balderson's recent win by tamping down enthusiasm for an otherwise great candidate. Even Kasich's Lt. Governor lost Gov. race because of his unpopularity. Credit to Troy on the BIG WIN!

— Donald J. Trump (@realDonaldTrump) August 13, 2018
Advertisement - story continues below

Kasich, who seems to have learned nothing from his failed 2016 presidential bid and could run again in 2020, made a whirlwind of moves vetoing various bills in Ohio on Friday, according to Fox News.
All the bills could be construed as conservative bills, and considering Ohio voted red in 2016, his moves seem unlikely to make him any more popular in the Buckeye State.
Senate Bill 296 really should be a bipartisan issue. While Kasich took issue with lawmaker's adding a late pay raise to that bill, the most important part of the bill had to do with doing right by first responders.
SB296 would've increased the benefits that the children and widows of deceased first responders could receive. Anybody with a heart could see how doing right by those people would be the right thing to do.
Advertisement - story continues below
Alas, Kasich vetoed the bill, primarily because he did not want lawmakers earning an additional $13,000 by 2028.
"I would have signed such a bill into law," Kasich stated according to the Cincinnati Enquirer. "Unfortunately, I cannot support or condone the last-minute rush to include a controversial pay raise for elected officials into what was an otherwise commendable bill."
Do you think Kasich will run again in 2020?
Kasich also vetoed what was being referred to as a "heartbeat bill" that would've been a big blow to abortionists.
The bill would've effectively banned any abortion after a fetal heartbeat is detected, which happens within the first weeks of pregnancy.
To be fair, Kasich did sign a separate anti-abortion bill. As The Hill reports, Kasich signed a bill banning dilation and evacuation procedures. That particular bill makes second trimester abortions almost impossible.
Advertisement - story continues below
Finally, earlier in that week, Kasich vetoed House Bill 228, which would've effectively given Ohio the "stand your ground" laws. Kasich took a swipe at all legal gun owners while explaining why he vetoed HB228.
"If you think I'm going to sign a bill that gives more power to the gun folks, are you kidding me?" Kasich said per the Enquirer. "That's a moral issue: gun violence."
"The gun folks?" That'll go over well.
Kasich truly is an anomaly. The "R" next to his name means he will never get the support of Democrats. But his anti-Trump, anti-conservative rhetoric is so pervasive, his Republican base is rapidly eroding as well.
Advertisement - story continues below
"Very unpopular" might be understating it.
Conversation