Commentary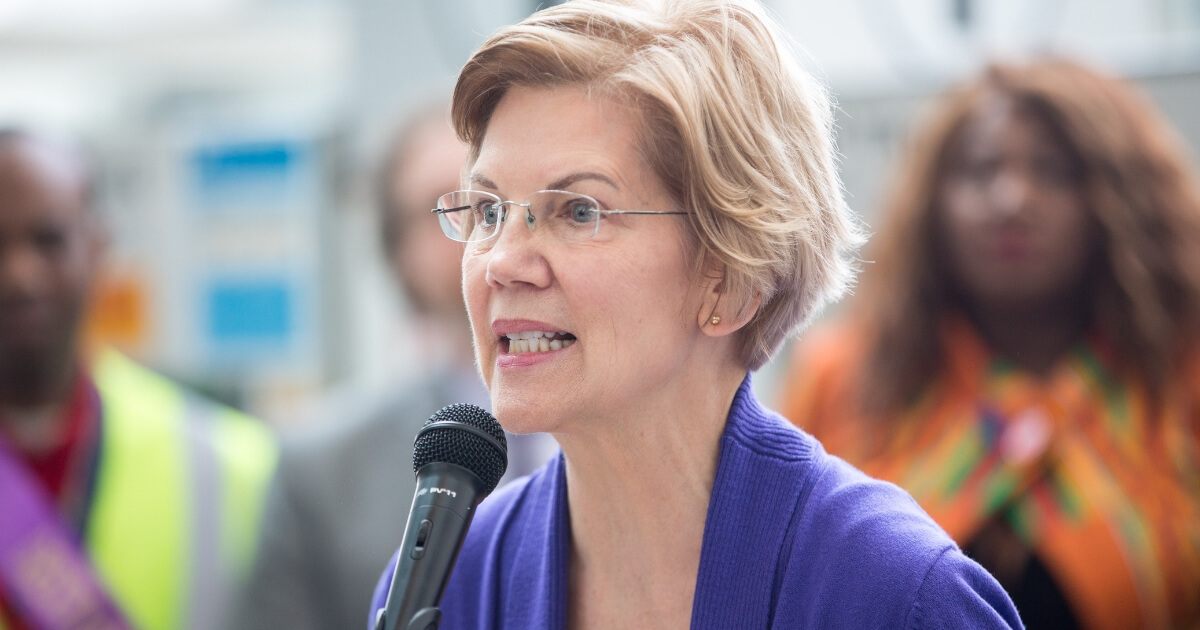 Too Little, Too Late: Elizabeth Warren Finally Apologizes for Infamous DNA Test
Elizabeth Warren's presidential campaign isn't off to a good start … and she only has herself to blame.
The liberal Massachusetts senator confirmed that she was running for the White House not long ago, but has tripped herself up with a series of awkward moves.
Warren was recently mocked for a live Instagram video in which she appeared stiff and unnatural in her own home, using stilted language like "I'm gonna get me a beer" and ungracefully drinking it on camera. The video was criticized as seeming artificial or pandering.
Advertisement - story continues below
But Warren has even bigger image problems than simply looking awkward while drinking a beer.
Thanks in part to teasing from President Donald Trump, she has been inseparably linked to her past claims of having Native American ancestry — a bizarre claim which has been criticized by many, including tribal experts.
Warren just can't seem to get away from the "Fauxcahontas" problem. In December, she launched what can only be called a publicity stunt by taking a DNA test to "prove" her native connections. That scheme backfired almost immediately.
Advertisement - story continues below
"The plan was straightforward: After years of being challenged by President Trump and others about a decades-old claim of Native American ancestry, Senator Elizabeth Warren of Massachusetts would take a DNA test to prove her stated family origins in the Cherokee and Delaware tribes," explained The New York Times in December.
To her chagrin, the oh-so-important DNA test actually seemed to prove the opposite of her claims. While it showed she does have a tiny fraction of native genetics — as little as 1/1024, to be exact — this is actually a lower fraction than even what many "average" Americans possess, making Warren's claims of tribal heritage look ridiculous.
Do you think Warren doomed her own campaign already?
To put it bluntly, she ended up seeming like a stiff, elitist white woman desperately pretending to be something else.
The widely publicized DNA test debacle created confusion about tribal citizenship, Native identity and race that directly harmed Native rights. Warren has a duty to clear up the confusion she caused. That can only be done through a public, clear, and transparent statement.

— Rebecca Nagle (@rebeccanagle) February 1, 2019
Advertisement - story continues below
"But nearly two months after Ms. Warren released the test results and drew hostile reactions from prominent tribal leaders, the lingering cloud over her likely presidential campaign has only darkened," The Times continued. "Conservatives have continued to ridicule her."
Now the DNA test has blown up even further. The debacle got so out of hand that she has apologized to the Cherokee Nation for the entire stunt.
"The apology comes as Ms. Warren is set to formally kick off her presidential run this month after recent visits to early nominating states," The New York Times reported on Friday.
"It also comes after repeated calls for her to apologize from tribal leaders, political operatives, and her own advisers, who said her October decision to take the DNA test gave undue credence to the controversial claim that race could be determined by blood," the newspaper said.
Advertisement - story continues below
Earlier this week, the liberal senator called Bill John Baker, a chief of the Cherokee Nation, and apologized for taking the DNA test.
"I understand that she apologized for causing confusion on tribal sovereignty and tribal citizenship and the harm that has resulted," a spokesperson for Sen. Warren told The Times.
The DNA test ended up actually disproving Warren's past claims and left her looking like an impostor.
"The chief and secretary of state appreciate that she has reaffirmed that she is not a Cherokee Nation citizen or a citizen of any tribal nation," her own spokesperson admitted.
Advertisement - story continues below
An apology is fine, but it may be too little, too late. The real takeaway here is that Elizabeth Warren seems to have shockingly terrible judgement and doesn't understand on a basic level why her actions come across as awkward and fake to other people.
We're still a long way out from the 2020 election, and a lot can happen in American politics. But if Warren was betting on facing off with Trump by being the voice of everyday Americans, she should probably stop insulting so many of them.
Conversation