Sports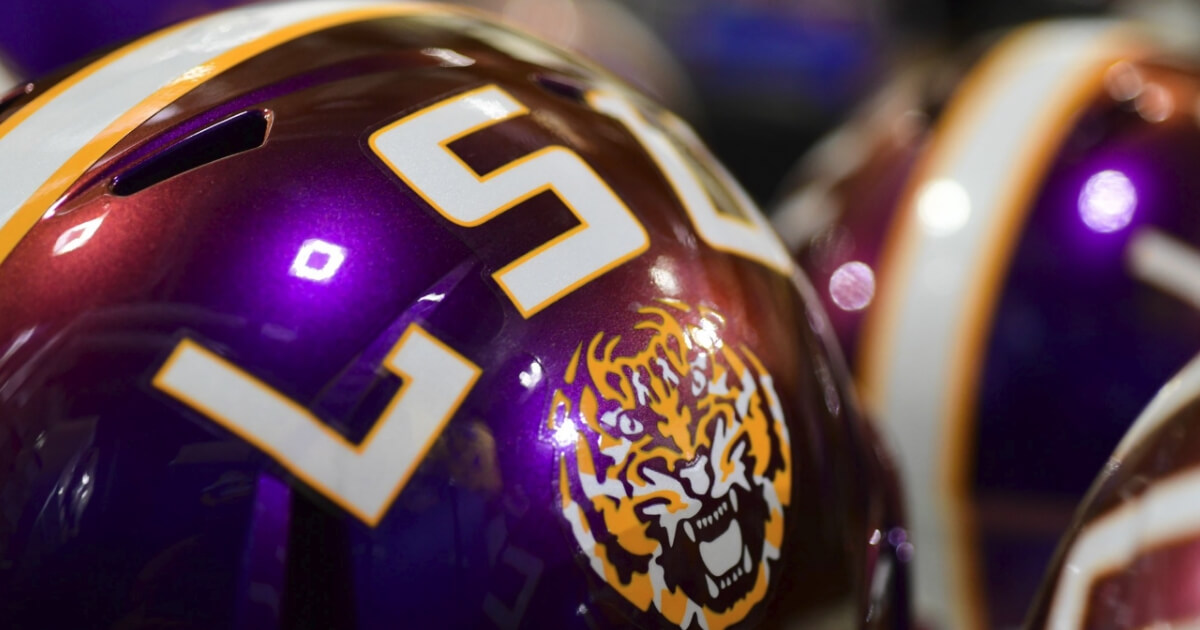 LSU Unveils Incredible Uniforms That Honor Fallen Troops and Change Colors
A century ago, the Great War had effects so far-reaching that no part of the world was untouched.
That first great cataclysm of nations of the 20th century wiped out a football season at LSU, as the boys from Baton Rouge were beholden by honor and patriotism to give their lives in the bloodiest meat grinder in human history.
Now, 100 years removed from America's role in triumphantly tilting the balance of World War I in favor of the Entente, LSU is honoring its fallen heroes with new football uniforms to commemorate the "Silent Season."
Advertisement - story continues below
The reveal video is as epic as it gets; kudos to the school for putting this one together.
Uniforms designed for the future that pay respect to the past. #LSU125 pic.twitter.com/qmOmdRPlAF

— LSU Football (@LSUfootball) October 18, 2018
The uniforms, trimmed in purple and gold as LSU football has worn since 1893, are part of a proud legacy.
Advertisement - story continues below
No nameplates appear on the jerseys, a tribute to the many unknown soldiers who gave their lives in the trenches.
The jerseys have an oak pattern motif that honors the 30 oak trees planted to commemorate the 30 fallen soldiers at LSU's Memorial Oak Grove.
It's more than a uniform.

We honor the 30 men, including Lawrence Brogan and James Hall who were football letter winners at @LSU before making the ultimate sacrifice in World War I. https://t.co/GkuKhiTe0d pic.twitter.com/4doh94KoU8

— LSU Football (@LSUfootball) October 19, 2018
And for the wow factor, the shiny helmets change color from purple to gold under stadium lights.
All in the details. Stickers hand placed and helmet polished to perfection. pic.twitter.com/H5cFLCgC10

— LSU Football (@LSUfootball) October 19, 2018
Advertisement - story continues below
While coach Ed Orgeron betrayed a traditionalist streak in his admonition that the school not to go overboard with the uniforms, he was nonetheless impressed with the work that went into their creation.
"I like the traditional (uniform), obviously," Orgeron said. "But I think most years it's OK, especially for this occasion. It's an honor, and it means a lot to us. It's a wonderful uniform. I love it. It's always good for recruiting. I think once a year it's good."
The flag on the back of the helmet only has 48 stars. Reply if you know why! pic.twitter.com/LlpgRKiAqd

— LSU Football (@LSUfootball) October 19, 2018
Advertisement - story continues below
Orgeron may have a point here; if you're going to do special occasions, don't do them just to sell merchandise but to create something meaningful.
Then sell merchandise.
Do you like LSU's Silent Season tribute uniforms?
Advertisement - story continues below
The unis will be part of LSU's home date Saturday against Mississippi State (4-2), a game that has critical ramifications for the Tigers (6-1) if they want to have any hope at all of keeping pace with Alabama in the SEC West and sneaking into the College Football Playoff.
On that front, it's possible the uniform switch will help the Tigers avoid a letdown game. After all, this has trap game written all over it; the fifth-ranked Tigers host No. 1 Alabama on Nov. 3.
With the ghosts of the fallen soldiers of the Memorial Oak Grove looking on, the players will be dressed to do them proud.
And it should be one heck of a ballgame in the bayou.
Conversation
The Western Journal is pleased to bring back comments to our articles! Due to threatened de-monetization by Big Tech, we had temporarily removed comments, but we have now implemented a solution to bring back the conversation that Big Tech doesn't want you to have. If you have any problems using the new commenting platform, please contact customer support at
commenting-help@insticator.com
. Welcome back!