Commentary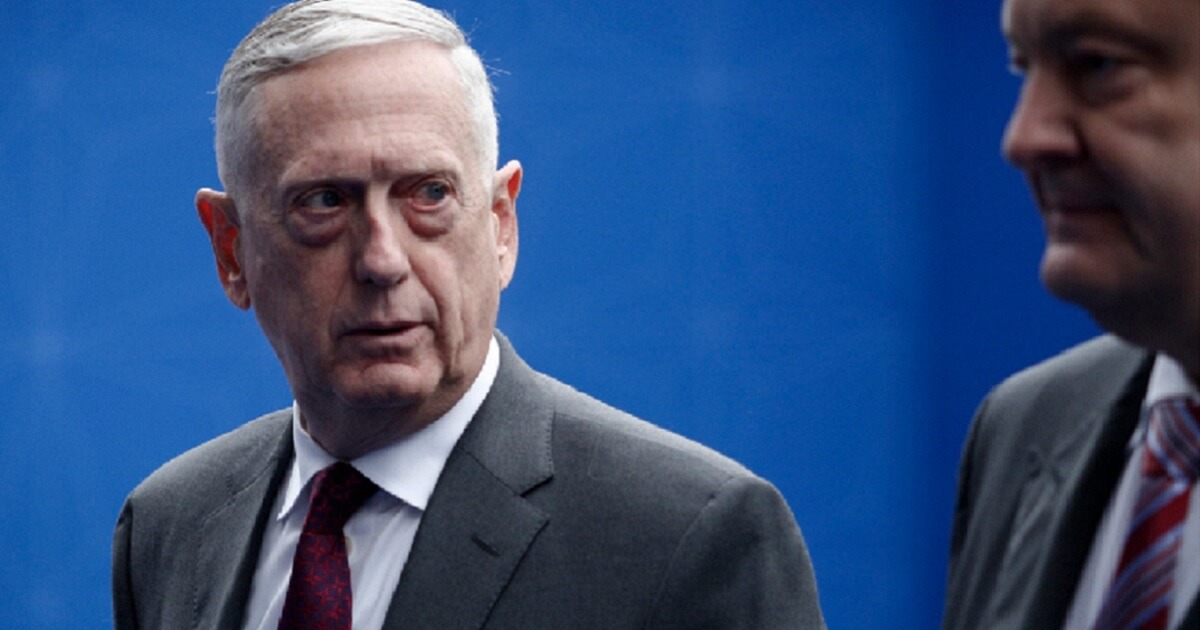 Mattis and Company Begin Border Preparations for Migrant Caravan, Roll Out the Welcome Party
When President Donald Trump said the migrant caravans headed for the U.S. border were not getting in, he was serious.
Working with Defense Secretary James Mattis, Trump said he was sending troops to the southern border to help ensure that — and may still send more.
And he let the whole country know exactly where he stood.
Advertisement - story continues below
Our military is being mobilized at the Southern Border. Many more troops coming. We will NOT let these Caravans, which are also made up of some very bad thugs and gang members, into the U.S. Our Border is sacred, must come in legally. TURN AROUND!

— Donald J. Trump (@realDonaldTrump) October 31, 2018
What began as one migrant caravan has now grown into four, according to a New York Times report on Wednesday.
Meanwhile, the Department of Homeland Security released a report on what is known about some of the individuals in the leading caravan and the news was horrifying.
Advertisement - story continues below
There are more than 270 known criminals and gang members in the caravan, according to the DHS report.
There is good reason for Trump to get Mattis & Co. involved in securing the border.
More than 5,000 soldiers sent to the border have been busy putting up concertina wire in anticipation of the caravans, whose journeys have been marked by violence.
U.S. troops lay down barbed wire to keep illegal immigrants from crossing the Southern border pic.twitter.com/qH8tu2J9xd

— FOX & friends (@foxandfriends) November 4, 2018
U.S. Army troops, part of "Operation Faithful Patriot" arrived to the U.S. border with Mexico, deployed by President Trump ahead of midterms. Soldiers spread out barbed wire along the Rio Grande in south Texas.  #immigration #border #caravanamigrante #undocumented #army pic.twitter.com/PVD6YIbCvk

— John Moore (@jbmoorephoto) November 2, 2018
Advertisement - story continues below
Troops lay barbed wire as caravan approaches pic.twitter.com/yFeiOO2pcd

— Fox News (@FoxNews) November 4, 2018
WATCH: The U.S. military is installing a barbed wire fence near the Hidalgo–Reynosa International Bridge on the US-Mexico border. pic.twitter.com/bYvjPAgL6F

— NBC News (@NBCNews) November 3, 2018
Advertisement - story continues below
According to the New York Post a Border Patrol spokesman said, by email, that "the fencing was part of 'necessary preparations' for the caravans." The troops have been working with U.S. Customs and Border Patrol agents in securing the border.
Do you think President Tump is handling the caravan question correctly?
They have worked together along the Texas side of the Rio Grande River to put in approximately 1,000 feet of fencing along the river and under the McAllen-Hidalgo International Bridge at McAllen, Texas.
Advertisement - story continues below
While approximately 1,000 soldiers are deployed to the area, according to Fox News, Trump has said he'll send more, 15,000, if need be, to stop the caravans and secure the border.
Some believe troop deployment is overkill. Some liberals have even called it a "political stunt."
Why can't border patrol spread out barbed wire? It's impossible to exaggerate what a new low this is for a commander in chief to use the US military for a divisive election year stunt. https://t.co/bKljpu6wCr

— Ben Rhodes (@brhodes) November 3, 2018
Advertisement - story continues below
Obama: "They're telling you the existential threat to America is a bunch of poor refugees 1,000 miles away. They're even taking our brave troops away from their families for a political stunt at the border. The men and women of our military deserve better than that." (via ABC) pic.twitter.com/cre2EF5Z2G

— Kyle Griffin (@kylegriffin1) November 2, 2018
Others have made the point that there is no reason the troops can't protect the U.S.A. just as they protect other countries.
#StopTheCaravan– @SaraCarterDC: President @realDonaldTrump is 100% right. We have every right to protect our border. This is a very dangerous situation, a situation that we can't allow to get worse. That's why he's sending the troops to the border. #MAGA #TrumpTrain #Dobbs pic.twitter.com/l8EDVzpbKj

— Lou Dobbs (@LouDobbs) October 27, 2018
Advertisement - story continues below
#LDTPoll: Do you agree with President Trump that sending U.S. troops is the only way to secure our border until enough radical Dimms have been voted out of office?

— Lou Dobbs (@LouDobbs) October 25, 2018
The New York Post wrote that in addition to the barbed wire, there was more to the "welcoming committee" for the migrants. Troops are being stationed at outposts from Texas to California.
Advertisement - story continues below
The U.S. military exists to defend the borders of the United States.
And when Trump said he was willing to use the military to do just that in the face of the caravans, he meant it.
Defense Secretary Mattis and his crew are uniquely qualified to carry that out.
Conversation