Commentary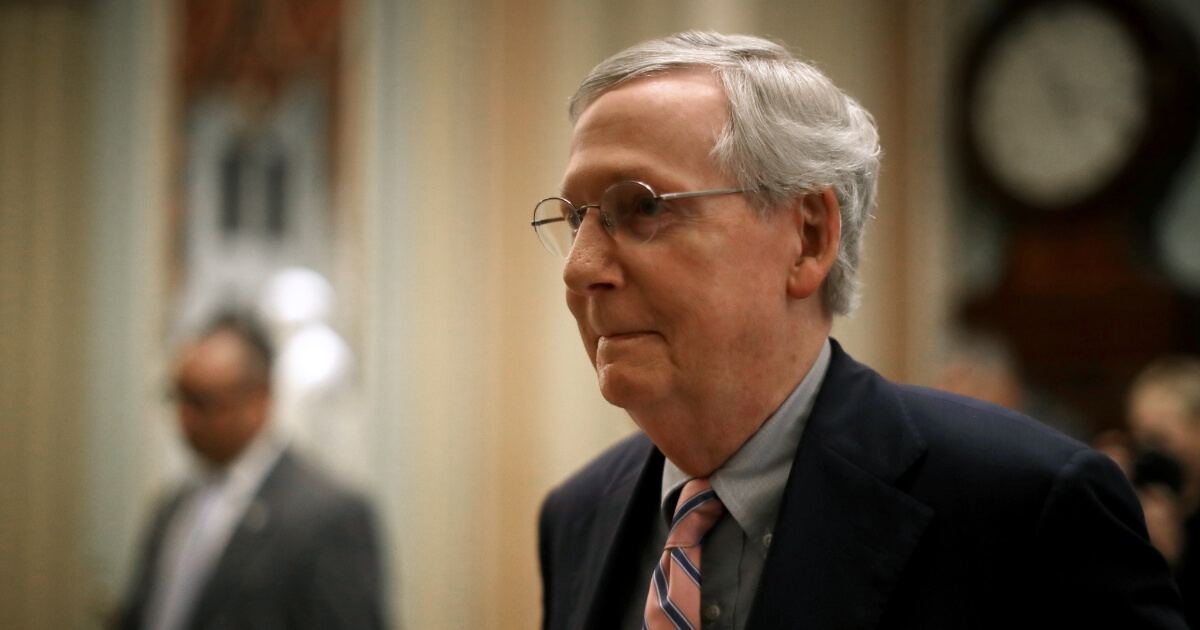 McConnell Quietly Powers Through 15 More Trump-Appointed Judges
On Thursday, the Senate confirmed 15 of President Trump's nominees to be lifetime federal judges, as reported by Politico.
This was thanks to Senate Majority Leader, Republican Mitch McConnell of Kentucky, who offered the Democrats a deal they didn't want to pass up.
McConnell's commitment to confirming the judges meant that, under Senate rules, he could keep the chamber in session until the confirmations were made, through November 1st.
Advertisement - story continues below
But this would keep some Senate Democrats, whose seats are in jeopardy at the polls this November, away from the campaign trail.
Senate Minority Leader Chuck Schumer and the Democrats agreed to confirm three circuit court and 12 district court judges all in one night, instead of using the 30 hours of debate allowed for each nominee under Senate rules.
In return, McConnell would call the session into recess through the midterms, allowing senate Democrats the time to go home to campaign for their seats.
Democrats took the deal in a bid to save time at a crucial point in the election season for half a dozen vulnerable senators facing strong opposition in Senate races.
Advertisement - story continues below
But the decision was met with criticism from liberals who felt that Democrats needed to take a stronger stand against Republicans after the bitterly resisted confirmation of Judge Brett Kavanaugh to the Supreme Court.
"This deal was totally unnecessary and it is a bitter pill to swallow so soon after the Kavanaugh fight that so many progressive activists poured their hearts and souls into," liberal activist leader Chris Kang lamented.
Do you think McConnell made a good deal with this?
"This period will be long remembered not just for the historic number of judges Trump has been able to confirm, but also because of how passive Democrats were in response," he added.
Even Senate Majority Whip John Cornyn, a Republican from Texas, said he was "surprised" that the Democrats accepted the offer of swift mass confirmation.
"The difficulty (Democrats) have is an angry base after the Kavanaugh confirmation, and trying to explain to them this is a necessary thing to do," Cornyn said. "That's why Sen. Schumer gets paid the big bucks."
Advertisement - story continues below
President Trump entered office with 112 judicial vacancies to be filled, and the GOP's success in filling them is partly thanks to Democrat Harry Reid's efforts while he served as Senate Majority Leader during the Obama administration.
In 2013, Reid changed the amount of votes needed to confirm federal court judges from 60 to 51, which was originally meant to help Democrats. However, with Trump in office, this precedent is doing Republicans a favor.
Besides the confirmation of 15 judicial nominees, the Senate also unanimously authorized 21 executive branch nominees.
And the good news keeps coming. Whatever the outcome for Democrats in November, McConnell is planning to get approval for around 35 more judicial nominations and numerous executive branch nominees when the Senate returns for a lame-duck session in mid-November.
Conversation