Media Quick to Report 'Racist' Texan News Story, Turns Out It Was a Hoax
Establishment media outlets are backpedaling rapidly as a recent viral racism story has turned out to have been a hoax from the start.
Last week, a Texas waiter named Khalil Cavil shared on Facebook a picture of a note, written on a receipt, that he had supposedly received from a customer on his shift on July 14.
The tab was a hefty $108.73, and the customer had left no tip — but that was not the most shocking thing about the receipt.
Advertisement - story continues below
At the top of the slip of paper, above Khalil's circled name, the customer had written the words "We don't tip terrorist."
Cavil's Facebook post quickly went viral. His story spread to news outlets all over the globe as media were quick to call out the hateful customer without even a second thought.
He explained his reason for posting it as, "… because I want people to understand that this racism, and this hatred still exists."
Advertisement - story continues below
The Washington Post ran a story on the post and included comments from Jamie Swindle, Cavil's mother: "I don't know what these people was thinking. They saw the name, they saw him. … I don't think I'd ever understand why anyone would do something like that."
Thousands of people shared Cavil's post, left encouraging comments, and even donated toward his college expenses out of pity for the 20-year-old.
Do you believe anything the establishment media tells you anymore?
The restaurant, Saltgrass Steak House, sided with Cavil and banned the offending customer permanently.
"We stand by and support our employee," said Terry Turney, COO of the restaurant. "Racism of any form is unacceptable."
Now, less than a week later, Cavil has come forward to confess that the whole incident was fabricated: He wrote the "racist" comment himself.
Advertisement - story continues below
Cavil apologized to reporters for lying to them and told the Odessa American in an interview: "I did write it. I don't have an explanation. I made a mistake. There is no excuse for what I did."
Neither Cavil nor the restaurant has disclosed how the receipt was discovered to have been a fake, but Turney did release a statement about the issue:
"After further investigation, we have learned that our employee fabricated the entire story. The customer has been contacted and invited back to our restaurant to dine on us. Racism of any form is intolerable, and we will always act swiftly should it occur in any of our establishments. Falsely accusing someone of racism is equaling (sic) disturbing."
Cavil said that the donations he received toward his education, totaling roughly $1,000, were being "processed and return(ed)" and that he regretted his actions.
Advertisement - story continues below
"I'm sorry. I deeply made a huge, big mistake," he said. "And I'm in the process of getting the help that I need."
Cavil is no longer employed by Saltgrass Steak House.
As might be expected in light of Cavil's confession, many establishment news organizations have written entirely new articles describing the hoax, the COO's statement and Cavil's apology.
But how these outlets have chosen to handle their previous versions of the story has varied widely.
Some publishers, such as The Washington Post, CBS News and USA Today, have retained their original articles about the incident, complete with the original link, adding "Update" paragraphs to the beginning of the stories to inform readers that the narrative has changed significantly.
None of the publishers' updates reviewed by The Western Journal included an apology for publishing the "fake news" story in the first place, or for failing to adequately research the story prior to publication: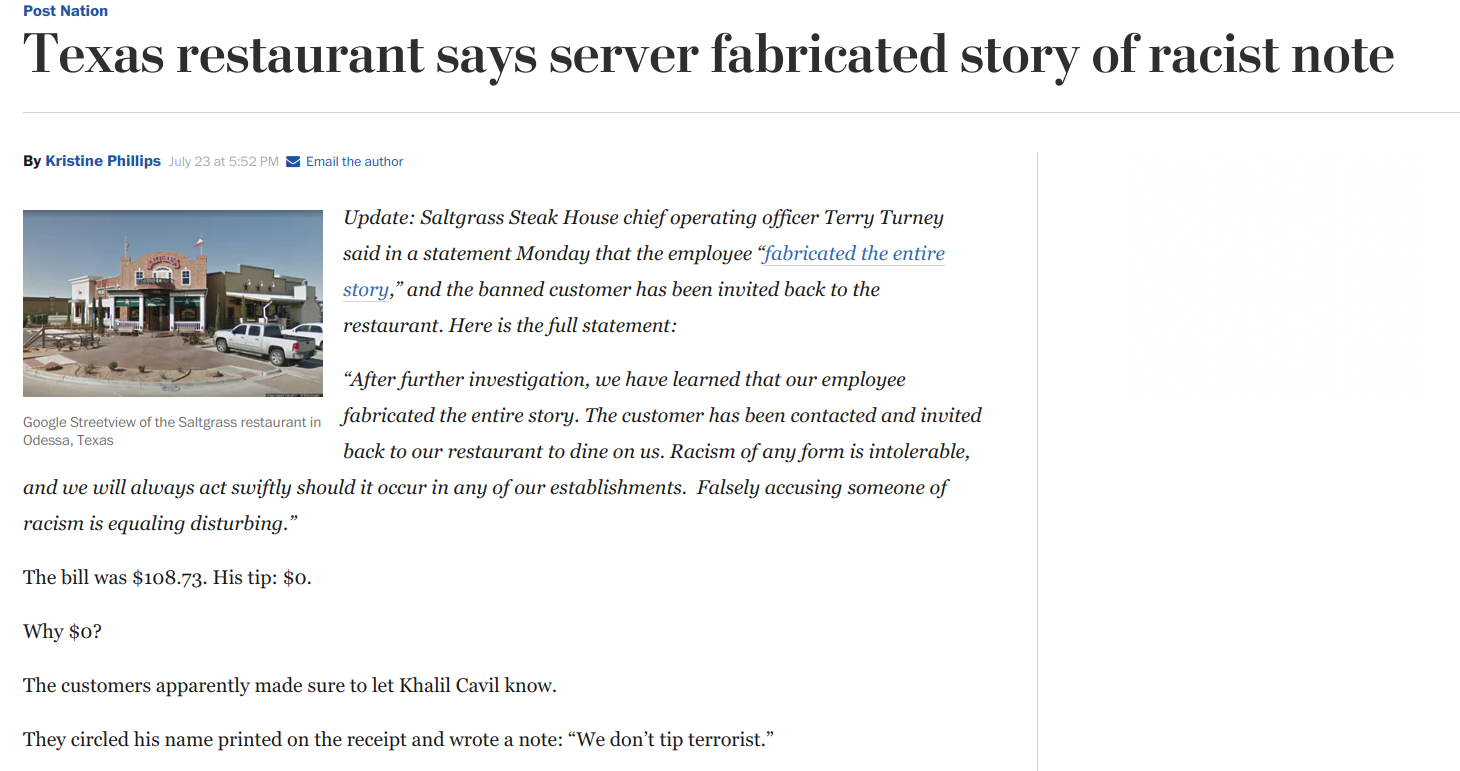 Other news outlets, such as WFTX, are automatically redirecting readers from their original story to an entirely new version of the article, as if the original story, which they, too, apparently published without any fact-checking or investigative work of their own, had never existed. Readers searching for the original version of the story won't find it because the old link is now being used for the updated story.
Still other news outlets — such as Atlanta Black Star, India Times and Kos Media — have apparently not yet picked up at all on the fact that the story has now been outed as fake news. Instead, outlets like these have left their original stories untouched, pointed headlines and all.
Finally, a few media sources, such as MSN and WATN, have chosen to handle the news of the hoax by completely deleting their erroneous original articles and trying to hide any involvement in the promulgation of the unverified story at all — leaving readers clicking dead links and discovering "page not found" messages.
Even after months and months of "fake news" discussions in both establishment and new media — not to mention at political events and White House media gatherings — genuinely phony news stories continue to be offered to the public without apology and with very little –if any — research as to their credibility in the first place.
And American readers have clearly noticed.
Conversation